On Campus
Secret Lives: Susan McElrath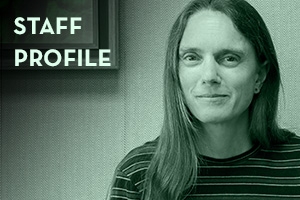 The Archives and Special Collections at the American University Library are home to some of the rarest, most invaluable items in the collection. The University Archives chronicles the history of American University from its founding in 1893 to the present, through a variety of materials, while Special Collections features collections of rare books, publications, and manuscripts. Both of these collections are overseen by University Archivist, Susan McElrath, whose interest in education can be seen in her work in the Library and the classroom.
Highlighted as a History Wonk, Susan holds a Master of Library Science and a Master of Arts in American History from the University of Maryland. Her academic interests left her with a deep appreciation and understanding of historical materials, as did her internship at the Maryland State Archives, where she took her first job after graduating with a Bachelor of Arts in Philosophy, with a minor in Math, from St. John's College. Her enthusiasm for all the "cool old stuff" housed in the archives and the "welcoming, nurturing environment" drew her into a career in libraries, and along an interesting path.
Her interest in historical documents and her "need for a job where [she] is making a difference and helping others" led her to work at the Bethune Museum and Archives, now called the Mary McLeod Bethune Council House, in DC. This historic building is home to the National Archives for Black Women's History, which covers the New Deal Era through the Civil Rights Movement of the 1960s. From there, she went on to a position at the National Anthropological Archives (NAA) at the Smithsonian Institution. While at the NAA, Susan taught a class on museum archiving and "caught the teaching bug."
Since coming to AU, Susan has found a number of ways to get involved in instruction. She developed a subject guide that provides an introduction to primary source research and offers historical walking tours of campus for alumni and parents every year during All American Weekend. Susan also develops exhibits for display in the Library that expose the AU community to the wealth of materials that can be found in Special Collections and the Archives. As Susan explains, "to keep it fresh, interesting, and eye catching, I do five exhibit shifts each year. These exhibits help to get the word out about our collections." In addition to these modes of outreach, Susan maintains a blog about new and noteworthy materials in the collection as well as fun facts in AU history. 
Bringing the Archives to the classroom is another way that Susan works to raise awareness of these resources. She offers in-class instruction on primary source research and during recent summer sessions, Susan taught 'Collection Management for Archives and Museums' for AU's Public History program. The Archives has also served as a location for "history lab sessions" in the new AU Scholars program. Susan provided expert help to the professor to provide students with the opportunity to work with, develop research skills, and create research projects using historic photographs and other types of primary source material housed in the Archives. Her expertise allows her to identify optimal primary sources for scholars using the Archives, facilitating and simplifying their research efforts.
In addition to her work in the classroom, Susan is happy to share her knowledge with individual students, stating that "no research project is too small! I enjoy connecting students with sources and hearing about their projects." To that end, Archives and Special Collections is open Monday - Friday, 9 am – 5 pm for drop-ins. Susan also works on the Research Assistance Desk each week and can be contacted by email or phone.The exploratory aspect of research is something that Susan thoroughly enjoys and she makes a compelling case for delving into Archives and Special Collections: "There are so many stories waiting in our holdings to be unearthed and told." That sounds like an irresistible challenge for the many intellectually curious scholars here at American University. 
See what you can discover in Archives and Special Collections by taking a closer look at these selections:
Eagle Lore: Windows into American University History
This online exhibit chronicles the history of American University in Washington, D.C. from its founding to the present day. Through a series of historic images from the University Archives, viewers can see the development of the campus itself and experience the evolution of student life at AU. This site also provides a glimpse of AU during prominent historical moments in U.S. history.
Peace Corps Community Archives
Two years ago AU Library began collecting primary source materials from former Peace Corps volunteers. This growing collection allows scholars to research the experiences of individual Peace Corps volunteers through correspondence, photos, diaries, and Peace Corps training materials.
Find supporting multimedia clips for your projects, presentations, and papers in the John R. Hickman Collection, which contains broadcast quality audio recordings of vintage radio news and entertainment programs, from the 1920s through the 1970s.