On Campus
10 Epic Summer Blockbusters Available at the AU Library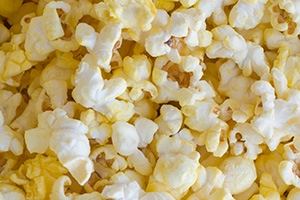 1979—Alien DVD 885
It may be hot outside, but you'll get the chills watching this classic sci-fi horror film, as the crew of the spacecraft Nostromo discover something dangerous on a seemingly empty planet. Sigourney Weaver takes on the ground-breaking role of a female action star as LT. Ripley.
1986—Top Gun DVD 2959
If you're feeling the need… the need for speed, check out this action-packed movie about Navy pilots in training. Featuring Tom Cruise as "Maverick," Val Kilmer as "Iceman," and a soundtrack with some major 80s hits, this is an iconic summer blockbuster.
1987—RoboCop DVD 8164
A cyborg cop cleans up the streets and seeks revenge in this dystopian action sci-fi movie—sound over the top? It is. This summer blockbuster also has a subversive side, weaving in satire and dark humor alongside the explosions and one-dimensional villains.
1988—Who Framed Roger Rabbit? DVD 1096
When cartoon star Roger Rabbit is framed for murder, he hires a down and out private detective (Eddy Valiant, played by Bob Hoskins) to clear his name. Winner of four Oscars, this film was the first of its kind to blend live action and animation.
1989—Batman DVD 4701
Directed by Tim Burton, this take on Batman is dramatically different than the more recent Dark Knight trilogy. The scene of Jack Nicholson's Joker unleashing chaos on Gotham, set to the music of Prince, is reason enough to borrow this blockbuster.
1990—Die Hard 2: Die Harder DVD 446
Bruce Willis returns as John McClane, a tough and sarcastic New York cop, saving the day on Christmas Eve yet again. This movie brings all the action, explosions, and one-liners of the original to the Washington Dulles Airport. Yippee ki yay.
1991—Terminator 2: Judgment Day DVD 4989
This sequel pits robot against robot, as the T-800 Terminator, played by Arnold Schwarzenegger, goes up against the more advanced T-1000 model. The stakes are high, as the Terminator attempts to protect the future leader of the human resistance movement from assassination.
1993—Jurassic Park DVD 4901
Refresh your memory before going to see this summer's Jurassic World with the first film in the series. Directed by Stephen Spielberg, based on a book by Michael Crichton, and packed full of animatronic dinosaurs, this film actually premiered right here in DC—at the National Building Museum.
2001—Moulin Rouge! DVD 297
Romance, excitement, spectacle, and style all converge in this Baz Luhrmann film, set in Paris during La Belle Époque. This Oscar-winning musical features Nicole Kidman and Ewan McGregor as star-crossed lovers and holds nothing back in terms of dazzling sets, costumes, and musical numbers.
2008 - Iron Man DVD 2763
Robert Downey Jr.'s wit and charisma make for an ideal Tony Stark in the movie that launched the Marvel Universe cinematic onslaught of recent years. Start at the beginning of this saga and watch genius playboy billionaire Stark become a superhero.