Student Life
Feature Fridays Flood, by They Might Be Giants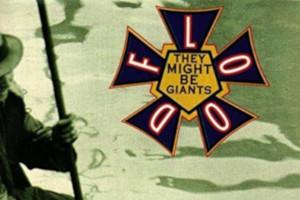 Welcome to Feature Fridays! Each week, AU Music Library staff highlight a CD or artist from our collection. This week we're taking a break from new items for student assistant Ryan Jacobs to review Flood, by They Might Be Giants, which celebrates its 30th anniversary this year.
They Might Be Giants (TMBG) is a musical duo consisting of John Linnell and John Flansburgh, who have (thus far) released 22 studio albums together throughout their musical careers. Their third studio album Flood celebrated its 30th anniversary this year and remains their definitive release. TMBG is known for their absurd, humorous lyrics, eclectic and experimental composition, and unconventional instrumentation, aspects of style that are on full display in this album.
The album opens with a tongue-in-cheek inaugural fanfare announcing "They Might Be Giants' brand-new album Flood." This opening is in part since Flood was TMBG's first release with a major label. Flood was on heavy rotation in my home as I was growing up, as my mother is a big fan of the album, and whenever I hear this first track I am transported back to my living room floor, where I am doodling in a black and white composition notebook (you know the kind) while it plays. Immediately following the brief processional is "Birdhouse in Your Soul", which is TMBG's highest-charting single and perhaps their best-known song, written from the perspective of a blue canary-shaped night light singing to the room's occupant.
Whenever I talk with friends or colleagues familiar with this album, they often name different songs as their personal favorites, which speak to the eclecticism and depth of the tracklist. There are certainly lots of great choices, such as the country-inspired upbeat-but-downtrodden "Lucky Ball & Chain" or the piano ballad titled "Dead" which muses about the merits of reincarnation. Other popular choices are "Istanbul (Not Constantinople)," a cover of the Four Lads' 1953 single about the renaming of the Turkish city, or "Particle Man," which follows the disputes and interactions between four characters (Particle Man, Triangle Man, Person Man, and Universe Man).
One of my personal favorites, "We Want a Rock," is a song that at first seems to present itself as metaphorical but devolves into silliness. Of the lyrics, Linnell said "I guess the song is a metaphor. We who have nothing to 'wind string around' are lost in the wilderness. But those who deny this need are 'burning our playhouse down.' If you put quotes around certain words, it sounds more like a metaphor." Another favorite of mine is "Hot Cha," a sample-based mix of diverse sounds such as distorted horns and sticks and mallets on various kitchen appliances. It is upbeat and jazzy, yet uniquely stiff and jerky due to the nature of how the drums and samples were programmed. This album made extensive use of the Casio FZ-1 synthesizer and Alesis SR-16 drum machine, the latter of which provides a shuffle groove to "Hot Cha" and a majority of the other songs. The album closes with "Road Movie to Berlin," which is an existential and absurdist recollection of the band traveling through Europe before the fall of the Berlin Wall. It features Flansburgh's vocals slowed down to produce an eerie effect, and utilizes samples from both the Casio synth and a Sammy Davis Jr. blast.
With a track list of 19 songs, there is almost certainly something for everyone in this extremely memorable album. I highly recommend this to anyone who wants to listen to some fun and quirky music that doesn't take itself too seriously.
Flood is available on CD at the Music Library.