On Campus
Remembering Toni Morrison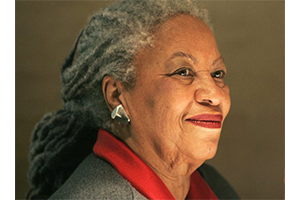 Renowned and celebrated novelist Toni Morrison has died at the age of 88. Born Chloe Wofford in Lorain, Ohio, Morrison earned her Bachelor's degree at Howard University, where she adopted the name, Toni. She would later earn a Master's degree from Cornell University and returned to Howard University to teach English. While teaching, she began working on what would become her first novel, The Bluest Eye. Morrison would go on to become one of the most prolific writers and an essential voice in African-American prose. Throughout her illustrious career, Morrison would receive several awards and honors, including becoming the first African-American woman to win the Nobel Prize for literature in 1993. Morrison is one of the world's most celebrated authors and will truly be missed. Here are some of her definitive novels available in our collection.
Beloved This 1987 novel tells the story of Sethe, a woman who escapes from slavery with her daughter Denver. Sethe is visited by her reincarnated daughter Beloved, whom she killed to save from a slave owner. Morrison received a Pulitzer Prize in 1988 for the novel. Beloved became a motion picture in 1998 starring Danny Glover, Oprah Winfrey, and Thandie Newton.
The Bluest Eye Published in 1970, Morrison's debut novel quickly became a fan favorite. Set in Morrison's hometown, The Bluest Eye tells the story of Pecola Breedlove, a young African-American girl growing up during the Great Depression.  Teased for her dark skin and features, Pecola wishes for features perceived to be beautiful, including blue eyes.
Jazz A love triangle is at the center of this 1992 book. Set in 1920's Harlem, the story introduces the reader to salesman Joe, his wife Violet, and his teenage girlfriend, Dorcas. As the novel progresses, the love triangle takes a deadly turn.
Song of Solomon One of Morrison's most acclaimed novels, Song of Solomon tells the story of protagonist Milkman, his family history, and his struggles with his identity. Former President Barack Obama referenced the book while awarding Morrison the Presidential Freedom Award in 2012.
Sula Morrison's second novel examines the friendship of characters Nel Wright and Sula Peace. Nel and Sula strike out on different paths as they grow older, and reunite years later despite their vastly different lives. Sula is also considered a critical piece of literature that helped shape the Black feminist movement.
God Help the Child One of Morrison's later works, this 2015 novel explores colorism, love, intimacy, happiness, and wholeness. The main character, Bride, is shunned as a child for her dark complexion but later learns to see her true beauty.