On Campus
Let the Library be your Valentine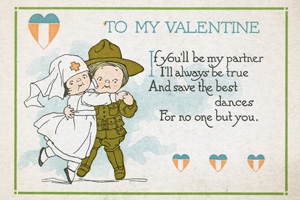 Whether you plan to spend this February 14th contemplating the nature of love, baking cookies for your most-adored friends, watching movies with your roomies, or enjoying a romantic evening with someone special (like yourself!)—the Library has plenty of suggestions for fun Valentine's Day listening, cooking, viewing, and reading.
Music:
Les Misérables Live! The 2010 Cast Album Get swept away by the music of this production and the romance between Cosette and Marius.
Magic Flute Set in a fantastical world, Mozart's opera features plot twists aplenty, magical instruments, and of course, romance.
Tristan und Isolde  Wagner's famous opera is a classic romantic tragedy based on a Celtic legend.
Cookbooks:
Sprouted Kitchen by Sarah Forte Show your body some love with healthy recipes from a wellness oriented food blogger.
Mastering the Art of French Cooking by Julia Child Learn to cook French cuisine alongside beloved chef Julia Child.
Sweet Magic: Easy Recipes for Delectable Desserts by Michel Richard Make some sweets for your sweetie, using the recipes from this DC celebrity chef.
Gluten-Free Girl and the Chef: A Love Story with 100 Tempting Recipes by Daniel Ahern and Shauna James Ahern This love story meets cookbook features recipes and romance, with great ideas for anyone avoiding gluten.
Neelys' Celebration Cookbook: Down-Home Meals for Every Occasion by Pat Neely, Gina Neely and Ann Volkwein This celebrity chef couple's featured menu for Valentine's Day manages to be both light and decadent.
Movies:
Crazy, Stupid, Love Two words: Ryan Gosling
Noah's Arc (season 1) Super-campy & fun, this show takes a look at the lives of young black men in LA.
Zebrahead Set in Detroit, this Oliver Stone-produced film brings together 90s hip hop and interracial love.
Weekend Two men have a brief, but intense love affair that changes them both.
But I'm a Cheerleader Orange is the New Black actress Natasha Lyonne stars in this tongue-in-cheek rom-com cult classic.
Billy's Hollywood Screen Kiss Unrequited love takes center stage in this charming camp classic.
Books:
Never Let Me Go by Kazuo Ishiguro Beautifully written, this novel follows a young woman as she reconnects with two deeply loved people from her past.
Selected Poems by Federico García Lorca Explore the haunting Sonnets of Dark Love in this book of dual language poetry by an iconic Spanish writer.
All About Love: New Visions by bell hooks In this book, a noted writer, intellectual, and social activist examines the concept of modern love. 
Giovanni's Room by James Baldwin Follow the story of an American in Paris who experiences the soaring highs and devastating lows of love.
Perks Of Being a Wallflower by Stephen Chbosky This coming of age story encompasses the love, heartache, loneliness, and angst of adolescence.
Flaneur: A Stroll through the Paradoxes of Paris by Edmund White Fall in love with Paris as you stroll through the 'City of Lights' alongside a celebrated American novelist.
More: Speak to each other in the language of love, using the Library's new Pronunciator language learning software.