Student Life
Feature Fridays What It Is! Funky Soul and Rare Grooves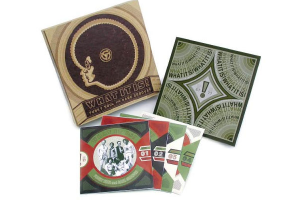 Funk music from the late 1960s and early 1970s has influenced modern pop, hip hop, and indie music more than we may know. Although everyone knows about James Brown, Rick James, and the other giants of the era, it turns out that's only the tip of the iceberg when it comes to the wide variety of artists that released music during the genre's golden age. What It Is! Funky Soul and Rare Grooves is a 4-disk box set that uncovers some of funk's most unique hidden gems, featuring over 90 songs "from the vaults of Atlantic, ATCO, & Warner Bros. Records."
Each track included in the What It Is! collection stands out on its own as an embodiment of the genre's development throughout its prime years. Although there are a few songs from well-known artists such as Earth, Wind, and Fire, these "rare grooves" are meant to highlight the margin of funk artists whose music never got a chance to break into mainstream popularity. The beauty of these albums comes from the unique listening experience of hearing a song that has a familiar funky groove, but is new and different in its own way. The big brass instrumentals, piano riffs, and soulful lyrics are still present; however, there's a certain freshness that comes with the more experimental synths and percussion coming from each individual artist. You can really feel the authenticity behind this music, but it's still lively and exciting to listen to.
There's also a booklet included with this box set that goes deeper into the history behind each song. There's a paragraph-long blurb for every track in the collection, giving more information about its artist, meaning, and sound. Listening to this collection is a great learning experience for those who are interested in the revival of funk and soul music because it really shines a light on the area of the genre that was left behind in the wake of popularized disco. As best explained in the booklet: "This was dirty,gritty, gutbucket funk--the kind recorded not with an array of synthesizers and orchestral arrangement but taped in a ramshackle studio with chicken-scratch guitars, a beat-up B3, and a poorly mic-ed drum kit."
It's difficult to pick out my favorite tracks because all of them are so original and different, so this is something that you just have to experience for yourself. Whether it's a thorough exploration or quick listen and groove, you won't regret turning your sights towards this overlooked area of American music history. Head to the music library and look for it on our oversize CD shelf!