Arts
In Harmony with Eric Whitacre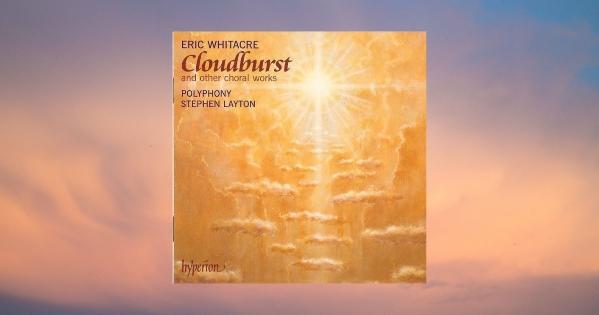 Welcome to Feature Fridays! Each week, Music Library staff highlight an item from our collection. This week, student assistant Emily Brignand reviews Cloudburst and Other Choral Works by Eric Whitacre.
Eric Whitacre is an American composer most famously known for his choral music. Since both Whitacre and I are natives of Reno, Nevada, I am honored to witness Whitacre's achievements and review the beauty of his work which has and will continue to pave the way for future contemporary choral work.
To those who are unfamiliar with choral music, he is the Timothée Chalamet in our world. In fact, he is one of the most popular musicians today, bringing a unique modern framework to choral music composition. His distinctive style consists of cacophonous yet airy chords that peacefully clash and float in waves of moving harmonies. His contemporary approach leans toward a sense of release and a feeling of freedom in his use of indeterminate sections and attention-grabbing dissonant chords. Some critics even characterize his music as neo-impressionistic.
Our CD Cloudburst and Other Choral Works by Eric Whitacre includes projects like his virtual choir recordings and classics from his albums. Some notable pieces include "Sleep" and "Lux aurumque," which are both inspired by the lyrics from the poet Charles Anthony Silvestri. What is remarkable is that these two pieces were both selected for Whitacre's "virtual choir" project in 2010, which gathered hundreds of videos submitted by volunteer singers to produce a video representation of a combined performance. His virtual model of performing online became popular during the pandemic when musicians and ensembles were not able to perform in person. Using cluster chords in both "Lux aurumque" and "Sleep," Whitacre is able to produce pleasant, shimmering effects that both calm your soul and keep your focus without putting you to sleep (no pun intended). Like the translation of "Lux aurumque," his music brings light and gold through its tight harmonies that shine and glow in his choir of soft yet steady voices.
His writing intricately reflects the meaning of the texts. "A Boy and A Girl" mirrors and best portrays Whitacre's ability to transform words into musical expressions that deeply connect with his listeners. He is known for taking exquisite poems and employing carefully chosen notes, melodies, and harmonies that represent the precise feeling and meaning behind those texts; the delicate tenderness within his composition, writing with so much care and detail, deeply connects with his listeners.
Another song I want to highlight is the title piece, "Cloudburst." It breathtakingly captures the richness of the poem, which was inspired by the experience of the writer witnessing a desert cloudburst. This piece differs from a lot of Whitacre's pieces because of its musical buildup by using spoken solos with claps and snaps of "thunder" and "rain" to produce the captivating "thunderstorm" effect. The way Whitacre uses his creative music composition to produce a sonically and intellectually satisfying piece is not only impressive, but the way his music gravitates towards a realistic portrayal of the picture he wants to paint to his audience is also stunningly beautiful.
If you have not had the chance to experience Whitacre's genius songwriting and listen to his extraordinary compositions, now is the perfect time to do so by checking out this CD from the AU Music Library! And if you have heard of Whitacre's pieces before, maybe from your choir or a random recommendation from YouTube, this is also your opportunity to express your inner nerdiness to dig deeper into his discography!
Cloudburst and Other Choral Works by Eric Whitacre is available from the AU Music Library in the Katzen Arts Center. For more options, you can also stream Eric Whitacre's music and other great choral music through Naxos Music Library, with your AU login.