On Campus
Stay Cozy in your Kitchen this Winter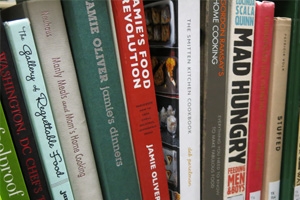 If your list of wintertime essentials includes butter, sugar, and vanilla extract, then our collection of cookbooks might be your new favorite section of the Library! Spend your next snow day warming up the kitchen by whipping up a batch of delicious cookies, cupcakes, or brownies with one of our many baking-focused cookbooks. 
Vintage food photographs are half the fun of Betty Crocker's Cooky Book (TX772 .C76 2002), which includes retro recipes from the 1880s to the 1960s—perfect for your next theme party. Food blog fans can flip through books from Smitten Kitchen (TX714 .P443 2012), Pioneer Woman (TX715.2 .S69 D793 2012 & TX715 .D7785 2009), and Joy the Baker (TX771 .W477 2012). Cake Pops Holidays (TX771 .B336 2012) lets you recreate the irresistibly cute cake-pop creations of Bakerella for Instagram-ready sweets!
The celebrity-obsessed can find cookbooks from Gwyneth Paltrow (TX715 .P184 2011) and Jessica Alba (RA776.9 .A43 2013)—or try out the Banana ba-ba-ba Bread recipe from Cookin' with Coolio (TX714 .C672 2009). You can even test out Oprah's favorite brownies, featured in Baked: New Frontiers in Baking (TX765 .L67 2008).
And who needs to wait in line at Georgetown Cupcakes, when you can make your own from their cookbooks, Cupcake Diaries (TX771 .K35 2011) and Sweet Celebrations (TX771 .B467 2012)? Our collection also includes cookbooks from other local favorites like CakeLove (TX769 .B838 2012 & TX771 .B8785 2008) and Sticky Fingers (TX837 .P5134 2012).
Special diets are covered too, with selections like Gluten-Free Girl and the Chef (RM237.86 .A338 2010) and Paleo Cooking from Elana's Pantry (RM237.86 .A48 2013).
Happy Baking!