On Campus
Celebrating Women's History Month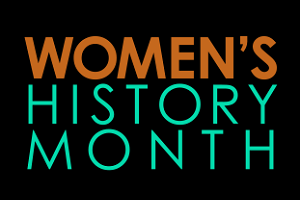 Women's History Month is celebrated every March to honor the contributions of women throughout history. It first began as International Women's Day in the early 1900s and gradually expanded across the globe. Following the actions of a California school district in the late 1970s, it grew to a week-long event. In 1980, the week was proclaimed a national event by President Jimmy Carter. Six years later, 14 states lengthened the celebration to span the entire month of March, and Women's History Month was officially signed into law nationwide by 1987. Today, many U.S. and international institutions join in commemorating and encouraging the observance and celebration of the important role women have played throughout American History. Check out the works of these outstanding women in our collection:
Movies and TV Shows in Media Services:
Ava Duvernay | Queen Sugar
Follow the lives of three siblings as they move to Louisiana to claim an inheritance from their recently deceased father – an 800-acre sugarcane farm.
Greta Gerwig | Lady Bird, Frances Ha
A modern coming of age drama depicting the turbulent bond between a mother and teenage daughter. Additionally, check out Gerwig's 2012 film Frances Ha if you're interested in seeing Gerwig's previous work as both a writer and lead actor.
Lulu Wang | The Farewell
A Golden-Globe winning story about a Chinese family that discovers their grandmother has only a short while left to live. Quietly, they devise a plan to unite the family before her passing.
Novels:
Margaret Atwood | The Handmaid's Tale
This acclaimed dystopian novel published in 1985 portrays a post-United States New England where a Christian regime rises in response to a global fertility crisis.
Zadie Smith | Grand Union
A collection of timely short fiction stories depicting a wide range of subjects including first love, cultural despair and the desire to be the subject of your own experience. Within these stories, she explores issues of race, class, relationships and gender roles in the context of our increasingly divided world.
Art:
Sally Mann | A Thousand Crossings
Published in conjunction with the National Gallery of Art's 2018-2019 traveling exhibition, the book features over 100 images of the American South. the book presents the first major overview of one of the United States' most controversial and defining contemporary artists.
Imogen Cunningham | Ideas Without End: A Life and Photographs
A complete retrospective of one of the first women in history to make her living as a photographer.
Helen Frankenthaler | Prints
A selection of work by a painter and printmaker who greatly influenced American art between the Abstract Expressionist era of the 1950s and Color Field painters of the 1960s.
Music:
Janelle Monáe | Dirty Computer
The third album of triple threat artist Janelle Monáe, released in 2018. Selections include "Make Me Feel" and "I Like That". If you're a fan, check out two of her other releases; Metropolis: The Chase Suite and The Electric Lady – both currently available in the Music Library's collection!
Snail Mail | Lush
Following the success of her 2016 EP Habit, the first album of frontwoman Lindsey Jordan offers a unique new texture and lyricism to traditional indie rock music.