4400 Massachusetts Avenue NW
Washington
,
DC
20016
United States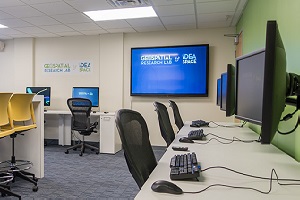 Located in the Anderson Computing Complex (Room B-16), American University Library's Geospatial Research Lab supports the research and teaching programs of American University faculty, staff, and students, through the use of Geographic Information Systems (GIS) technology and resources. The lab builds and curates American University's spatial data collection and provides support for both research methods and software in the pursuit of robust geospatial research on campus. AU scholars are encouraged to explore how geographic visualization and analysis can assist in examining relationship and causalities, uncovering patterns, and making predictions.
Geospatial Data
The Geospatial Research Lab hosts license-restricted Geospatial Data in the American University Library's Digital Research Archive. We also have a Subject Guide to help you find data using publicly available resources. Please contact us for more information on specific geospatial data acquisition requests.
Software and Licenses
Specialized geospatial software is available in the Geospatial Research Lab, including ArcMap, QGIS, TerrSet, and ENVI+IDL. A complete listing of the lab's software is available on the Anderson Computing Complex site. Additionally, the American University Library can facilitate ArcMap software installations on any American University-owned PC. Please contact us to become connected to the American University ArcGIS Online Organizational Account, to access ArcPro licenses, or to request an ArcMap installation.