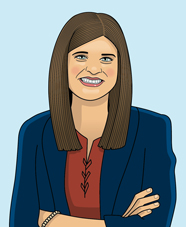 Representative Haley Stevens (D-MI), SPA/BA '05, CAS/MA '07, got her start in politics working on campaigns and waited patiently for the chance to launch her own. Fifteen years after volunteering on her first campaign—Mark Shriver's unsuccessful 2002 congressional bid—she decided to move back to her native Michigan and use her government experience to serve the 11th congressional district. "I just talked to anyone who would listen to me," says Stevens, 35. Last November the voters demonstrated that they, too, had listened, making Stevens Michigan's first millennial to serve in the US House of Representatives.
1983: Born in Rochester Hills, Michigan, a northwest suburb of Detroit.
1994: Won a district-wide speech competition as a fifth grader. "I was always a performer and somebody who wasn't shy being in front of large groups of people," says Stevens, who spoke of wanting to be an actress when she grew up. A love of history later sparked her political curiosity.  
2001: Graduated from Seaholm High School, where she served as student body treasurer, started the diversity club and peer mediation group, and delivered the graduation speech. 
2002: Won a seat in the AU Student Government (AUSG) Senate as a freshman.
Spent the summer in Michigan after breaking her big toe during a paintball game between the AU College Democrats and College Republicans. "I had to have surgery. I took a couple of classes and volunteered on a gubernatorial campaign."
2003: Elected AUSG president. 
Spent her junior year at Oxford University studying philosophy, policy, and economics. 
2005: Graduated from AU with degrees in political science and philosophy.
2006: Hired by the Michigan Democratic Party as a field organizer ahead of the midterms. "I got the campaign bug."
2007: Joined Hillary Clinton's presidential campaign, conducting research on economic and Native American policy and compiling the daily briefing.
Earned a master's in philosophy from AU.
2008: Transitioned to the Barack Obama campaign, working on vice presidential candidate Joe Biden's team.
2009: Named chief of staff for the Presidential Task Force on the Auto Industry, which helped save General Motors and Chrysler. "I'm from car country. My uncle and stepfather worked for Chrysler."
2012: Served as director of a manufacturing innovation and economic growth program in Louisville, Kentucky, as part of a two-year fellowship with the City of Louisville sponsored by Bloomberg Philanthropies.
2014: Moved to Chicago to become director of workforce development and manufacturing engagement at the Digital Manufacturing and Design Innovation Institute, a Department of Defense-funded initiative. Created the country's first online training program in digital manufacturing and design technology.
2017: Returned to Michigan and announced her candidacy for Congress, focusing on affordable health care and access to higher education. "We got on the phone, got into union halls and Democrat club meetings . . . and we just whipped up this campaign."
2018: Rose to the top of a five-person Democratic primary race. 
Three months later, won 51.8 percent of the vote in the general election. 
2019: Took the oath of office as one of 100 new representatives in the 116th US Congress. "I feel a profound sense of duty to do the job, do it well, and to serve my district, my constituents, and the American people."