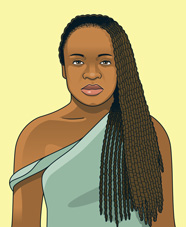 As a child, Brittany Packnett Cunningham, SOE/MAT '09, often tagged along with her parents to work: visiting the homes of St. Louis Public Schools students with her social worker mother and sitting in on Black liberation theology classes taught by her father at Washington University. "I got from both of them a grassroots and grasstops understanding of what it means to drive change," she says—lessons that have informed her own career as an educator, organizer, and activist. Guided by faith and fortitude, Packnett Cunningham has emerged as one of the most influential voices calling for racial justice and equity in this country. "I run toward these fights."
1984: Born in New Britain, Connecticut.
1985: Moved to St. Louis when her father was called to serve as pastor of Central Baptist Church. "That's my mom's hometown, so she was really ready to go."
1995: Protested the lack of a Black Santa Claus at the Saint Louis Galleria. "I was raised to be a race-conscious child. My parents wanted me to understand the way of the world and to be clear-eyed about it."
1997: Started Diversity, Etc. (Education Through Conversation) as an eighth grader at John Burroughs School, hosting biannual diversity symposia.
2001: Sang "Bless the Lord" in the school's production of Godspell. "I only held that high note at the very end one time in three performances. I was very proud of myself."
2006: Graduated from Washington University in St. Louis with a degree in African and African American studies.
2007: Joined Teach for America (TFA), serving as a third-grade instructor at Martin Luther King, Jr. Elementary School in DC's Congress Heights neighborhood. "Part of the reason why I work as hard as I do now is because I'm trying to make up for all of the days when I wasn't the perfect educator."
2009: Earned her master's in teaching from AU's School of Education with a concentration in elementary education.
2012: Moved back to St. Louis, where she worked as the city's TFA executive director. "People were like, 'Why are you here? Did you lose your job?' I said, 'I'm here because I believe in our city.'"
2014: Protested the day after Ferguson police officer Darren Wilson shot and killed Michael Brown. "I felt responsible to [Brown] and his family, and to making sure what happened to him would be understood as a representation of a deeply unjust system that St. Louis was going to have to come together and replace."
Appointed to Missouri's Ferguson Commission and President Barack Obama's Task Force on 21st Century Policing.
2015: Cofounded Campaign Zero, focused on ending police violence in the United States.
2017: Launched Pod Save the People—named the best political podcast of 2019 by iHeart Radio.
Appeared on the April cover of Essence.
2018: Named a visiting fellow at the Institute of Politics at the Harvard Kennedy School. 
2019: Said, in a TED talk that has been viewed more than 5 million times: "Confidence is the necessary spark before everything that follows."
Married photographer and activist Reginald Cunningham—who proposed on stage at Hamilton—in New Orleans. They met while protesting in 2014. "He says to me every morning, 'Don't forget to be gracious with yourself.'"
2020: Joined NBC News and MSNBC as a contributor and launched a new podcast, Undistracted.
Photographed by her husband for the September cover of British Vogue, the theme of which was hope and activism.
2021: Completed her forthcoming book, We Are Like Those Who Dream, a collection of her essays and speeches delivered by African American women like Audre Lorde, Nina Simone, and Shirley Chisholm. "Black women have been feeding the ideas of freedom, equity, and liberation for longer than most people have been alive. That is the wisdom the world needs right now."