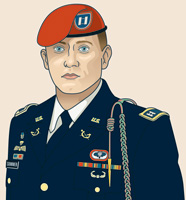 Jesse Sommer, WCL/JD, Kogod/MBA '11, was 22 years old in 2005 when the TV show JAG (a military acronym for Judge Advocate General) was cancelled after a successful 10-year run. He was embarking on a career in media and had no idea his future lay in the armed forces, where he would jump out of planes and try cases. Today Captain Sommer is a real-life JAG—practicing military law and striving to embody both ideals of the JAG Corps motto: "Soldier first, lawyer always."
1996: Published an underground newspaper, the Media Takeover, from eighth grade through high school.
2001: Was a college freshman when planes slammed into the World Trade Center. The previous weekend, he had sat on a friend's roof in New York City, gazing at the towers. "I was enamored with them. Three days later they were gone."
2002: As an undergraduate, launched a comedy talk show on Wesleyan University's radio station.
2004: Elected president of the station. Leased unused portions of airtime to an NPR affiliate; used the money to upgrade the station's technologies, programming, and studio space.
2005: Graduated from Wesleyan with a BA in government and landed an associate producer job at Air America Radio. "I was exposed to the languages of influence: law and business. I realized I wanted to do more than just report on them."
2006: Took the LSAT and GMAT exams.
Launched TasteSpace.com—a startup online bar and restaurant guide.
2008: Helped launch a taxi sharing platform called CabCorner. Talked with Uber founder Travis Kalanick before it was on anyone's radar. "But in perhaps the central mistake of my life, I thought, 'This isn't going anywhere.'" Laughed while recounting this.  
2010: While at AU, spoke to an army field screening officer on a whim. "I'd always been interested in military policy, but when I met [the JAG recruiter], I became completely infatuated with the idea of service." More than 3,000 people applied for 80 slots; he was wait-listed. Accepted on the second go-round in 2012.
2013: Attended army airborne school. Despite a terrifying first experience, he's jumped nearly 30 times. 
Reported for duty with the historic 82nd Airborne Division at Fort Bragg, North Carolina. Became a legal assistance attorney, charged with providing an array of legal services to soldiers.
2014: Promoted to chief of the legal assistance office. Attended the army's jumpmaster and air assault schools.
Assigned as one of the military's first special victims' counsels, tasked with representing sexual assault victims. Selected to testify before the defense department's Judicial Proceedings Panel in DC. "It's a fundamentally new approach to military justice. For the first time, victims are provided with attorneys to help them navigate the system."
2015: Tore his meniscus during the last day of a pre-ranger course. "I'm coming off 11 months of rehabilitation and hoping to give it one more shot. Some dreams die hard!" Became a military prosecutor, winning his first case.
2016: Preparing for reassignment to Fort Polk in Louisiana.