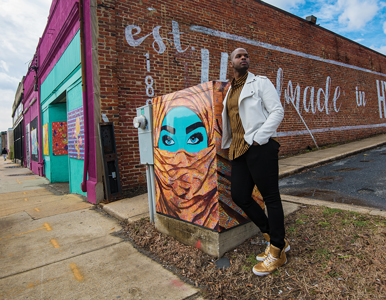 Two otherworldly turquoise eyes gaze at drivers heading south along Route 1 in Hyattsville, Maryland. The woman's lashes and brows are bold and black against her bright cyan skin. Her creator, Rashad Ali Muhammad, draped the rest of her head and face with the layered folds of a golden niqab, covered edge-to-edge with wispy sunbursts of color.
The vinyl wrap, part of a beautification project by the Hyattsville Community Development Corporation, has transformed a nondescript traffic signal box—once a target for graffiti—into a public art installation. Last year, 15 traffic boxes across the city were reimagined with murals by nine Prince George's County artists. Muhammad's creations—Niqabi and a layered design made of black, white, and red circles called I Am Not Your Target—adorn four of the formerly blighted fixtures in the city, just northeast of DC.
A fine artist, graphic designer, and photographer from Clinton, Maryland, Muhammad takes a "a surreal approach" to portraiture that makes use of striking, unexpected colors in the faces of his subjects. He wants people who admire his art to see themselves in it, "regardless of skin tone."
His other signature technique is the use of gold leaf to frame those faces. It's an approach that Muhammad first used to bring vibrancy to an afro in a piece he made for his own blank office walls. He has since gilded his subjects in long, swinging gold leaf braids, voluminous clouds of gold leaf curls, and coronets made of the paper-thin material. The niqab in the original portrait selected for the Hyattsville project was made from gold leaf, adhered to the canvas and then painted to add texture and realism.
A local business owner posted a picture of the installation online, but the real thrill for Muhammad came when he saw it in person and realized that his creation was now an integral part of the landscape. "It's right there," he thought to himself, "and it's going to be there forever."