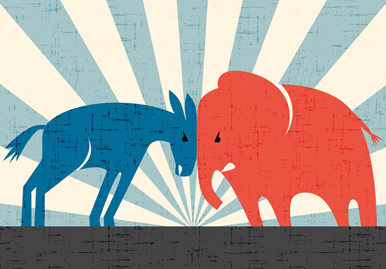 Super-heated rhetoric at political rallies, angry confrontations between citizens and elected officials, contentious exchanges on television and social media. At a time of great political strife, Lara Schwartz believes that Americans must strive for more civil discourse. 
But make no mistake: Civility doesn't demand "politeness," Schwartz says. Rather, it requires honesty—and a healthy dose of introspection. 
"We're trying to figure out how [to] have that dialogue, and that dissent, and the intellectual diversity that we want, while also respecting each other's humanity," she explains. "That's the ultimate challenge."
Trying to achieve—and sustain—that delicate balance is Schwartz's charge as director of AU's new Project on Civil Discourse. Housed in the School of Public Affairs, the project aims to help students understand free speech not just "as a matter of rights, but of responsibility, values, and opportunities." 
Through events, lectures, and student-led discussions, the project embraces AU's long-standing culture of open political dialogue, while also pushing people to think beyond the traditional boundaries of speech, debate, and discourse. It's one thing to support "free speech," Schwartz says. It's quite another to understand the power of one's own words to make the world a kinder—or nastier—place.
"I can't imagine things getting better [in America] until people are willing to look each other in the eye and say, 'I draw the line at lying, ad hominem attacks, and bigotry,'" she says. "We're going to have to hold ourselves to some higher standards. And I don't think we're going to get better [as a country] by being classically polite."
Not surprisingly, the project can trace its roots to the rancorous presidential election of 2016, when AU—like the rest of the nation—was roiled by political debate that sometimes escalated into anger, resentment, and hatred. Even for a politically engaged campus like AU, the Clinton-Trump race marked a turning point.
"What I heard from students was that they wanted to do better," Schwartz says, "but also that it was incredibly hard to do so."
Schwartz harnessed the teachable moment. She began working with Meredith Mason, SPA/BA '20, Isabella Dominique, SPA/BA '20, and Amanda Nannarone, SPA/BA '17, WCL/
JD '20,  to develop a pilot program that saw faculty and staff mentors working alongside students to foster civil discourse on campus. The pilot was so successful that SPA Dean Vicky Wilkins approved the launch of the broader program, which has since been featured in the Wall Street Journal.
Going forward, Schwartz is confident the AU project can make a difference—and help redefine, at least on campus, what "civil discourse" actually means. 
"The goal is to get people thinking [beyond] what we're 'allowed' to say," she says. "This school has a commitment to free speech—and we won't limit speech. But that's not the end of the story. We want people to think about the goals of their speech—their responsibilities, their values."