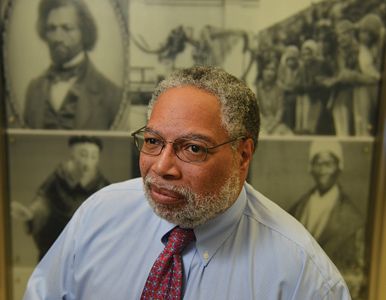 Perhaps it's not surprising that Washington's cherry blossoms had not yet bloomed before the one millionth visitor walked through the doors of the National Museum of African American History and Culture (NMAAHC). Free tickets to the Smithsonian's 19th museum have been hotter than Hamilton since it opened on September 24, but the true measure of the museum's impact can be found in how long those lucky enough to have gone have spent in the 400,000-square-foot facility, which features 11 inaugural exhibitions showcasing 3,000 objects. Dwell time—the length of time a visitor stays—is unparalleled at the NMAAHC, averaging 6 hours or more on weekends, compared to 75 to 120 minutes for most museums.
More than any other single person, founding director Lonnie Bunch, CAS/BA '74, CAS/MA '76, is responsible for that success. For a decade he traveled the globe in search of artifacts, raised money, and readied the museum for its debut. On the penultimate day of Black History Month we sat down with him to discuss his journey in a conference room on the top floor of the museum that offers breathtaking views of the Washington Monument. The bright room is lined with accolades he's accumulated throughout his nearly 35-year career as a museum curator and director. Two weeks earlier he'd added another to the collection: the NAACP President's Award.
"I knew early on that I needed to be the face of the museum, but I have to be honest, I've been overwhelmed by the visibility," he says. "After I got back somebody sent me a YouTube [video of the awards ceremony] and I could see that the audience stood up. Here is Hollywood, a place that's really focused on itself, giving a standing ovation to a museum. That reminded me of the power of what we've been doing."
Have things slowed down at all for you since September? The excitement about the museum, the number of people that are visiting, the interest, globally, means that I'm on the road just as much now as I was before. There are new exhibit projects that we're doing with the Netherlands and the UK. I was in Davos at the World Economic Forum, so I got to talk about the museum there. It's a combination of goodwill, repaying donors, building new partnerships, and a little hint of a victory lap.
At what point did this project in your mind transform from the abstract and start to feel like a museum? That was part of my strategy from day one. When I left [the Chicago Historical Society] Mayor Daley said something that stayed with me: "Why would you want to go back and run a project?" I realized projects may not happen, but if the museum existed from day [one], that would really help us move this along. So that's what we did. We hired scholars and educators, we did exhibitions here at the Smithsonian, we did traveling exhibitions, we did educational programs. That was part of an overarching strategy of saying that people support real things—not "projects."
What's surprised you about the way in which the museum has been received? I'm surprised that it exceeded my expectations. You hope that the museum is important, that the museum is visited, and that the museum matters to people. All of that has been proven true.
The other thing that surprised me was . . . that people would say, "Well, this musician isn't in, does that means he's not important?" People began to push their favorites. I'm an old jock so it reminded me of the Baseball Hall of Fame: who got in and who didn't, and who almost made it. It surprised me that there would be that level of conversation.
What's struck you about how visitors are interacting with the museum? The amount of intergenerational learning that's going on. We see grandparents sharing not just their take on the history, but how they were involved or how it shaped their lives. To see that sense of being able to educate in an informal yet meaningful way is gratifying.
I'm also struck by the respectful way people are using the museum. We've got huge lines—people sometimes have to wait an hour, an hour and a half. We've never had anybody complaining. There's really been this sense of almost a pilgrimage, that you want to take whatever time you need to be able to engage the pilgrimage and if you have to wait a little longer for it to begin, then so be it. As somebody said to me: "We've waited for 100 years, I can wait another hour and a half."
Do you have a favorite corner of the museum where you like to go and reflect? Because of the work it took to get, I'm really taken by the remnants of the slave ship São José. I like to watch people look at that and reflect. I always stop in the contemplative court where the water is flowing; I've overheard amazing conversations there.
Have you had the chance to watch a person who donated an item see it on display for the first time? What you see often is people who have donated something standing near it. They don't say anything, they just want to hear what other people say. The [instance] I remember the most was a woman who was taking her son through the museum. They were at the civil rights piece and she was talking about Medgar Evers. There was a woman standing there and at the end of the conversation she goes over and thanks the woman and says, "You know, you did a really good job explaining that story to your son because Medgar Evers was my father." You see the kind of personal exchange and ownership happening. You hope for it to happen but you couldn't plan for it.
Was there a particularly emotional moment for you during the opening festivities or in the months since? Sitting on the stage when we opened in September, to have President and Mrs. Obama, President and Mrs. Bush, to have the chief justice sitting across from me and John Lewis sitting next to me, that was very moving.
But then what really did it was when I made myself look out and see the crowd. I was so focused on giving the speech and not screwing up, but when I looked out and saw the people by the Washington Monument, I suddenly realized this was much bigger than any of us ever could've imagined.
I found myself getting very emotional thinking about not only who was there, but about all the people who began this journey with us who weren't there anymore—my dad and others. I really felt that all those people who went before, whose stories didn't get told, suddenly they were alive in this museum. And I felt a kind of continuity and a connection between the past and the present that was hidden and embedded in the walls and the glass and the artifacts.
You gave a personal tour to President Trump last month. What was that experience like? It's always humbling when you get to talk to the president of the United States. To be able to engage him on issues of race and optimism and spirituality . . . I think the word he used was "amazing." I've walked a lot of presidents through exhibitions, but [Trump] really gave it the respect and attention it deserved.
Are you continuing to amass artifacts? We will continue to collect as long as there is a museum. We have the opportunity to look back and collect things we don't have. But maybe the most important thing is every quarter saying, "What would a curator 50 years from now want to have about today?" So, it's really both looking back and looking ahead. Right now we have 35,000 to 40,000 artifacts stored out in Landover, Maryland, in a storage facility we share with other Smithsonian museums.
How often will the exhibits change? We have rotating spaces for photography and fine art so you'll see a lot of that. We also framed the exhibitions so that a lot of things can be changed via the technology. But I think that, like any major Smithsonian museum, you want to make sure that the core of what you have stays because it becomes a touchstone for families. They'll say, "I saw the railroad car when I was in eighth grade and now I'm taking my kids."
Have you had a chance to stop and exhale yet? No, it's not my nature. And there's been so much going on, whether it's trying to figure out: How does the building work? How do you handle the array of acclaim, how do you handle the criticism? When I go away and spend several months writing a book about how you open a national museum, that's probably when I'll relax.
There's no doubt that this took a toll on all of us, because, while it took 11, 12 years, that still was warp speed for the federal government. As I've always said, this was like going on the cruise at the same time you're building the ship. So part of the challenge and the stress was, you've got to raise a lot of money, but you don't even have your whole staff. You've got to think about the kind of exhibitions, but you don't know what your collections are. I'm unbelievably proud of the staff's ability to collect amazing artifacts, and to put them together in exhibitions that are interesting and technologically sound.
We take great sustenance from having been able to craft an institution that in some ways changes the feel of the National Mall and in some ways alters the national discourse. [The museum] has helped to move history back to the top of conversations and at a time of change, it's also a place that can help people grapple with the things that divided us. We always felt that building a good museum wasn't enough. We needed to build an institution that made a country better, that helped a country live up to its ideals, and that ultimately helped everybody recognize that this is a story of us all.