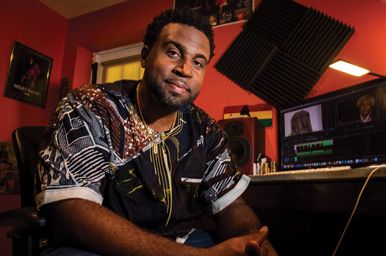 The American LOWS (Legacy of White Supremacy) opens with a sobering sequence of violence and hate that is unsettling—but not unfamiliar.
Police fatally shoot Levar Jones, Philando Castile, and Walter Scott. George Zimmerman calls 911 on Trayvon Martin. Minneapolis police officer Derek Chauvin kneels on George Floyd's neck, hands casually tucked in his pockets. Pieced together from cell phone and dash-cam video and 911 audio, the footage is a painful reminder from filmmaker Darnley Hodge Jr. of racism's relentless human toll.
An award-winning photojournalist who started his own production company, Imagination Media LLC, in his twenties, Hodge has witnessed far too much racial violence in his work and far too little nuance in its coverage by the media.
After graduating from AU, Hodge—the son of a law enforcement officer—began filming The American LOWS to explore how white supremacy's roots are deeply entangled in our nation's culture and history, from a 1681 Maryland anti-miscegenation law that marked the first use of the word "white" to eugenics classes taught at major universities. "I want the viewer to come away with the understanding that racism is not just a specific behavior, but a mentality, identity, institution, and ideology," says the Oxon Hill, Maryland, resident.
Released in August and streaming on Prime Video, the documentary took six years and five cameras to complete, and features 20 interviews with political commentators, former government officials, and scholars—including psychiatrist and author Frances Cress Welsing in the final interview before her death in 2016.
The film doesn't spend all of its 88 minutes exploring the lows of white supremacy, however; it ends by sharing another legacy intended to empower Black people. Hodge weaves footage from his 2017 trip to Egypt and interviews with historians and anthropologists to shed light on the cultural and academic achievements of civilizations along the Nile River. It's an intentional departure from how Black accomplishment in America is often presented: as "doing something that white people already did," Hodge says.
"My message to Black people is, don't settle for equality. The ultimate solution is to regain what was lost in that Middle Passage."