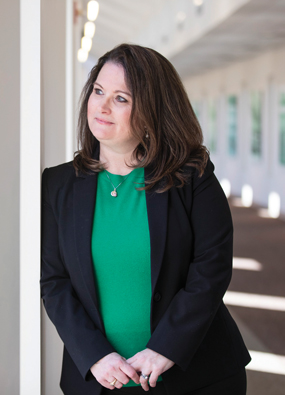 When Lisa Scullin joined Milton Hershey School (MHS) in 2012, she got an education in the challenges students face beyond the institution's manicured grounds. 
"The children know very real struggles: food insecurity, incarceration, addiction, mental health issues. They are forced to grow up faster than their peers and endure hardships that would shake most adults," says Scullin, vice president of communications. "All the smarts and hard work in the world aren't going to cut it when their basic needs aren't being met."
MHS was founded in 1909 by the famed chocolatier and his wife Catherine, who never had children of their own. Milton Hershey, who grew up in poverty before building a candy empire now worth about $43 billion, left the bulk of his fortune to the pre-K–12 school, which boasts more than 11,000 graduates, including Pulitzer Prize–winning journalist Trymaine Lee and President Barack Obama's social secretary, Deesha Dyer. The Catherine Hershey Schools for Early Learning, a series of six centers across Pennsylvania for children from birth to age 5 from low-income backgrounds, is slated to open in 2023.  
Of the 2,000 students currently scattered across MHS's two campuses, most come from single parent households with an average annual income of $20,000—less than twice the federal poverty level. More than 50 percent are students of color. 
It's Scullin's job to share their stories of courage and resilience through a variety of channels: internal and external communications, marketing, events, and social media. The former reporter is also tasked with spreading awareness of the school—which provides everything from computers to uniforms to dental care, at a cost of about $100,000 per student, per year—beyond the Keystone State and the Mid-Atlantic. 
That work was given a big boost last year by Pulitzer Prize winner Andrea Elliott's sweeping opus, Invisible Child: Poverty, Survival and Hope in an American City. Widely regarded as one of the best nonfiction works of 2021, the book was born out of the New York Times reporter's 2013 series on child homelessness, as told through the eyes of girl named Dasani Coates, the oldest of eight siblings.
When Elliott first called Scullin in late 2013 after the Times series was published, she didn't do so as a journalist. "It wasn't a media pitch; she just wanted information about how Dasani could apply."
After Coates was accepted in 2015, Scullin got another call: Would she allow Elliott access to all aspects of the girl's Hershey education? The unprecedented ask was met with an enthusiastic yes.
"We have tried to get as many reporters on our campus as possible, but we could never get someone to come for more than day," says Scullin of MHS, nestled 15 miles east of Harrisburg. "This was an opportunity for Andrea to come and understand the challenges and nuances inherent in our work. And the fact that she knew Dasani so well gave her a unique perspective. She was committed to that child's success."
Unfortunately, Coates's MHS story had a bittersweet ending. After excelling at the school for two years, she was expelled in 2017 for fighting, just as her family of 10 was split up. 
Her experience is atypical: MHS has a retention rate of about 90 percent, and about 90 percent of graduates go onto college or pursue a trade. But the burdens she carried are, unfortunately, all too familiar. 
Coates's family had weathered homelessness, addiction, incarceration, poverty, and trauma, and managed to stay intact. When her siblings were placed in foster care, however, "there was nothing that would've kept Dasani in Hershey," Scullin says. "Our students, many of whom have been parentified, commonly feel guilt or worry that their family is not being taken care of."
For Scullin, Milton Hershey School is the very thing that's kept her in central Pennsylvania. "I thought this would be a stop on the way back to New England." But a decade later, she says working alongside faculty and staff who support MHS's very special student body, preparing them for success beyond a high school diploma, has been the highlight of her career.
"The spirit of giving here is just incredible."