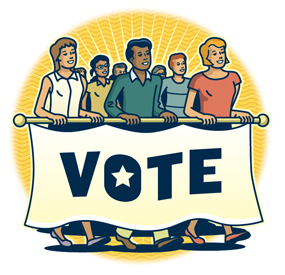 "As a country," says Professor Thomas Merrill, "we are really bad at talking to people we disagree with." Merrill is director of Lincoln Scholars, AU's new 15-credit certificate program for first- and second-year students who want to explore moral and political questions in a context of intellectual and political diversity. AU seeks funding to expand the scope of the program, which launched in fall 2019 with an inaugural cohort of 30 students. "There is a real opportunity to create a more curious, sympathetic, and forgiving culture that doesn't turn a blind eye to controversy," Merrill says. "To do that, we need to seek out people we disagree with. We need to talk to liberals, conservatives, and the great majority of us who aren't sure where we fit in."
Supporting a strong and resilient democracy
American University empowers advocates, secures our systems of governance, and advances civil discourse. Changemakers are using skills honed at AU to help craft solutions to pressing public health, economic, and environmental challenges.
It starts with giving students the tools necessary to have difficult conversations. "We are losing this skill—it has atrophied among us," says School of Public Affairs dean Vicky Wilkins. "Dialogue has become about conflict instead of curiosity." 
SPA's Project on Civil Discourse offers facilitated discussions on topics related to free speech, inclusion, intellectual diversity, tolerance, political differences, and more. Teaching resources, events, and student-led discussions help build skills. "We should be thinking about how we should use our voices—not only what we can say," says director Lara Schwartz. 
Civic engagement is also fundamental to democracy. The Washington College of Law's Marshall-Brennan Constitutional Literacy Project helps the voters of tomorrow understand how the law applies to their lives. Each year, WCL students partner with DC public or public charter schools, drawing on actual legal cases to teach two civics courses: constitutional law and youth justice. The program was launched in 1999 by Professor Stephen Wermiel, WCL/JD '82, and Professor Emeritus, Rep. Jamie Raskin (D-MD).
AU's Women and Politics Institute also boasts a rich tradition of nurturing the next generation of political leaders. The institute's WeLead Campaign Training Program, now in its 16th year, seeks to close the gender gap in politics by training young women to run for office or helm a political campaign. The program's 550 graduates now occupy the halls of Congress, campaign leadership, city councils, and corporate boardrooms across the country. At the School of Professional and Extended Studies, the Washington Semester Program has been pairing rigorous academic seminars with immersive internships for 73 years. Among the notable alumni who have used DC as their classroom: Rep. Donna Shalala (D-FL), '61; Chicago mayor Lori Lightfoot, '83; and former speaker of the House Paul Ryan, '91. 
Meanwhile, at the School of Communication, we are working to strengthen another cornerstone of a healthy democracy: a free press. The Investigative Reporting Workshop, which marked its 10th anniversary in 2019, launched the Accountability Project last year. The free tool culls together hundreds of public databases—more than 560 million records so far. The team pushed in early spring 2020 to add hospital and nursing home data to support reporting on COVID-19. The resource helps safeguard access to essential information that affects our lives.
People took to the streets this summer to protest racial injustice, exercising rights central to democracy. AU's Metropolitan Policy Center provides resources to understand what fuels social unrest and offers policy solutions to minimize discontent and promote democracy. They include a new report by Professor Michael Bader that shows a stark racial divide in everyday life in DC, from policing to health, and offers steps to reduce inequality.
From advancing racial justice to addressing COVID-19, it's critical that our nation works effectively toward shared goals. AU trains leaders, engages voters, and fosters dialogue, and our distinctive centers, research, and programs ensure that our students—and the broader community—are well-informed and emboldened to act. Philanthropic support will continue to advance AU programs that strengthen our democracy. 
For information on how to support democracy and promote nonpartisan solutions, contact Courtney Surls, vice president of Development and Alumni Relations, at 202-885-5900 or vpdar@american.edu.
Sine Institute Sparks Policy Innovation
The mission of AU's Sine Institute of Policy and Politics is straightforward: convene, communicate, collaborate. "The institute gives a 360-degree view of politics and the policy-making process," says executive director Amy Dacey, SPA/MA '95. "It brings together diverse ideas from the public and private sectors, nonprofits, journalism, and academia, demonstrating how they all play a role in civil society."
Now in its second year, the institute brings together experts, scholars, and students to dissect the nation's most pressing challenges in a way that promotes common ground and nonpartisan policy solutions. A cornerstone of the Sine Institute is its fellowship program—a cohort of six expert practitioners from all sectors. The spring 2020 Sine Fellows included a former secretary of Housing and Urban Development, a presidential speechwriter, a food advocate, a former congresswoman, a White House correspondent, and Instagram's head of politics and government. 
When COVID-19 put an end to in-person seminars in March, the institute quickly pivoted to webinars. One silver lining: expanded participation among those far from campus. Sessions like "Discussing the Global Coronavirus Pandemic" with Sine distinguished lecturer Ambassador Joe Hockey are also available on YouTube for ongoing reference. Virtual learning will continue through the summer with a series centered on current events. 
Dacey is always on the lookout for new ways to engage the AU community. In November, the institute partnered with the Kennedy Political Union, AU College Democrats, and SPA to host a conversation with Rep. James Clyburn (D-SC), the third-ranking Democrat in the House. When travel restrictions are eased, Dacey says the institute will present programs for alumni around the country. 
The institute was established with a $10 million milestone gift from long-serving AU trustee and entrepreneur Jeff Sine, SIS/BA '76, and his wife, Samira, a journalist and advocate for women and children. "We wanted to empower American University to make an immediate and lasting impact at the intersection of politics and policy, increasing AU's national and international visibility," the Sines said in 2018 of their gift.