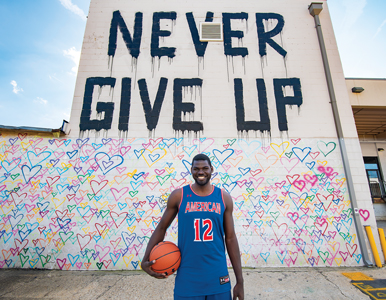 Yilret Yiljep—or YY, as the Eagles' big man is known—acutely understands how much he loves basketball because he's experienced what it's like to have it taken away.
Nearly five years ago, 
Yiljep—then just a freshman—logged 12 minutes against Holy Cross, recording four points, three rebounds, two assists, and a block. But at halftime he was suffering from shortness 
of breath. Maybe I need to get in better shape, he thought. But during practice the next day he knew something was wrong. 
"The more I tried, the less I could do," he says. 
After undergoing a battery of tests from an armada of doctors, Yiljep was told that he had a mild version of cardiomyopathy. His heart was slightly enlarged and not pumping as aggressively as it should. That, coupled with the fact that his father died of a heart attack in his early 50s, meant his playing days were over.
Yiljep was crushed, but not defeated. He'd come to the United States from his native Nigeria four years earlier to play basketball, but his father had always stressed the importance of academics to him and his brothers. So over the course of the next four years he threw himself into his studies while remaining an integral part of the team. 
"YY's attitude never faltered," Coach Mike Brennan says. "I was amazed at how steadily he handled such devastating news. While he was out YY would help out coaching our post players, offer guidance to our younger guys and remained a positive force in our locker room." 
After graduating in 2017 with a degree in business administration, Yiljep began working for a startup. A year ago, he was sitting in a movie theater when he got a sinking feeling.
"It was like when you're sleeping and you feel like you're falling and you jolt up," he says. "But it was constant."
His fiancée drove him to an emergency room, which started another months-long parade to hospitals and examining rooms. Finally, doctors told him that he was having panic attacks. Whether he had a virus when he originally was diagnosed in 2013, or the medication he'd been taking worked wonders, his heart was completely fine. 
He was free to play ball. 
Upon hearing the news, Yiljep went straight to Brennan's office. Andrew Smith, associate athletics director for compliance and internal operations, petitioned the NCAA and the Patriot League, which granted the 24-year-old Yiljep an additional year of eligibility. Now a Kogod graduate student, he'll be suiting up for the team this season.
"People ask me, 'Are you frustrated with the misdiagnosis,' and to be honest, I don't have a lot of regrets," he says. "Obviously I would have loved to play my first four years, but right now I'm just grateful that I'm able to be out there and run around with no restrictions. It's so liberating.
"Every time I go on the court I play hard because I know that I'm lucky to have this opportunity, and I don't want to take it for granted. I was a part of the last American basketball team that won the Patriot League, so I saw firsthand what it takes. My role is to show these guys how hard they need to practice and how seriously they need to take the little things in order to be successful."
It's a lesson his teammates certainly can take to heart.