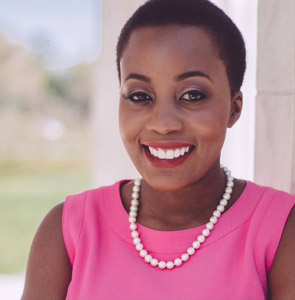 While some people view the digital divide as linear—a series of fiber-optic cables that don't stretch far enough into rural outposts, remote tribal lands, and low-income urban cores—Rebecca Kauma, SPA/MPA '17, knows the issue is as complex and interconnected as the web itself. 
 
"To address the digital divide, we have to acknowledge that systemic and institutional racism and oppression exist and understand how these inequities continue to manifest," says Kauma, economic and digital inclusion officer for the City of Long Beach. "Digital inequities intersect with economic, educational, and health inequities—it's all intertwined. That motivates me, but it's also a challenge because I know if we don't address the digital divide at the root, these inequities will continue."
According to US Census data, 8.2 percent of Long Beach households lack an internet connection. The problem is more acute among residents of color—10.1 percent of Latinx households and 11.4 percent of Black households are without access—and people under 18 and over 65, 9.7 and 8.5 percent of whom, respectively, don't have an internet subscription.
As one of the architects of the city's Digital Inclusion Roadmap, it's Kauma's job to help get them online. While the pandemic accelerated the task for municipalities, catching many of them flatfooted, Long Beach found itself ahead of the curve, as the city of 466,000 in southern Los Angeles County had begun laying the groundwork for closing the digital divide years before COVID hit.
"We found a silver lining in the pandemic," says Kauma, who sits on the board of the National Digital Inclusion Alliance. "We've gotten a lot of exciting traction that I hope continues even when we're out of this state of emergency." 
The city's robust, 50-page roadmap has been hailed as a model for the country by the National League of Cities. It features a detailed action plan that calls for expanding digital literacy programs and connectivity in schools, parks, libraries, and on public transportation; offering free or low-cost devices and multi-lingual support services; and ensuring 95 percent of residents have quality internet access by 2025. 
It's an enormous challenge, but one that Kauma accepts with gusto. "The digital divide is part of a bigger giant that we're trying to take down."
The digitial divide: a timeline
1982: The Commodore 64 is released at a cost of $595. It sells more than 22 million units before it's discontinued in 1993.
IBM launches its personal computer.
1984: Apple introduces the Macintosh with a commercial during the Super Bowl. The price tag: $2,500—or $6,764 in today's dollars.
Eight percent of American households own a computer. 
1991: The first web page—a primer on the web—launches. The goal of W3, as it's dubbed: "to give universal access to a large universe of documents."
After its Macintosh Portable flops in 1990, Apple rebounds with the PowerBook. 
1992: Sprint offers the first dial-up access in the US. 
1993: AOL begins mailing free trial discs—first floppy, then CDs—to Americans. Ten percent of people subscribe and soon, AOL is registering a new user every six seconds.
1994: Monster Board becomes the world's first online job board. By 2018, applications received through employment sites account for one-fifth of hires.
1995: Larry Irving, then head of the National Telecommunications and Information Administration, originates the term "digital divide." At an event at Arizona State University in 2021, he says it continues to be the "greatest economic and civil rights issue in the nation." 
Wells Fargo ushers in the era of online banking and by 2021, 65 percent of Americans manage their finances online.
1996: One in four public libraries boast free internet access. In less than a decade, 99 percent offer the service.  
2000: Broadband is born. 
2001: Fifty-one percent of American households own a computer.
2004: More Americans have access to broadband internet than dial-up, although the latter is still widely used in remote and rural communities. 
2007: Apple CEO Steve Jobs unveils the iPhone: "an iPod, a phone, and an internet communicator" all in one. The 4GB version sells for $499.
2009: Sales of laptops outpace desktops for the first time—a trend that continues today.
2010: Starbucks flips the switch on free Wi-Fi at its 6,800 stores across the US and Canada. 
2011: Google launches Loon: a "moonshot" technology that uses helium balloons to beam the internet to remote areas around the globe. In 2021, Alphabet, Google's parent company, scraps the program because it's not sustainable. 
2012: Among the 65 million Americans that have broadband access, only 40 percent live in households with less than $20,000 in annual income. 
2015: SpaceX announces Starlink—a satellite internet constellation that can provide service to most of the Earth. By 2022, SpaceX has launched 2,091 satellites with services on offer in 25 countries. 
2016: Eighty-nine percent of American households own a computer. 
2017: Microsoft launches its Airband initiative, using unlicensed TV wireless spectrum—or TV white spaces—to get 3 million unserved Americans in 25 states online by July 4, 2022. In 2021, it extends its work to eight urban areas.
2018: Smartphone subscriptions hit 5.3 billion, worldwide—a 180 percent increase in five years. 
2019: Amazon announces plans to deploy a constellation of more than 3,000 broadband satellites as part of its Project Kuiper. The $10 billion endeavor, which will provide internet service to millions, will take a decade to implement. 
2020: As the pandemic shutters schools, 93 percent of households with school-age children report some form of distance learning. However, up to 17 million youngsters can't afford or access a device or internet connection.
A Microsoft study estimates that 157.3 million Americans—48 percent of the population—don't use the internet at broadband speeds. 
The FCC takes its single largest step toward closing the digital divide, establishing the $20 billion Rural Digital Opportunity Fund. 
About 83 million Americans can only access broadband through a single internet provider. 
Facebook develops a robot called Bombyx—Latin for silkworm—to install fiber cables on medium-voltage power lines, making it cheaper for internet service providers to build out their networks. 
2021: Medicare visits conducted through telehealth jump from 840,000 in 2019 to 52.7 million in 2020—a 63-fold increase.
Americans pay $64 per month on average for standalone broadband service, up from $39 per month in 2011—a 64 percent hike. The affordability problem disproportionately impacts people of color: 34 percent of American Indian/Alaska Native households and 31 percent of Black and Latinx households are priced out. 
After COVID hits, the use of videoconferencing apps like Zoom, Microsoft Teams, and Google Meet grows by 2,100 percent.
President Joe Biden's infrastructure bill, which passes in November, includes $65 billion in broadband investment, including a permanent, $30-a-month subsidy program to help low-income Americans afford service.