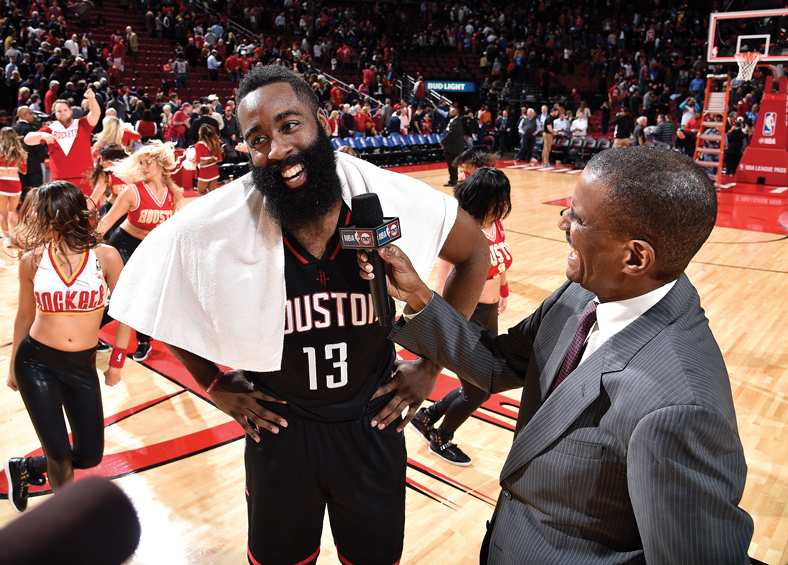 As a sports journalist, David Aldridge is a pro's pro. For those keeping score, he also had one of the most coveted gigs in the business, covering the NBA for Turner Sports for 14 years. However, last year, Aldridge, CAS-SOC/BA '87, traded his mic for a recorder and returned to his first love: sports writing. Now, as editor in chief of The Athletic DC, Aldridge is part of an upstart national publication that's making headlines as well as writing them.
Launched in 2016, The Athletic is betting that, in a digital age of free sports blogs and Twitter, readers are willing to pay a subscription fee ($10 a month or $60 per year) to access high-quality, ad-free content. This summer, readership hit 500,000 and The Athletic—which covers 270 teams in 50 cities—expects subscribers to surpass 1 million by year's end. 
For readers in search of serious sports journalism, The Athletic could fill a space previously occupied by Sports Illustrated, the prestige magazine that recently announced massive layoffs. The new kid on the block has hired a number of veteran scribes, including baseball writers Jayson Stark and Ken Rosenthal, hockey columnist Pierre LeBrun, and college hoops analyst Seth Davis. 
Aldridge says their rules of engagement are simple: If you can google it, it's not for The Athletic. 
"We don't do game stories; everyone knows the final score 10 seconds after the game ends. Our focus is on pieces that other media can't or won't do, that explain the how and why of sports rather than the what," he says. "As we see it, the final score is just the beginning." 
Aldridge's post includes new responsibilities, such as personnel management and budgeting. But another aspect of the job is more familiar, harkening back to his time at AU. 
"I haven't been an editor since I was editor of the Eagle," he says with a laugh. "I had to get some of those muscles retrained." 
Aldridge grew up in the Woodridge section of Northeast, DC. He was, by his own admission, not an athlete. He remembers playing street football with his friends—sprinting to the sidewalk to avoid incoming cars—but he wasn't active in organized sports. Still, he loved watching DC teams. He relished the glory days of the Redskins dynasty under Coach Joe Gibbs and cheered on the Washington Bullets as rebound master Elvin Hayes led them to the 1978 NBA championship.
"I just remember the feeling you'd have when you'd walk into Capital Centre, or, on very rare occasions, RFK Stadium, and that anticipation of what you'd see was met with that stunning visual of the field or the court—not on TV, but with your own eyes," he says. "When you're a kid, it's breathtaking."
As a teenager Aldridge worked as an usher at the Warner and National theaters, and went to DeMatha Catholic High School in Hyattsville, Maryland. Die-hard basketball fans know DeMatha well, as it's fostered prodigious athletic talent and fed top-tier players to the NCAA and NBA, including Adrian Branch and Danny Ferry, who attended school with Aldridge. Yet, for Aldridge, DeMatha's influence was less about sports and more about people. Having come from a working class African American neighborhood, he was suddenly surrounded by a much more diverse student body. 
"It was the first time I had to deal with different people, races, religions, economic backgrounds. That was illuminating," he says. "I learned that there are times when you can find common ground, and maybe there are times when you can't."
At AU, he double majored in history and print journalism, worked as editor in chief of the Eagle, popped up on student TV, and served as a radio play-by-play announcer for men's and women's basketball. Despite being immersed in sports, Aldridge wanted to be a high school history teacher. But, in what he calls a "ridiculously fortunate set of circumstances," Aldridge soon found his way into a pro-sports press box. 
Aldridge's classmate, Steven Goff, SOC/BA '88, was working part-time at the Washington Post (Goff is still a well-regarded soccer reporter there). Another AU alum, the late Mike Trilling, CAS/BA '63, was looking for other cub reporters from DC colleges, and Aldridge started working as a Post stringer covering high school sports. "I did OK, I guess. I didn't throw up on myself," he jokes now. "That got me in the building 
at the Post." 
He subsequently landed an internship there, followed by a full-time general assignment job. Still a young reporter in his early 20s, Aldridge covered the 1987 Minnesota Twins–St. Louis Cardinals World Series, US Open tennis, and the Indianapolis 500. He spent nine years at the Post, working the Georgetown basketball, Redskins football, and then Bullets basketball beats. That shoe-leather reporting proved invaluable for Aldridge, especially his time covering a struggling NBA franchise.
"It taught me how to cover a team that's not good. It's easy to cover a team that's good. Everybody is happy! Everybody wants to talk! But when they've lost 12 in a row, you've got to work it differently. It was an incredible experience," he says. 
In the mid-'90s, Aldridge made the leap to TV, working as a regular NBA broadcaster on ESPN and later TNT. He interviewed many of the NBA greats of the era and established himself as "one of the absolute best" sideline reporters in the business, according to bestselling sports author Jeff Pearlman.
Aldridge has seen radical changes in the NBA—yes, there are a lot more three pointers—and he's tried to put each player's performance in the context of their times. It's one reason why he resists the never-ending "Who's the GOAT, Jordan or LeBron?" debates.
"The rules are completely different now than when I started covering the league. It was much more physical. They allowed defenses to do a lot more," he says. "Conversely, if players from the '80s or '90s were playing under today's rules, they would have a really difficult time defending people." 
As basketball became his specialty, Aldridge grew to appreciate the intimacy of the game. Compared to other sports, reporters are closer to the action, and he remembers Bullets coach Wes Unseld talking to journalists courtside during the game. 
"The players essentially are dressed in t-shirts and shorts. They don't wear masks or helmets, and they're not covered up in all manner of padding. You can see their faces and expressions," Aldridge says. "When you cover football, baseball, or hockey, you're in a press box way up high and you have no visceral sense of what's going on down there." 
He also still marvels at the athleticism of NBA players. "The things they can do with their bodies are amazing. I've been covering the NBA for 30 years, and I still see things in games that I've never seen before." 
Even with a grueling work schedule—including regular West Coast trips to cover games for TNT—Aldridge has remained active in the life of the university. He's embraced the fun moments—throwing out the first pitch at AU's Night at Nationals Park in 2014 and cheering on the men's basketball team as a season ticket holder—and the more solemn responsibilities, like serving on the Working Group on the Influence of Slavery.
He keeps in touch with many of his college friends, including Anne Foster, CAS-SIS/BA '87, now a history professor at Indiana State University. The two met in history class and Aldridge recruited her to be the Eagle's arts editor. He helped Foster improve her writing skills, and while teaching as a Cornell University PhD student, she assigned some of his Washington Post clips to her students. 
"His ledes, especially, were just so beautiful and well-constructed and helped the reader get right into the story," she says. "Even when he was 20 years old, he was such a natural teacher of writing."
Aldridge remains a history buff, and he and Foster occasionally discuss books. She thinks Aldridge's curiosity strengthens his work. "He's a sports reporter, but he never shies away from connecting that to the rest of life—politics, culture, community. That's part of what makes him such a great reporter. He's not just thinking about what happened in that particular basketball game or to a particular player. He's connecting it to the bigger story."
That's one reason why Aldridge finds deeper meaning in sports. He sees teams as a melting pot of people—drafted from other cities, from a variety of backgrounds—who come together for the shared goal of winning.  
"I've always been fascinated by how people get along—or don't get along—on a team," he says. "And I think sports is usually a meritocracy. It can be the best version of who we're supposed to be."
"Let's throw it to David Aldridge on the sideline"
Even casual basketball fans have seen these moments. A player hits a game-winning shot at the buzzer and briefly celebrates. Still dripping sweat and exhausted from a hard-fought victory, a microphone is suddenly thrust in the heroic player's face. Superstars like LeBron James or Kevin Durant might not be inclined to talk with reporters after they make a miraculous play on the court. But what about a rookie who's not yet a household name? Maybe some players do want to let the world know exactly how they made that late-game steal. 
This is the unpredictable world of NBA sideline reporting, and David Aldridge spent years as one of its go-to practitioners.   
If the players sometimes look like they'd rather be somewhere else, it's because they would. "Sometimes they want to be in the locker room celebrating with their teammates. Or they see their family in the stands and want to talk to them. But the good thing is, I think most—or almost all—of the players you interview in those situations understand that this is part of the package," Aldridge says. "If you're a great player and you had a great game, you have to distill it as best you can. And it's our job to try to help them."
That's no easy task, given that an entire on-air exchange lasts only 30 to 45 seconds.
"That's part of being on that high wire all the time," Aldridge says. "You've only got one chance to ask the question, and you want to make sure it's absolutely correct. But we've all screwed up a question." 
It's inevitable that players will spout a lot of sports clichés: It was a team effort. We left everything on the court. But if you're searching for spontaneous, unscripted moments, look no further than San Antonio Spurs coach Gregg Popovich. The same qualities that make someone an amusing, idiosyncratic meme generator can also make them difficult to interview. Search YouTube and you'll see Aldridge asking Popovich a question, Popovich staring blankly at him for 10 seconds, and Aldridge gently reminding him that he's on live TV. 
"Gregg does not dislike me. But what he's expressed to me is that he feels like he's at work, and that the middle of the game is not the place or the time to talk to a reporter," he says. "I understand that position. My counter would be that the presence of the networks is what allows him, and the players, to get the large salaries that they're getting. So, work with me here."
Still, Aldridge says the curmudgeonly Popovich and charismatic Golden State Warriors coach Steve Kerr are among his favorite people in the game. And, with a deep reservoir of respect for what they do, he tries to empathize with their predicament.
"This is high stakes. They're trying to win, and these are highly competitive people," he says. "So, it would be akin to stopping Michelangelo as he's painting the Sistine Chapel and saying, 'Why'd you go with blue there instead of green?'" 
Over the years, Aldridge has enjoyed verbal jousting with quite a few NBA greats: Michael Jordan, Magic Johnson, Charles Barkley, Kevin McHale, Karl Malone, and Isiah Thomas. "For superstars, they were all very available and accessible. But in the '90s, it started to change with Jordan." 
Aldridge says that when Jordan became bigger than the game—and he began fielding interview requests, not just from NBA reporters, but from business and entertainment press around the world—he restricted access."That was unfortunate because Mike was great to talk to. He was a good interview, and he liked gossip. He liked to know what's going on around the league," Aldridge says. "But you had people coming at him from all these different angles and places, and that was before social media."
Twitter and Instagram, along with the Players' Tribune, the first-person essay platform founded by retired Yankees star Derek Jeter, have changed how athletes communicate. They control their own message, Aldridge says, and see less of a need 
for reporters.