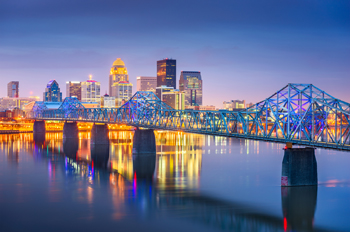 Perfectly situated in the heart of the United States—a day's drive from 60 percent of country's metropolitan areas—Louisville is a hospitable hub along the Ohio River, rich in history and tradition.
Founded in 1778, Louisville is named for King Louis XVI of France, who supported American colonists during the Revolutionary War. Home to about 620,000 Louisvillians, the city is the largest in the Bluegrass State and one of the oldest west of the Appalachians. 
About one-third of all bourbon is crafted within the city limits, but the Ville is known for more than its distilleries. Churchill Downs has hosted the Kentucky Derby—the most exciting two minutes in sports—every May since 1875, and the Louisville Slugger Museum and Factory stands as a living monument to the iconic bat favored by baseball greats Mickey Mantle, Hank Aaron, and Derek Jeter. 
The birthplace of the old-fashioned, Muhammad Ali, My Morning Jacket, and "finger lickin' good" fried chicken, Louisville is also the site of one of the Ford Motor Company's first manufacturing plants. More than
a century later, the carmaker's 180-acre Louisville Assembly Plant employs 4,500 locals.
Settle in with a mint julep and get to know a few of the 321 Eagles who call Derby City home.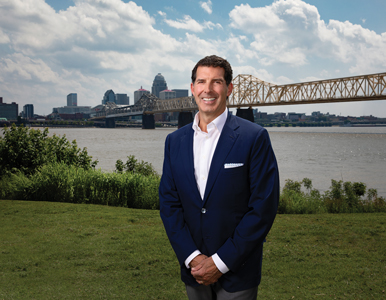 PAUL DIAZ, KOGOD/BSBA '84, PARTNER, CRESSEY AND COMPANY
The land of horse racing and bourbon is also a hub for health care. 
Two of the three Louisville companies on the 2018 Forbes Fortune 500—Kindred and Humana—are health care providers. Miami native Paul Diaz moved to the Gateway to the South in 2002 to join the health care industry, and he hasn't left—the business or 
the city.
Diaz serves as a partner at Cressey and Company, a private equity firm with about $3 billion under management that specializes in health care investments. His expertise is informed by more than two decades in the health care field, including 11 years as CEO of Kindred, which was bought by Humana and a private equity consortium for $4.1 billion last summer. During his tenure, Diaz grew Kindred's rehabilitation and home health and hospice businesses into the largest of their kind in the United States. 
A successful CEO balances competing priorities and stays calm under pressure—skills Diaz sharpened at AU while he bartended, worked construction, and picked up shifts at a bowling alley to help pay for school. The Paul J. Diaz Endowed Scholarship Fund, established in 2016, supports Kogod students facing similar circumstances. 
"I think that made me more resilient and gritty, which served me well later in life—but at the time it was stressful," says Diaz of his undergrad experience. "Allowing young men and women, particularly those coming from more socially disadvantaged backgrounds, an opportunity to attend AU is a great thing." 
In addition to his day job, Diaz serves on the boards of Johns Hopkins Medicine and DaVita kidney care, and the Health Affairs Council on Health Care Spending and Value. For the last four years, he's also devoted the bulk of his Fridays to volunteering with SummerWorks, a job training program for Louisville youth. "Most of these kids don't have some of these personal skills we take for granted, like shaking hands, looking people in the eye, knowing how to present yourself and how to follow directions," he says.
Last year, the nonprofit helped 6,200 young adults land summer posts at area companies, including the one Diaz once ran. "We have a lot of kids that have moved from working at the Louisville Zoo to internships at Kindred, Humana, and other companies. That's pretty cool."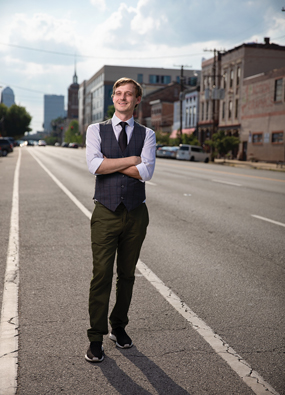 FORREST PRICE, SPEXS '15, WHISKEY GUIDE, WRITER, AND BAR CONSULTANT
Louisville native Forrest Price didn't sip bourbon from his baby bottle, but he was barely sporting peach fuzz when he took his first nip of the spirit that has defined his city and the Bluegrass State for generations. 
Although it wasn't love at first taste—he didn't become a regular drinker until after college—whiskey is now Price's passion. A consultant, teacher, and writer, Price's friends affectionately call him "The Whiskey Hustler."
He wasn't always destined for a career in brown liquor. In his early 20s Price worked at a ski resort in Germany and traveled extensively (he's visited 44 countries across five continents). When he returned to the US to study global business at AU's School of Professional and Extended Studies, he needed a job. His mother, Renae, a whiskey aficionado with a 500-bottle collection, suggested that he inquire at Jack Rose Dining Saloon, an Adams Morgan establishment with one of the largest whiskey selections in the western hemisphere. 
Price's inherent whiskey knowledge became apparent quickly. Three months after starting as a dishwasher he was given control of the nearly 3,000-bottle whiskey inventory. 
"Jack Rose is the epitome of the cliché, 'You never know who is going to walk through the door,'" he says. "I got to talk to everyone from farmers from Idaho to tourists from Peru to the president of Kosovo. It was my job to give all of them the best experience possible."
Earlier this year Price moved back to Louisville, where he teaches private classes to whiskey lovers, writes for the Whiskey Wash, leads an urban bourbon walking tour, and will help open Doc's Bourbon Room, a downtown watering hole that he says will rival Jack Rose in terms of selection.  
Although bourbon will always taste like home, Price is more of a Scotch man. The best whiskey he ever tasted—a single malt called Black Bowmore distilled on the Isle of Islay—was a gift from a customer. And what a present it was: one ounce costs $600.  
"Whiskey makes people feel welcome when they're sharing it," Price says. He's dedicated his life to spreading that warm feeling, one pour at a time.