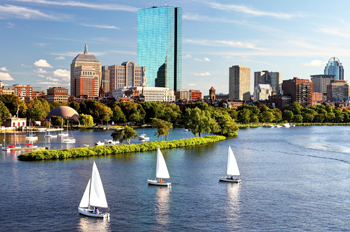 Founded in 1630, boston is a city of firsts. From the country's inaugural subway system (1897) to its first public library (1854), the City on the Hill has always been a hub of innovation, education, and culture.
New England's largest city—and the 24th largest in the United States—Boston is steeped in history and tradition. Home to the world's most famous tea party and America's most well-known patriots (Paul Revere and Tom Brady), Beantown has spawned both political dynasties and sports empires, with the city's four major teams boasting 36 championships between them.
More than 18 million visitors invade Boston each year, taking in such iconic sites as Boston Common, Beacon Hill, Fenway Park, and Faneuil Hall Marketplace, the seventh most popular tourist destination in the United States. The Boston Marathon, the country's oldest 26.2 mile race, is also a big draw, attracting more than 30,000 runners and 500,000 spectators each year.
What besides a taste for clam chowder and a wicked cool accent do Bostonians share? The insider's knowledge of DC, gained while studying at AU. So Cheers to our 1,875 Boston transplants, a few of whom are profiled here.
Matthew Belkin, Kogod/BSBA '03, vice president of business development, Live Nation
For those who love to rock, Matthew Belkin salutes you.
Live Nation is the largest live entertainment company in the world, and Belkin has worked for it since he was an undergraduate at AU.
"If you think of the NFL or the NBA, I would equate us almost to a league of music," he says. The company is headquartered in Beverly Hills, but Belkin has lived and worked in Boston for six years. Local music lovers know Live Nation operates the area's House of Blues, Xfinity Center, and Blue Hills Bank Pavilion venues.
As Live Nation's vice president of business development, he's charged with creating new sellable assets across the company's amphitheatres, clubs and theatres, and festivals, which include Bonnaroo, Lollapalooza, and Belkin's favorite, the Electronic Daisy Carnival, a three-day event that brings the world's top deejays to Las Vegas.
When he came to AU from the Chicago suburbs, Belkin thought he wanted to be a lawyer. But after landing an internship with what is now Live Nation, he never left. He worked in Washington and New York before moving to the Boston area, which is where his wife, Lynn, is from. (They met during a high school trip to AU, although she wound up going to, ahem, George Washington.) They now live in nearby Brookline.
"I grew up landlocked," he says. "Lake Michigan is great, but the whole idea that you can drive an hour and be on a beautiful beach and feel like you're on vacation is kind of cool."
As is working for a company that entertains millions of music fans around the world.
"I love the spectacle and energy of live events and seeing how it excites people."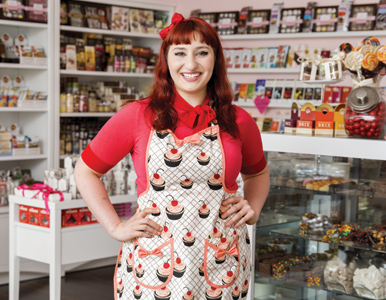 Alyssa Cohen, CAS/BA '13, owner, Dottie's Delights
As a child, Alyssa Cohen treasured visits to her grandparents' Newton, Massachusetts, bakery. It wasn't until years later that she learned that Dorothy and Harvey Cohen doubled the chocolate and vanilla icing on their granddaughter's favorite treat-the delectable black and white cookie.
"I grew up thinking that desserts should be overwhelmingly luxurious. Sweets aren't just about taste-they're about love, memories, and an experience."
An experience (of the Willy Wonka variety) is exactly what Cohen strives to give visitors to her North Andover sweets shop, Dottie's Delights. Named for her beloved grandmother, the store-nestled about 30 miles north of Boston-features more than 1,000 sugary treats from around the globe, from artisan marshmallows (toasted on the spot) to gourmet cotton candy to Japanese konpeito sugar candy.
Sourcing the latest "it" treat, whether an organic dark chocolate quinoa bar or white chocolate mango licorice, is among Cohen's favorite duties as owner and head baker. "We're seeing a surge in artisan goods, and I love the stories behind the products. As a small business owner myself, it's important for me to support other entrepreneurs."
Cohen also serves up her own line of small-batch caramels (vanilla chai, sea salt, maple, pumpkin spice, and other scrumptious varieties) and fudge, made from grandma Dottie's famous recipe.
"Making her recipes was a way to connect with her," Cohen says of her late grandmother. "You never left her house hungry or without a hug. She wasn't part of the family-she was the family."