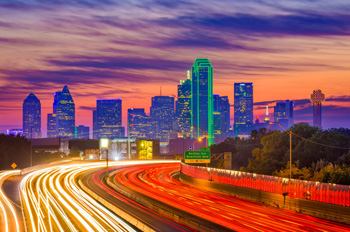 Houston was founded in 1836, but it was oil that put it on the map. 
After black gold was discovered in nearby Beaumont, Texas, in 1901, Houston's population began to surge. Today it's the Lone Star State's largest city and the country's fifth biggest metropolis.
Crude is still king in Houston, but the natural gas, aeronautics, transportation, and health care industries are also booming. In addition to its robust economy—more Fortune 500 companies are headquartered in H-Town than in any other city, except for New York—Houston is known for the diversity of its 2.3 million residents, who speak more than 90 languages, and its world-class eateries, which serve up pho, po'boys, pollo asada, and more.  
Located east of Austin and south of Dallas, about 40 miles off the Gulf Coast, greater Houston boasts more than 40 universities, seven pro sports teams (including rugby and softball squads), and the world's largest rodeo and livestock show. 
The birthplace of Beyoncé and ZZ Top, Space City is also home to the two-time NBA champion Rockets and NASA's Mission Control Center. Meet a few of the 790 AU Eagles who landed in Houston. 
 
Rob Johnson, SPA/BA '81, assistant general counsel, ExxonMobil
It's been more than two decades since 
New Englander Rob Johnson settled in southeastern Texas. He's grown to love much about his adopted hometown—just not its sweltering summers. 
"Houston is a city that people who have never been [to] would find very surprising," he says. "It's a very diverse city. It's a fabulous food city with a terrific restaurant scene. There are a lot of great museums, and increasingly it's bringing an urban lifestyle to reality. The knock on it—and it was a fair knock—was, it was all about the car. You couldn't walk to a lot of places. I describe it as LA without the ocean. It's very spread out, but they've done a great job of making it more walkable."
During his time as a Houstonian, Johnson has worked for only one company: ExxonMobil. As the energy behemoth's assistant general counsel, he oversees about 40 of the corporation's 200 lawyers based in town. He leads the group that works on environmental, real estate, information technology, and global procurement law. Another part of his job is heading up the company's pro bono program, a role he calls "inspiring." 
"I have a client—a 12-year-old boy who came here from El Salvador," Johnson says. "His mother was here working, so he came unaccompanied, and they put him in the immigration court system. There was no way he was going to be able to stay here if he didn't have a lawyer helping him. Now he's about to get his green card."
Giving back is standard operating procedure for Johnson, who is vice president of AU's Alumni Board, and, who, with wife, Christine, established a scholarship fund at the School of Public Affairs.  
"There are a lot of self-made people[in Houston], and the southern openness and general friendliness are terrific," he says. "It's a can-do city, and between October and May this is a heck of a place to live."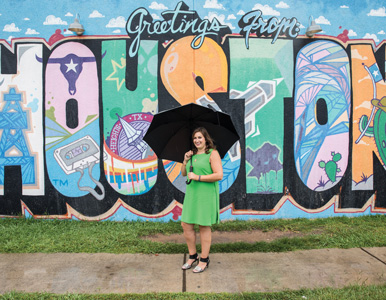 Avital Ingber, Kogod/BA '03, president and CEO, Jewish Federation of Greater Houston 
Avital Ingber took the helm at the Jewish Federation of Greater Houston in November. It was just three months after Hurricane Harvey battered Texas's largest metropolis, leaving $125 billion worth of damage in its wake, and both the scope of her job and the city itself had changed.
"I had to make decisions a lot quicker than I would have before," Ingber says. "We [were] balancing onboarding me to the community and being a new CEO with moving forward with the disaster recovery."
Harvey is tied with Katrina as the costliest hurricane on record. The storm dumped more than 40 inches of rain on eastern Texas in just four days, displacing 30,000 Houstonians. The Jewish community was particularly hard hit: according to the Houston Chronicle, 1 out of every 13 Jewish families—about 2,000 households—experienced flooding. Three of the city's largest synagogues, with a combined membership of 3,900 families, were also damaged. 
"Our biggest concern is the sustainability of Jewish life. We don't want to have a generation that is lost in terms of its connection to the Jewish community," says Ingber, who moved to Houston after 13 years with the Jewish Federation of Greater Washington. 
Despite their struggles, however, Ingber believes rebuilding efforts are uniting Jews in the Bayou City and beyond.
"Harvey has not only brought the Jewish community of Houston closer together: it has brought the Jewish community of North America closer together. Everyone who's come here from other communities feels that, Houston is not needy, Houston is in need—and 'this could be us.' They want to help because they know we'll be there if they [face] a disaster."
Born in Cincinnati, Ohio, Ingber is a first-generation American. Her paternal grandparents were Holocaust survivors, and her maternal grandparents emigrated from Russia to Canada at the turn of the century. Her grandmother was active in Montreal's Jewish community and was named campaigner of the year for the city's Jewish federation in the 1970s—an award that now hangs in Ingber's Houston office. 
"The fact that I'm working for the same organization that [my grandmother] volunteered for is, I think, really remarkable."