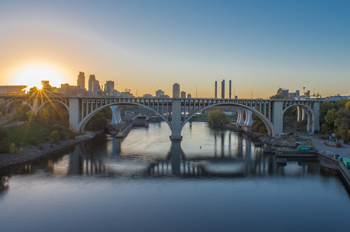 The Twin Cities have historically experienced a little sibling rivalry.
In 1890, census takers from Minneapolis and Saint Paul were kidnapped or arrested in an attempt to keep one city from outgrowing the other. (Minneapolis eventually edged out the state capital and remains Minnesota's most populous city.) Seventy years later, the cities squabbled over the calendar for daylight saving time; for a few weeks Minneapolitans were one hour behind their neighbors just 12 miles to the east.
The arrival of baseball's Twins and football's Vikings in 1961, named for the state as a whole, quelled the feud. Today "The Cities," as Minnesotans call them, enjoy a congenial relationship.
The 16th-largest urban area in the country, the Twin Cities experience the coldest climate of any US metropolis. Seventy-six days a year, the thermometer never rises above freezing.
Home to nearly 40 bridges, 16 Fortune 500 firms, the US Pond Hockey Championships, and the largest Somali population in North America, the Twin Cities are also the birthplace of Rollerblades, Peanuts creator Charles Schulz, and the late, great Prince.
Get to know two of AU's 643 Twin Cities residents here.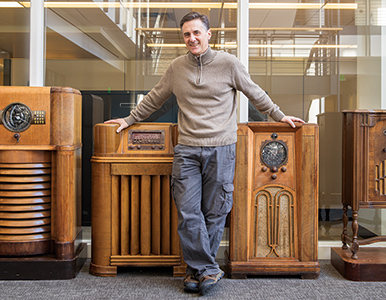 Paul Tosto, SOC/MA '87, Digital news editor, Minnesota Public Radio News
More than 500,000 listeners tune in to Minnesota Public Radio News each week. It's Paul Tosto's job to make sure that the stories broadcast on MPR's 45-station network read as well online as they sound on the airwaves.
"The way people write for radio and the way we read things online and in print are very different. I spend a lot of time rewriting stories and working with reporters to make sure their words jump off the page-or the screen," says Tosto, who also covers breaking news for mprnews.org.
MPR, which celebrates its golden anniversary this year, is part of American Public Media, the second-largest producer of public radio programs in the United States (after NPR). MPR News boasts about 40 reporters and editors, and has garnered more than 1,000 accolades, including numerous Peabody Awards. "Our newsroom punches above its weight," Tosto says. "We're striving for excellence on both platforms."
A longtime journalist-he covered the education beat for the Saint Paul Pioneer Press for 10 years before joining MPR in 2008-Tosto thrives off of the newsroom's frenetic pace. "I used to joke that it matches up well with my relatively short attention span."
Tosto's days may be spent chasing down stories, but his evenings are much more placid.
Minnesota is the land of 10,000 lakes and Tosto and his family-including wife and fellow journalist Marta Cleaveland, SOC/MA '87-enjoy spending time at the one nearest their Saint Paul home. "It takes about 10-15 minutes to get home from work and within another 15 minutes, I can be walking around the lake." The Twin Cities, he says, "have pretty much everything you want in a metro area: good schools, a great parks system, and
all four major sports teams."
But what about that cold weather? "Winter comes sooner and lasts longer," Tosto says. "Layering is key."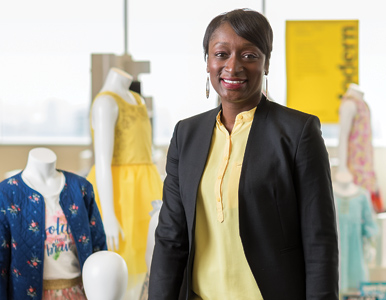 Irene Quarshie, SPA/MPP '00, Vice president, product quality and responsible sourcing, Target
Every day millions of Americans make a Target run. Irene Quarshie ensures that everything on their shopping lists-from clothes to furniture to paper plates-meets the retail giant's standards for product safety, quality assurance, and responsible sourcing.
"I love the scope of my job," says Quarshie, who oversees about 400 employees (or "team members," as Target calls them) around the globe. "It's complex because we're dealing with all product categories, but I love being close to the business and influencing how guests interact with our products and building their loyalty."
The first Target location opened in 1962 in the Minneapolis suburb of Roseville. Today, the company-headquartered in Nicollet Mall in downtown Minneapolis-is the second-largest general merchandise retailer in the country with 1,802 stores and more than 340,000 employees. Even former First Lady Michelle Obama is a fan of the cheap-chic brand. In September 2011, she was photographed cruising the aisles of an Arlington, Virginia, Target; a year later she sported a $39.99 dress by Jason Wu for Target.
"We are known for democratizing style, for making quality, affordable designs available for the average American," says Quarshie of Target's offerings, which frequently include collaborations with high-end designers like Wu.
A native of Montgomery County, Maryland, Quarshie joined Target in 2005. Although she misses her family and her beloved Redskins, she's come to enjoy Minneapolis and serves on the boards of several local nonprofits, including the YWCA. Her focus on philanthropy meshes nicely with Target's corporate culture, which stresses not just selling to people in the community, but serving them as well.
A foodie, political junkie, and Vikings supporter (except when the Skins are in town), Quarshie has grown to love life outside the Beltway: "It's not about working until 3 a.m." The relaxed Midwestern pace, it seems, is right on target.