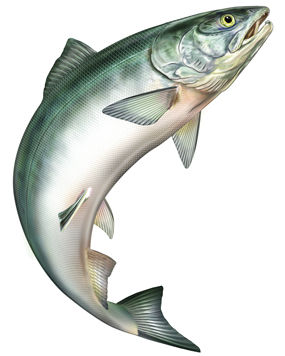 When it comes to the untapped potential of aquatic foods to provide more sustainable diets, there's an ocean of possibility.
A landmark study by lead author and AU environmental science professor Jessica Gephart is the first assessment of its kind to produce environmental profiles for the full range of aquatic—or blue—foods. These encompass the diverse fish, shellfish, algae and other aquatic organisms harvested from rivers, seas, and the ocean, which provide protein and other key nutrients for about 3.2 billion people. 
The study—featured on the September 15 cover of Nature—includes the most comprehensive evaluation to date of the environmental pressures stemming from the production of blue foods. It provides standardized estimates of greenhouse gases, nitrogen and phosphorus emissions, and freshwater and land use for species groups covering nearly three-quarters of global production. 
The paper finds that across all blue foods, seaweeds and farmed bivalves like mussels and oysters generate the lowest environmental stressors. Capture fisheries predominantly generate greenhouse emissions, with sardines and cod on the low end and flatfish and lobsters on the high. 
Commonly eaten farmed finfish, such as salmon and carp, outperform other farmed blue foods on several environmental indicators, while most aquatic foods outperform chicken, which generates environmental pressures similar to those of tilapia.
Gephart says these new metrics can be used to lure future production toward lower emission and resource use. 
"With demand for blue foods rising around the world, we need a better understanding of how the environmental pressures compare across this diverse group of foods so we can ensure we are eating not just nutritiously, but also sustainably."