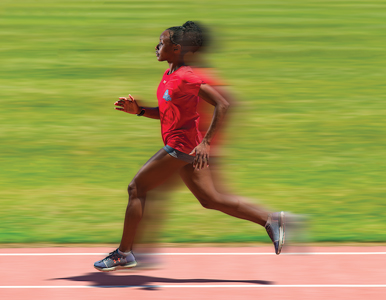 When Brianna Belo approaches the starting line, she's not always alone. As she prepares for a race, negative thoughts have been known to join her.  
"I think everyone has fear, anxiety, and self-doubt, but what has been really helpful for me is acknowledging that they're there— but not the truth," she says. "You can't let those thoughts stay in your head. You have to make an intentional decision to say, I'm going to do it anyway."
If Belo, CAS/BA '18, is occasionally intimidated before races, imagine what her competitors must feel. Over the course of her four years at AU, she's become one of the program's most decorated—and unlikely—stars.  
She didn't cross the finish line of her final collegiate race in first place, but it was a win in one sense of the word. Over Memorial Day weekend at the NCAA Championships East Preliminary Round in Tampa, Florida, Belo surpassed her own school record in the 800 meters. Though she narrowly missed qualifying into the quarterfinals, her time marked her 21st school record across six events. 
Not bad for a woman who at one time didn't even consider herself to be athletic. 
"My parents laugh now because me and my sister are really skinny with big heads and kind of clumsy," says Belo, a Philadelphia native whose identical twin, Brittany, ran track at Syracuse University for a time. "We were not really good at any sports."
After a stint on the crew team, Belo joined track to fulfill a high school requirement. Although she began running faster and enjoying the sport, she didn't post any college-worthy times until late in her senior year.  
At AU, the former track and field coaching staff invited her to walk onto the team as a sprinter. 
"When I first got here I was nervous and intimidated by everyone else," she says. "It was not a fun mentality to have [when you're] racing. I had to tell myself that I can be just as good as those other girls."
A move to middle distance running proved that she was. In addition to racking up school records and earning a scholarship, this year she became the first AU women's track and field student-athlete since 2015 to earn a spot on the outdoor Academic All-Patriot League team. A public health major, Belo already is enrolled in a health promotion master's program at AU.
Although her career ended before she would have liked, she'll go down as one of the greatest female track athletes in Eagles history. 
"Brianna ran absolutely valiantly," Coach Sean Graham told aueagles.com. "When an athlete is able to run a personal record in a championship meet, you know they gave it their all. I could not be more proud of what she accomplished this year and over her career. Going from a walk-on in a completely different event to just missing the national championships is amazing. She is a true testament to the hard work and grit necessary for becoming a great athlete."
Throughout her career, she's proven that to everyone—including herself.