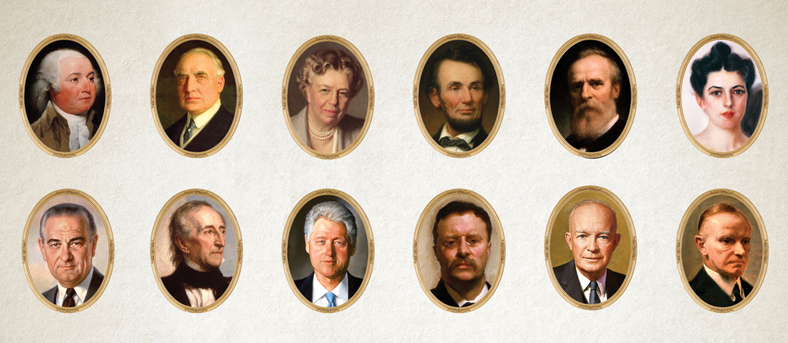 When John Adams moved into the White House, it hardly lived up to the title of Executive Mansion. The partially built residence in the new capital city was still a construction site on November 1, 1800. Uneven and unplanted, the muddy grounds around the house, built largely by enslaved workers, seemed to Adams "as deplorable as the rest of the city." 
Inside, one narrow stairwell was in place, but where the grand staircase was meant to ascend to the upper story, there was only a hole. Smoke and dust filled the air as workers burned wood in dozens of fireplaces, day and night, trying to cure the plaster, which was still wet on the walls. 
George Washington had never called the place home, but he was still able to welcome his successor. A life-size painting of Washington, created by Rhode Island-born artist Gilbert Stuart, was in the house on this day, leaning against a wall. 
In the painting the first president is posed as if still addressing Congress at the end of the Revolutionary War. He stands in a black velvet suit with a dress sword at his hip. His hand is outstretched, perhaps to make a rhetorical point, but one has to wonder if, on that day, the second president saw in that open hand a glimmer of what would be a bedrock tradition for this young nation: the peaceful transition of executive power and with it a march of presidents through 1600 Pennsylvania Avenue. 
Since then, this storied residence has seen two score and a handful of such handoffs, along with an incredible array of other events from the personal to the political. Babies have been born here, and the bodies of presidents have lain in their caskets here. War has brought the fight directly into the building, and peace efforts have drawn factions to the treaty table—sometimes for quiet indoor signings in an upstairs study and other times at ceremonies on the south lawn before eyes of the world. 
Throughout that time, reporters have trained their notebooks, microphones, and cameras on this address to capture the unfolding events of the day, all the while passing through rooms layered in events of the successive years. 
"It's really a privilege to work at the White House," says Paul Brandus, SOC/BA '84, a print, radio, and television journalist and author of two books on White House history. "Sometimes I will stop and just look at the building and say you know what, I'm standing where Thomas Jefferson used to walk or FDR rolled his wheelchair around, or where Nixon gave his farewell speech in 1974."
Brandus has been channeling his reverence for the past by tweeting out a mixture of current and historical events under the handle @WestWingReport since 2009. Many of those tweets include the header "On This Day," with a pertinent moment or artifact from the bygone years. 
"I always try to take the history and put a kind of a current-day spin on it, which makes it a little more relevant," he says.
Those regular missives about history, which Brandus also cataloged and indexed for his own reference, grew into his two books, This Day in Presidential History (2017) and Under This Roof (2015), at a pace of about 200 words a day, plus time spent on research. 
 "Even after all these years sometimes I get a chill that goes down my spine, and I truly do appreciate the fact that I'm there," Brandus says.
He's not alone in this. "It's living history happening every day," says Matthew Costello, senior historian at the White House Historical Association. "I think of the White House as a primary source. It's like reading a letter or a journal entry, but it's a building." 
The building is a textbook of sorts for a class in White House history that Costello is teaching at AU's College of Arts and Sciences this semester. "The building is iconic, an American symbol, reflecting our institutions, our democracy, but there's a lot more than meets the eye," he says.
"When you look deeper, you find every facet of history. Women's history is in the first ladies and also in the suffragists protesting. There's the working White House—African Americans operated and ran the White House for most of its history. If you are interested in art, there is all the artwork, the state visits, the diplomacy. All these things center around this building, what happened and what will happen."
Even though there is an engraving of 1600 Pennsylvania Avenue on every $20 bill spit out of every ATM in the country, "most people don't know that much about the White House," Costello asserts. To get a kind of baseline of knowledge, he opened his course with a simple question to his 18 students: What do you know about the place already? The popular reply—the British burned it down. Beyond that, the class couldn't come up with many more examples. 
Costello also spends some of his time at the historical association and in the classroom dispelling myths, including one about the 1814 arson by the British. "One of the most longstanding myths is that Dolley Madison saved the Gilbert Stuart portrait of George Washington," he explains. According to an account that became popular in her lifetime, she heroically cut it from its frame with the British army just blocks away. 
This account was directly refuted by Paul Jennings, who was born into slavery and served as valet to President James Madison. In his memoir, Jennings credits a French doorman and the president's gardener with spiriting the portrait to safety shortly before the British arrived to lay waste to the estate, and devour the dinner Jennings had prepared for the first family. "Dolley Madison was about 5 foot nothing. How could she have hoisted that giant painting?" Costello asks. 
Even if this particular tale grew mythical in the retelling, the nation owes a debt to the first ladies who worked to preserve the site—in particular, Jacqueline Kennedy, who established the White House Historical Association in 1961. 
"Throughout our history, spouses of our presidents have taken on the responsibility as custodian of the People's House and embraced the opportunity to preserve it and make it a showcase of our nation and its standing in the world," says Anita McBride, executive in residence at the Center for Congressional and Presidential Studies in AU's School of Public Affairs, who served as chief of staff to First Lady Laura Bush. 
After the War of 1812, the mansion was rebuilt, and has been renovated repeatedly over the years, adding embellishments that reflect the personalities of the presidents as well as the times when they lived. 
Franklin Roosevelt installed an indoor pool and delivered fireside chats by radio. Richard Nixon, in the age of television, built today's press briefing room atop that pool (a trap door still opens up to the otherwise sealed-off pool). A solar water heating system was installed by Jimmy Carter, then removed by Ronald Reagan. 
Brandus hopes his books and his daily reminders of history help people realize that despite our nation's relatively recent establishment, we've been through a lot of challenges as a country. "We've had Civil War, we lived through the Great Depression. We've had bad times before," he says. And the White House—one of the oldest continuous residences for a head of state in the world—stands as architectural witness to it all. 
"It is the ultimate symbol of the nation itself," Brandus writes in the introduction to Under This Roof, "a place of power and grandeur that has awed emperors and kings, prime ministers and popes, tycoons and movie stars, not to mention the millions of ordinary tourists who have walked its halls." 
It is something far different to the select group who have been chosen to lead the country and their families. To them it was also, simply, home. They certainly felt the weight of history as soon as they moved in, but there is a good chance they also felt a profound connection to the future. 
On his first night in the house, with an eye to posterity, John Adams wrote a benediction that is now carved into the mantel of the State Dining Room: "I pray Heaven to bestow the best of blessings on this house, and on all that shall hereafter inhabit it. May none but honest and wise men ever rule under this roof."
12 historic moments in the life of THE WHITE HOUSE
January 1, 1801: John Adams and wife, Abigail, hosted the first-ever New Year's Day reception. Guests enjoyed dinner and music from the US Marine Band in the Ladies' Drawing Room. The space included furnishings from their Philadelphia home. 
February 8, 1922:  Warren Harding installed the first radio in the White House. Two years later, Calvin Coolidge became the first president to broadcast from there when he delivered an address for George Washington's birthday, which aired on 42 US stations. 
March 6, 1933:  Eleanor Roosevelt convened 35 female reporters in the Monroe Room, marking the first-ever press conference by a first lady. Over the next 12 years, Roosevelt held 348 women-only press conferences, discussing social programs, race, war efforts, youth activism, and more.
April 16, 1865:  Two days after he was assassinated by John Wilkes Booth at Ford's Theatre on April 14, Abraham Lincoln lay in state in the East Room. An estimated 20,000 to 30,000 mourners waited in line, under cloud-covered skies, for hours to pay their respects to Lincoln.
May 10, 1877:  Nineteenth century techie Rutherford B. Hayes installed the first telephone. The phone number: 1. He received very few calls and it would be another 50 years before Herbert Hoover had the Oval Office wired for a telephone.  
June 2, 1886:  Twenty-one-year-old Frances Folsom became the youngest first lady in US history when she married Grover Cleveland, 49, in the Blue Room. To keep his bride out of the public eye, Cleveland built a house on 27 acres in Northwest DC—a neighborhood now known as Cleveland Park.
July 2. 1964:  Lyndon B. Johnson signed the Civil Rights Act in a nationally televised ceremony. He used more than 75 pens to sign the sweeping legislation and gave them away as mementos of the historic occasion, including one to civil rights leader Martin Luther King Jr.
August 16, 1841:  After vetoing an effort by Congress to reestablish the Second Bank of the United States, John Tyler was burned in effigy by members of his Whig Party. Rioters also chucked rocks and fired guns, terrifying First Lady Letitia Tyler, who was recovering from a stroke.
September 12, 1994:  A stolen Cessna 150 crashed on the South Lawn, just below the presidential bedroom. Due to work on the White House ventilation system, Bill Clinton and his family were sleeping just down the street at Blair House. The next morning, Clinton, dressed in jogging clothes, surveyed the wreckage.
October 16, 1901:  Theodore Roosevelt dined with African American educator Booker T. Washington. Other presidents had taken meetings with blacks at the Executive Mansion, but never broken bread with them. The meal shocked many Americans; it would be almost 30 years before another African American was invited to dinner.
November 25, 1957:  Dwight Eisenhower suffered a mild stroke in the Oval Office. Though his speech was impaired, he made a speedy recovery. A year later, he granted Vice President Richard Nixon the authority to take over if he was incapacitated, laying the groundwork for the 25th Amendment. 
December 2, 1923:  Calvin Coolidge pushed a button to light the first-ever national Christmas tree displayed on the grounds: a 48-foot-tall balsam fir from his home state of Vermont. The tree was also the first to be adorned with electric lights—a strand of 2,500 festive red, green, and white bulbs.
Sources: Paul Brandus, White House Historical Association, and news reports