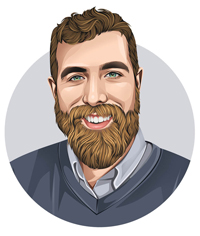 Two weeks after he was evacuated to Rome from his study abroad program in Cairo amid Arab Spring protests, Greg Matlesky, SPA/BA '12, found himself in Amsterdam for a weekend getaway. Wowed by the Netherlands' planned infrastructure, the wheels began to turn for the political science major.
Matlesky admired Amsterdam roadways that prioritized foot and bike traffic. He witnessed scores of children cycling with autonomy, a reminder of his childhood in small Summit, New Jersey. And he was awestruck by 320 miles of bike lanes abutting the streets.
"I had no idea a city could look that way," says Matlesky, a bicycle program specialist with the District Department of Transportation (DDOT). "It sparked something inside of me."
In 2015, he visited Copenhagen and Amsterdam for a bicycle-making workshop, reaffirming his passion for pedals. A year later, he began his master's in urban planning at the University of Amsterdam.
Bikes are Matlesky's business, but they've also functioned as community service—he spent a year giving rickshaw tours to seniors for the nonprofit Cycling Without Age—and an expression of love. (He and his wife rolled into their 2018 wedding reception on an upright Dutch bike.)
In 2019, Matlesky joined DDOT, where he reviews bike storage plans for new builds, expands the city's portion of the 500-station Capital Bikeshare network, and processes requests (via DC's 311 call center) for new racks, around 400 of which are installed each year. Since the start of the pandemic, he has steered bike lane projects as part of the District's 20 (miles) by '22 initiative.
The work is gratifying because progress quickly meets pavement: a new Capital Bikeshare station takes a month and a bike rack is installed in day. Matlesky is already riding his Omafiets with pedal brakes on a 1.2-mile section of West Virginia Avenue Northeast bike lane that he pushed to the finish line this summer.
"It's especially rewarding to ride your own infrastructure," he says.
Spoke-n like a true believer.