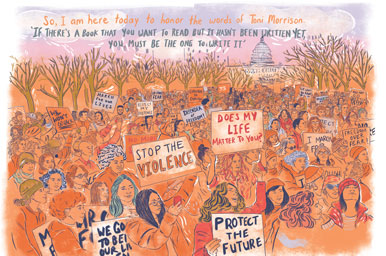 "My friends and I might still be in elementary school, but we know life isn't equal for everyone and we know what is right and wrong. We stand in the shadow of the Capitol and we know that we have seven short years until we too have the right to vote."
Washingtonian Naomi Wadler was just 11 years old when she addressed throngs of peaceful protestors on the National Mall during the 2018 March for Our Lives to end school gun violence. The orange scarf Wadler wore, knitted furiously the night before by her Aunt Leslie, is among the artifacts featured in the National Museum of American History's powerful—and empowering—new exhibit: Girlhood (It's Complicated).
Part of the American Women's History Initiative—the Smithsonian's ambitious effort to collect, document, and share the diverse stories of women—Girlhood explores the ways girls, from Helen Keller to Minnijean Brown to Dominique Dawes, have spoken up, challenged expectations, and left their mark. Featuring 200 objects spanning two centuries, the exhibit proves that girls are made of much stronger stuff than sugar and spice. 
"Throughout American history, girls have resisted attempts to be defined and have used their voices to effect change," says Anthea Hartig, Elizabeth MacMillan Director and the first woman to lead the museum. "Yet this is not an exhibition about 'girl power.' If anything, this exhibition demonstrates that historically, girls have been denied power and agency. What it means to be a girl—and a woman—has continuously been debated and negotiated, but [it] has always been part of the national conversation." 
AU distinguished historian in residence Kathleen Franz served as project director and chief curator of Girlhood, which runs through January 2, 2023, before touring the country. 
"It was a privilege to work with the large creative team to create something unique, new, and powerful to celebrate the 100th anniversary of women's suffrage and to focus on the political voices of girls over time," says Franz, a curator in the museum's work and history division. The exhibit's debut, which came just days after the museum reopened to the public, also coincided with International Day of the Girl on October 11. 
Featuring colorful artwork by Krystal Quiles (above), the exhibit is divided into five sections: news and politics, education, work, wellness, and fashion. Among the highlights are a sampler stitched by 13-year-old Betsy Bucklin in 1781; Keller's touch watch; the 1959 graduation dress worn by Brown, one of the Little Rock Nine; and Dawes's leotard from the 1996 Summer Olympics. 
Can't get to the museum? The exhibit is also online.