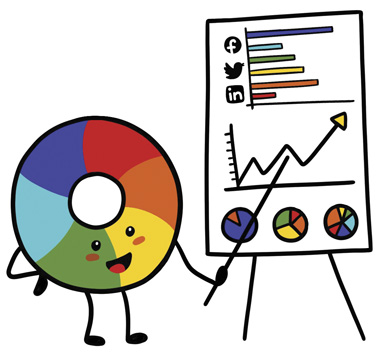 For many researchers, hard work happens out of cite. 
An estimated 30,000 journals publish two million research articles annually, many of which fly under the radar. Millions more pieces of scholarship—presentations and podcasts alike—carry practical value but don't fit the mold of traditional academic research. AU science librarian Rachel Borchardt, however, works to impact how we measure impact. 
Long-used bibliometrics takes a citation-based approach to measuring journal and article influence. Its use in university ranking systems and tenure guidelines, and a lack of financial incentive for prominent journal publishers to change course, means it won't be supplanted anytime soon, Borchardt says. But one of the problems with bilbliometrics is that it over-cites and overrepresents white men in academic literature. 
"The fact is, we've privileged specific types of documenting scholarship and ways of knowing that have discounted a lot of underprivileged voices," says Borchardt, who coauthored Meaningful Metrics: A 21st Century Librarian's Guide to Bibliometrics, Altmetrics, and Research Impact in 2015.  
That's why activist scholars like Borchardt are championing altmetrics—or alternative metrics—as a complement to bibliometrics. Altmetrics, which has emerged over the last decade, uses measures like page views and social media shares to indicate scholarship's reach and relevance. 
A more inclusive future demands thoughtful debate about what impact—including on people other than scholars—looks like in each discipline. Borchardt recently spearheaded that discussion within academic librarianship, guiding a team of 11 on a three-and-a-half-year journey to craft the Framework for Impactful Scholarship and Metrics, published by the Association of College and Research Libraries in late 2020. 
After researching tenure and promotions guidelines for college and university librarians and surveying academic librarians, the group recommended metrics rewarding both traditional "scholarly" impact and "practitioner" impact across 14 types of research outputs. For example, a journal article's citation count might measure scholarly impact, while practitioner impact would include downloads, comments, and inclusion in course syllabi.
Borchardt's work to advance conversations about traditional and emerging metrics for assessing the impact of scholarship is "critically important," says AU acting provost and chief academic officer Peter Starr. "As we seek to address the most pressing challenges of our time, higher education must adapt to new technologies, strive to become more inclusive, and find ways to better collaborate across disciplines. Rachel's contributions to her field exemplify the changemaking potential of AU researchers."
Those contributions now extend to other disciplines, as Borchardt works to help schools and departments across campus implement recommendations from AU's Task Force on Equity in Faculty Reapportionment, Promotion, Tenure, and Merit report, published this spring.
"I think we will see increased incorporation of a wider variety of metrics. It's more [about] expanding our toolbox and having greater understanding of both uses and limitations of existing and emerging metrics," Borchardt says. "What might look messy to one person looks like possibility to another."