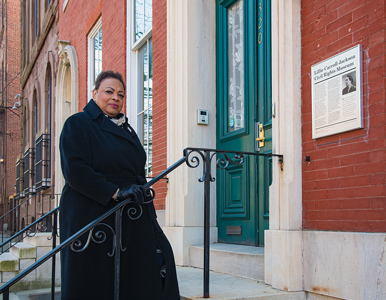 Change, Dana Vickers Shelley firmly believes, occurs at the intersection of politics and social justice. "For long-term impact, you can't do one without the other," says the executive director of the ACLU of Maryland.
Shelley has dedicated much of her life to fighting for equality for all. She grew up in Champaign-Urbana, Illinois, where her father, Clarence, and late mother, Dorothy, were heavily involved with the NAACP and the National Council of Negro Women. "Their focus was always on making sure people got out and voted," she says.
In 1976, Shelley sat riveted while she listened to Barbara Jordan's keynote address at the Democratic National Convention. The speech solidified her desire to work in the field of social justice, which she's done for more than four decades.
Before arriving at the ACLU of Maryland in 2018, she advised numerous national and local organizations, including the NAACP, the Annie E. Casey Foundation, and the Southern Poverty Law Center. She also developed national partnerships with African American, Native American, and Latinx journalists to raise awareness of structural racism and disparities in child welfare systems.
Shelley joined the ACLU of Maryland at one of the most transformational times in its 88-year history. (The national organization just celebrated its centennial.) Since January 2017, the Baltimore-based chapter has tripled its membership to about 45,000 people in the Old Line State. Through policy, advocacy, and sometimes litigation, the nonprofit focuses on protecting and promoting the civil liberties and rights of everyone in Maryland.
"This is the job I've been working toward my entire career," says Shelley. It taps into the management skills she honed as a student in AU's Key Executive Leadership Program, her "political geekiness," and the deep sense of community instilled by her parents.
"I retain my optimism because of the enthusiasm of the people I have the privilege of working around. Our members could be sitting at home watching TV, but they regularly come together across all 24 jurisdictions in the state of Maryland to make sure that everyone's humanity is uplifted so that democracy is protected for everyone."