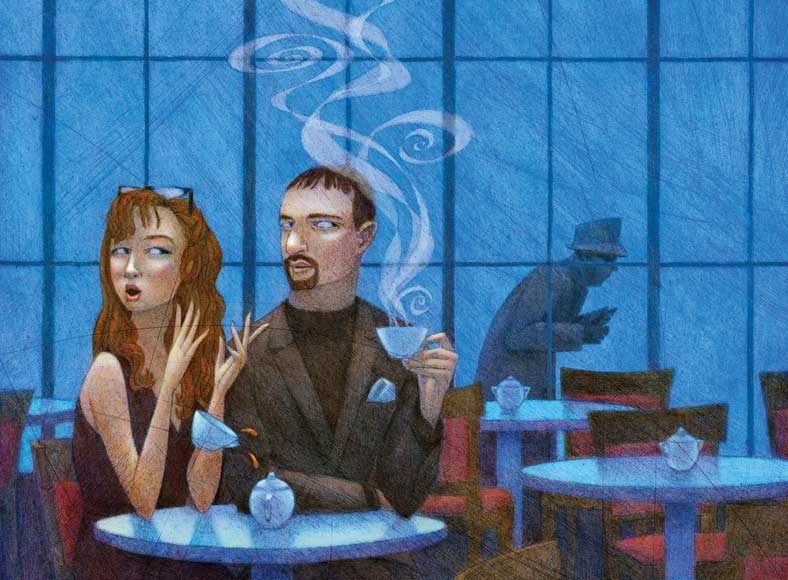 Alice Alfonsi and Marc Cerasini are skilled at plotting murders, robberies, and hit-and-runs. They know about New York City treasures that some natives don't even know about, like Socrates Sculpture Park and the rooftop gardens at Rockefeller Center. And they are coffee connoisseurs, with expert knowledge of the common bean and discriminating palates to rival any wine aficionado.
Cerasini and Alfonsi, a husband-and-wife writing team, connect each of those threads in their best-selling Coffeehouse Mystery series. (Their pen name, Cleo Coyle, was inspired in part by their cat, Cleocatra.) Published by Penguin, the series launched in 2003 with On What Grounds. Their 14th book, Once Upon a Grind, hit shelves in December.
By the time they started the series, Alfonsi—a 1983 alum of AU's Washington Semester Program—and Cerasini had more than 20 years of experience writing and editing books, essays, magazines, and media tie-ins, such as novels based on Fox's television show 24. Alfonsi spent her Washington, DC, semester taking journalism classes at AU and interning at the Federal Times, before graduating from Carnegie Mellon. The Washington Semester Program, established in 1947, brings undergraduates worldwide to study at AU and complete an internship.
Alfonsi moved to the Big Apple in 1984, launching her career as a cub reporter for the New York Times. Cerasini landed in New York in 1979. She and Cerasini didn't know each other in those early years—they both worked in publishing, which is how they eventually met—but they shared common roots in working-class neighborhoods near Pittsburgh, a love of literature, and a dream of writing careers in the big city.
They married in 2000 and have been writing together almost as long. When they decided to create their own mystery series, an amateur sleuth managing a New York City coffee shop piqued their interest from the start. 
The City
On a frigid January day, Alfonsi and Cerasini are having lunch at The Cuckoo's Nest, one of many Irish pubs in their Queens neighborhood. With burnished wood floors, red club chairs, and a wooden bar that runs the length of the restaurant, it's a warm respite from the sharp wind. The Nest is also one block from the subway station for the Number 7 train, which appears in their book A Brew to a Kill.
New York plays a huge role in the authors' creative process: locations suggest a storyline, a cabbie becomes a character, real-life incidents plant the seed of a plot.
"That butcher shop across the street—people come from all over the city to go there," Cerasini says. "I'll get a good meal and a story at a place like that."
The couple moved to the city long before former mayor Rudy Giuliani's reforms in the 1990s, which cut crime and improved quality of life. They remember a plague of drugs and violence. Early on, when Cerasini lived in Brooklyn's Red Hook neighborhood, "They found a corpse down the road by the end of my block—a Mafia corpse." Alfonsi remembers graffiti, drug dealers, shootings, and smash-and-grabs where criminals stole radios out of parked cars.
Despite all that, they loved the city.
"There's a lot of energy from the people," Alfonsi says. "As writers, it fuels us. You just get in a cab and talk to the cab driver. We don't tell people we're writers; we just engage people in conversation and we hear stories."
In a city filled with characters, they find an almost endless supply of colorful detail. Take that rooftop garden at Rockefeller Center: "It's fantastic," Cerasini says. "So we had a murder up there."
New York also inspired their choice of a protagonist: Clare Cosi, amateur sleuth and manager of the fictional Village Blend coffee shop. Cerasini describes her as a "working-class heroine."
"The powerful working-class roots in New York City are ignored in a lot of stuff in popular culture," he says. "You just see the gritty side—you're talking Taxi Driver—or you see mob crime, or you see the rich people like Gossip Girls. You don't really see how the average New Yorker lives."
The authors also wanted their leading lady to be a strong female character; Clare Cosi is empowered, Alfonsi says, but not in an exaggerated way. They took equal care with their character Madame, a wise, elegant woman who defies stereotypes of older people as bumbling and clueless, and a gay barista whose sexuality is neither caricatured nor unduly highlighted.
The Village Blend isn't based on an actual coffee shop (to the disappointment of fans who email the authors to ask for an address, so they can visit), but the authors did have a specific reason for setting their books in storied Greenwich Village.
"We started to see the disappearance of the old Village," Alfonsi says, recounting the area's rich history, which ranges from Cold War spies to legendary artists to the roots of gay rights activism. Nowadays, New York University owns much of the neighborhood real estate, and national chains have pushed out many boutique businesses.
"My favorite comic book store is a phone store now," Cerasini says.
Conducting research in the city does create interesting challenges. Cerasini recalls the day he scoped out the Metropolitan Museum of Art for the book Espresso Shot.
"I was taking pictures of this one door. The next thing I knew there were guards standing all around. They said, 'What are you doing?' They thought I was planning a robbery. I was planning a robbery, but only for the story."
The Coffee
When Alfonsi and Cerasini started their series, coffee shops were just emerging in American popular culture. But Alfonsi, the daughter of Italians, knew all about the espresso scene. Her first job, in fact, was pushing a coffee cart at church bingo when she was 12. Cerasini also encountered coffee early: in high school, he served coffee at a Greek deli in Carnegie, Pennsylvania.
Today, more than a decade after they started writing about baristas and specialty beans, Alfonsi and Cerasini are experts in their own right.
"There are so many levels now to the coffee business," Alfonsi says.
Just as oenophiles study vineyards and varietals, coffee enthusiasts learn about coffee farms, agriculture practices, and sustainable sourcing. Alfonsi and Cerasini tap local experts to learn certain aspects of the business, and they can rattle off the best roasters in the country.
Their connoisseurship shows when The Cuckoo's Nest waiter stops by to ask, in a light Irish brogue, if anyone wants after-lunch coffee. Alfonsi says sure, and Cerasini hesitates, then orders a cup.
"I hope it's good coffee," he says, after the waiter leaves. "We'll see."
Alfonsi gives him a glance and a little smile, like she knows what's coming next.
"I don't even like to say it, but the best coffee in the city is at our house," Cerasini says. "We make it the way we like it."
The authors set their stories in a coffee shop, in part, because it's a location that nearly everyone visits.
"You have the beat cops coming in for coffee, you have kids coming in after school, you have baristas dealing with people who are aficionados of the bean," Alfonsi says. "It's the village within the village."
The fictional Village Blend, in fact, is named to reflect that mix of humanity.
"We've had a mystery about a homeless man dressed as a Santa Claus, and we've had a mystery about a billionaire," Cerasini says. "And it can only be possible because they're both New Yorkers and they both came to the Village Blend."
The Crimes
The authors' writing process starts with the crime that kicks off the story. Then they create an outline—"that will always, always change," Alfonsi says—and each writes certain parts of the story.
"It's brick by brick," Alfonsi says. "One of us will have a stronger feeling about [writing] a scene, but then once it's done, we hand it over to the other person and they may layer
in jokes or extra observations or details."
Alfonsi writes in a nearby coffee shop, Lucid Café, where the hum and bustle help her concentrate. Cerasini works at home, for good reason: "I would be ridiculous in a room full of normal people. I talk to my characters."
When it comes to research, the authors have found creative ways to gain insight into characters. Take members of the New York City Police Department, who appear frequently in their books. When one of Alfonsi's friends, an Upper East Side resident, attended a meeting with detectives after a series of crimes in her upscale neighborhood, Alfonsi tagged along to observe how cops interacted with the neighbors.
Day-to-day living provides ample opportunity to collect details and information that later might be useful for a story. When Alfonsi's car was broken into, Cerasini says, "We were grilling the cops who came over."
Today, after making good on their goal to become full-time authors in New York City—a dream that has lured and defeated many aspiring writers—Alfonsi and Cerasini are grateful for their success.
"Our point of view is to bring as high a standard as we can to what we're doing," Alfonsi says.
So, how is the coffee at The Cuckoo's Nest?
Cerasini shrugs. "I thought it was okay."