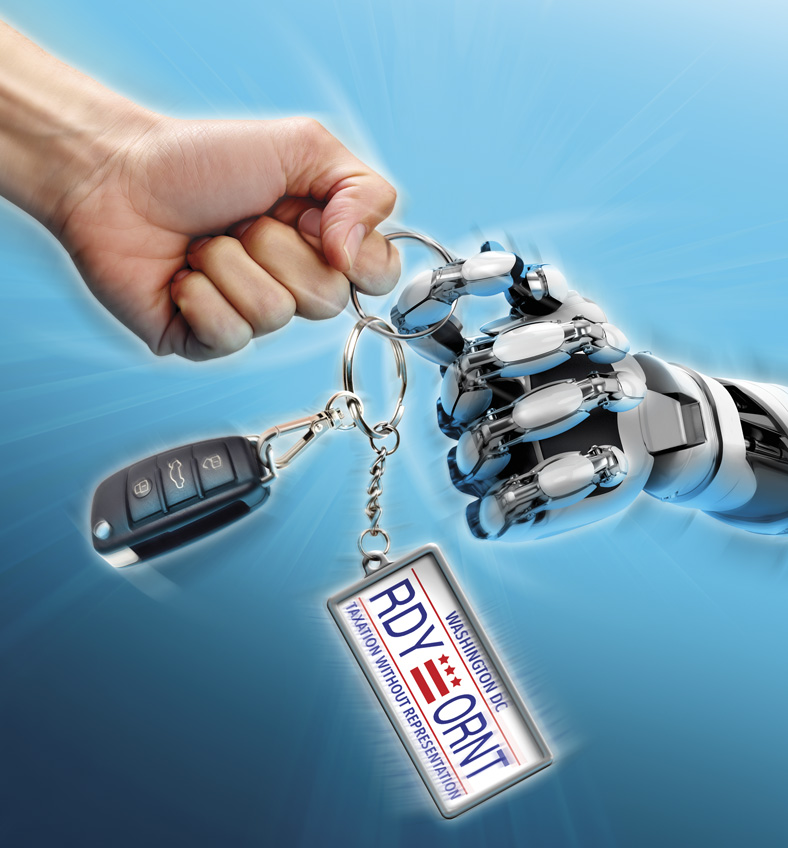 Michelle Crowe was Kevin Schlosser's "Wonder Woman."
An ace accountant and avid gym-goer who dreamed of opening a vegan restaurant, Crowe, 24, was ambitious, compassionate, and effortlessly cool. With her hundred-watt smile, Schlosser's girlfriend "radiated beauty in every sense of the word."
So when her life ended tragically in a car accident on a stretch of I-57 in Illinois on  September 20, 2017—just three days after the couple celebrated their one-year anniversary—Schlosser, Kogod/BS '12, struggled to move forward with his.
"I didn't want to go to work, didn't want to go to school, didn't want to see friends," he says. "I just wanted to be alone in my apartment."
Eventually, a long-lost hobby—pickup hockey—got Schlosser out of bed. And a guest lecturer in one of his MBA classes got him thinking about a road forward. Richard Bishop, a trailblazer in autonomous vehicles (AVs) and principal at the Maryland consulting firm that bears his name, turned Schlosser on to an emerging technology and a new calling that would allow him to steer his grief constructively.
Schlosser began devouring articles and podcasts about AVs. He attended every policy conference and public meeting he could, helped Bishop with consulting projects, and teamed up with fellow Eagle Chris Roberts, Kogod/BSBA '14, to launch the DC Autonomous Vehicles Association (DC-AVA) in 2018. The pair held meetups and seminars, building awareness and advocacy among hundreds of AV-hungry Washingtonians.
But this year, Schlosser accelerated his passion. In April, the Wilkes Barre, Pennsylvania, native left corporate finance and stepped down from the DC-AVA presidency to join Ford, where he now works as a product specialist in the American auto giant's AV division.
As product development in a highly competitive tech industry is often shrouded in secrecy, Schlosser's job responsibilities are publicly vague: "helping define what customer service will look like for our fleet of autonomous vehicles." A focus on safer roadways, though, is abundantly clear.
In 2019, more than 36,000 people died in car accidents on US roadways. Nearly another million are killed each year around the globe. In addition to $75 billion in annual medical bills and lost productivity, crashes unleash incalculable ripples of trauma. 
And while AV development is delayed by time-consuming testing, burdened by billions in losses, and hindered by public skepticism, autonomous vehicles present the possibility of a safer future, which Schlosser—whose mother survived a fatal crash when he was 12—feels is worth the investment and effort. He dreams of the car of the future while hanging onto a painful past.
"Sadly, motor vehicle crashes are just something that we accept as a society," Schlosser says. "After going through this twice, I can't just sit back and do nothing. I have to try to fix this or it's going to keep happening."
Some people imagine waking up 20 years from now to self-driving cars dotting the streets, like an unexpected snowfall. Guided by dozens of sensors and three decades of deep learning, this sudden invasion of electric AVs packs tightly on freeways like a school of fish, while humans text, apply mascara, or scold the kids from the back seat, free from the distraction of driving.
But in reality, important technology waves happen over years, not overnight, says futurist and Kogod School of Business professor Erran Carmel. "We don't wake up the next morning and it's suddenly there. We're going to see this in specialized pockets in the beginning."
Before robots take over our unpredictable streets, they'll proliferate in the controlled environments they already call home, Carmel says, including college campuses, military bases, hospitals, logistics centers, and mines.
As of September, 30 companies had voluntarily registered more than 100 active and completed autonomous driving projects—shuttles, cars, delivery robots, and more—across 24 states and DC, according to the National Highway Traffic Safety Administration's Automated Vehicle Transparency and Engagement for Safe Testing Initiative (AV TEST).
Even still, human hands maintain a firm grip on the wheel. According to AAA, more than 90 percent of new cars come with at least one advanced driver assistance systems (ADAS) feature—but most, like blind spot warnings and lane keeping, are small in scope. A miniscule fraction of cars on the road are completely autonomous, and most occupy small territories.
Google spinoff Waymo announced the launch of the first fully driverless ride-hailing service, Waymo One, in fall 2020, with service limited to the Phoenix metro area. In June, Cruise, majority-owned by General Motors, earned California's first permit for free, driverless robotaxi testing. Its electric fleet is confined to hilly San Francisco.
The 2016 book Driverless: Intelligent Cars and the Road Ahead posits that by 2050, autonomous vehicles will account for between 80 and 100 percent of new car sales—a bold projection for an industry awash in overestimation. (Elon Musk forecast that Tesla's cars would be fully self-driving by 2018. Today, the company's autopilot capabilities stand at level 2 of 5 on the self-driving scale, needing constant human supervision.)
"As an industry, we promised something that we have not delivered yet," says Selika Talbott, Key '18, School of Public Affairs professorial lecturer, AV policy researcher, and Autonomous Vehicle Consulting LLC founding partner. "I'm bullish on the idea, but part of the challenge is [companies effectively] saying, 'We thought it would be here already, but it's just taking longer to perfect the technology, so don't dismiss it entirely.'"
AV development ambition has been checked by high costs without short-term revenue, something only firms with the deepest pockets can stomach, and by the technology's most public, high-stakes failures. Uber, for example, shuttered its Arizona driverless operation in May 2018, two months after one of its AVs struck and killed a pedestrian.
Additionally, research crawls because of the nature of driving: perception on top of mechanical performance. Feeding an algorithm the context necessary to avoid failure means navigating millions of test miles and as many scenarios as possible. "Corner cases," as detailed in Driverless, are the 1 percent of roadway oddities in which humans outperform robots.
"AI systems generally need experience with things that don't happen often," says Roberts, cofounder and president of DC-AVA. "An important part of this technology's future is an abundance of testing that ensures these systems learn marginal situations on the tail end of the bell curve."
Only through time and repetition will AI register an idle moving van as a long-term stop and a flick of the wrist as yielded right of way.
From all sides of this technology intersection, the lack of a federal AV framework is a flashing red light, signaling stakeholders to proceed with caution.
The federal government regulates vehicle safety, but without binding driverless car regulations, a hodgepodge of state and local AV laws tows the load, preventing harmonious design, testing, liability, and performance measures. California, which began testing AVs in 2014, monitors performance by tracking the "disengagement rate," the number of times a safety operator disengages from autonomous mode per 1,000 self-driven miles. Critics point out that it's subjective—comfort level varies by safety operator—and disincentivizes testing in difficult environments like streets with unusual designs or heavy pedestrian activity.
Fragmentation has for now made mass deployment of AVs a pipedream.
"We are much more bound by what would be considered a patchwork of local regimes," says Dave Rubin, SIS/BA '10, Cruise's head of policy research. "As a human, you can drive from San Francisco to Daly City and then cross the San Mateo Bridge very easily. An AV would have to have all of those locations mapped out to understand how to navigate through them."
Limited guidance means local officials like Anthony Willingham, a policy analyst with the District Department of Transportation (DDOT), must remain nimble. When Willingham, SIS/BA '13, began shaping DC's AV testing policy in 2019, he thumbed through federal guidelines to brush up, only to find existing documents "essentially say nothing but, 'Local governments should tailor a testing program to their needs and priorities,'" he laughs. "I was like, 'Great, that's tremendously unhelpful.'"
Willingham has worked with consultants to configure data collection that adheres to privacy laws and with AV companies to assess their capabilities and appropriate testing conditions. DC's AV program is small—no more than 20 vehicles run at once, Willingham says—but diverse. Argo AI and Ford test on streets near Capitol Hill and in Ward 5. Optimus Ride, a company focused on low-speed autonomous shuttles intended to bridge the gap between home and the nearest public transit, launched a Navy Yard pilot in February. And as of late May, Uber was conducting off-street testing, Willingham says.
In 2013, DC became one of the first US jurisdictions to authorize AVs. Early movement has its perks. "If they're testing here first, then as these technologies proliferate nationwide, we will have a role in shaping what they look like," Willingham says. "The utility is getting to know the technology before it just shows up."
Other cities, like Los Angeles, are preparing for an autonomous future without engaging in widespread testing. The city's Code the Curb initiative aims to create a digital database of the sprawling metropolis's infrastructure—including one million signs, 37,000 parking meters, and 7,500 miles of streets. In 2018, LA rolled out the Mobility Data Specification (MDS), implementing real-time data sharing between the city and private transportation providers. Today, that's e-bike and scooter operators; tomorrow, likely AVs, says Monique Earl, SPA/MPA '07, formerly the LA Department of Transportation's executive officer overseeing infrastructure, budget, and risk management.
"With [MDS], we are able to have some modicum of control over where the vehicles park and where they operate on our city streets," says Earl, who was named chief diversity, equity, and inclusion officer at the LA Department of Water and Power in August. "It also ensures that communities that don't normally have access to certain types of service delivery get that access. When we can see the data, we can optimize it in the best interest of the community."
Preparing for AVs also means mapping out potential benefits—fewer crashes, synergy with electric vehicles, more equitable access to transportation for people with disabilities and underserved communities—and forecasting negative outcomes, like job losses in trucking.
A DDOT-commissioned study released in early 2020 examined potential AV adoption scenarios, finding in each case an expected increase in congestion and vehicle miles traveled.
"It's good for us to know that ahead of time so that we don't wake up one day, the road is full of AVs and a bunch of negative externalities, and we're trying to play catch up," Willingham says.
Transparency around possible outcomes makes it easier to control the knock-on effects of driverless vehicles—even without control of the cars themselves.
During an April visit to Phoenix, Talbott needed to make a Target run. With a simple  tap of her Waymo app, she summoned a complicated algorithm—hundreds of millions of lines of code operating two tons of steel, rubber, lidar and radar sensors, and cameras.  
With a plexiglass shield in the Chrysler Pacifica separating Talbott and her husband from a vacant cockpit, back seat driving was an impossibility. An Onstar-like external monitoring system was their only means of contacting Waymo.
The lack of control reminded Talbott of her first year behind the wheel as a teenager. Her mother sat in the passenger's seat, pressing her right foot down on a nonexistent brake pedal as traffic approached. The move—familiar footwork for parents everywhere—drew complaints of, "Mom, cut it out," from Talbott. 
Autonomous vehicles can't roll their eyes at an anxious parent, but many allow riders to peer into their digital retinas. During Talbott's ride, a monitor affixed to the back of the "driver's" seat outlined a pedestrian entering an intersection hundreds of yards away. Talbott saw the individual with the car's "eyes" before her own.
For their flaws, AVs offer at least one long-term advantage over humans: unwavering focus. As we become more connected, we can't seem to keep our eyes off our phones and on the road. In 2018, more than 400,000 people in the US were injured in crashes involving a distracted driver.
Even so, the public still isn't ready to hand over the keys Developing and testing a consistent technology is rivaled by an equally gargantuan task: building public confidence in ceding control to AI. Firms in the AV industry are in not just a tech competition but a "trust race," Rubin says—one he has occasionally run at home.
"When I entered this industry and talked to family and friends, the vast majority said, 'You'll never get me in one of those cars. I don't understand how it runs. I don't trust it,'" he says. "There is a fundamental relationship between familiarity and comfort level."
According to a 2020 Partners for Automated Vehicle Education poll, nearly three-quarters of US adults surveyed agreed that AV technology is "not ready for prime time," while half said they would never get in an autonomous taxi or rideshare. A majority, however, said their trust in AVs would grow with a better understanding of how they work.
Rubin recently worked through his own primal fears. This spring, when Cruise received its off-track driverless permits, he was one of the first eight employees to experience the technology, driverless, from the back seat. "For the first 20 seconds, I was like, 'Holy s---, what's happening?' By the end, I was super comfortable. It quickly becomes rote."
The road to rote won't be measured in miles, but years, as painstaking testing smooths out immense speedbumps.
Schlosser expected moderate progress. It's a key reason he connected with Ford, which he says is prioritizing safety over rushing its rideshare vehicles to the public.
"I realize this is a long-haul journey," he says. "A slow and steady approach to each city's mobility system is the best way to achieve the full value of what AVs can bring."
Slow—not always steady—is also how we tend to process grief. Four years later, the pain of losing Crowe hasn't gone away, often resurfacing in waves. 
"Does it get easier over time? Yeah, it does," Schlosser says. "But I had to go through a lot of therapy and a lot of grief counseling and find something like this to pour those emotions into."
The initial burst of excitement he felt with AVs hasn't fizzled yet. A little anger remains too. A mixture of the two drove him this spring to make a career change of the heart. He finds peace and solace in knowing that he now works on a technology that, in time, can avoid losses like his.
"Since [Crowe] passed, all I've wanted to do is be strong and compassionate like her," he says. "It's hard for me to do that because of the pain I feel sometimes."
So he does it in a different way, "by trying to prevent what took her away from me from happening to anyone else."
HANDS AT TEN AND TWO-MORROW
McKinsey projects that by 2040, AVs will account for 66 percent of passenger vehicle miles traveled. Even at that Jetsons-like juncture, cars will vary in their degree of self-driving capabilities, just like they do today. (Now cruising through suburban Phoenix: a driverless Waymo and your parents' 2002 Windstar.) The Society of Automotive Engineers defines six levels of automation—since adopted by the US Department of Transportation—that categorize cars from full driver control (level 0) to fully autonomous (level 5). Here's the state of your steering wheel:
Level 0: No Automation
All human, all the time.
Level 1: Driver Assistance
ADAS features kick in for specific components of driving. This includes cars with features like braking assistance or adaptive cruise control. 
Level 2: Partial Automation
In certain cases, the vehicle simultaneously handles steering, braking, and acceleration. However, the human driver must "monitor the environment" and always remain alert.
Level 3: Conditional Automation
This is the first level of "automated driving" rather than "driver support." The car can manage most driving tasks, but humans must be ready to take over if requested. 
Level 4: High Automation
The system can intervene in the event of a failure, and human attention is not needed "under certain conditions," like within a geofenced service region.
Level 5: Full Automation
The vehicle is autonomous for all tasks and under all conditions. Sit back, relax, and enjoy the robot.