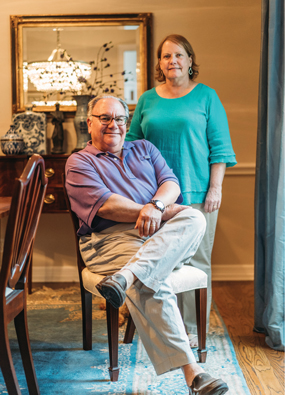 George and Lois Schaefer met in economics class at AU in October 1971. The couple began dating and married three years later, after George, SPA/BA '72, completed his MPA at Syracuse University.
George—now an executive in residence at the University of Texas, whose 30-year career in the energy industry includes stints as CFO of three successful renewable energy companies—came to AU from his native New York to study political science and economics. He quickly immersed himself in his new home, interning on Capitol Hill, leading a DC Boy Scout troop, and cofounding Community Improvement Through Youth, an organization for college volunteers.
Lois, Kogod/BS'72, also a native New Yorker, was often the only woman in her business classes at AU. A former workers' compensation expert at the US Department of Labor, she passed along an aptitude for business to one of the couple's two daughters, who recently earned an MBA. 
In 2000, the couple established the Lois and George Schaefer Scholarship at the School of Public Affairs, where George was one of the earliest members of the SPA advisory board. Since graduating, George has maintained a strong friendship with fellow AU teaching assistant Neil Kerwin, who served as AU's 14th president. Through friend and then SPA dean Walter Broadnax, the Schaefers learned of the need for undergraduate scholarships. "It was the right place, right time, right thing," George says. "AU is a phenomenal place to go to school. We were happy to provide the needed support." 
When the Schaefers relocated to Austin, Texas, a few years ago, they revisited their estate plans and extended their support to the charitable organizations most meaningful to them. They are providing a percentage of their residual estate to AU to further fund their SPA scholarship, which has been awarded to 11 students since it was established. 
"It's harder for many students these days to afford to go to college," Lois says. "With scholarship support, perhaps they won't have to work two or three jobs during college and will have more time for their studies and meaningful experiences on campus and beyond." 
For information on how your charitable estate planning can create a legacy at American University, contact Seth Speyer, executive director of planned giving, at 202-885-3411 or speyer@american.edu; or visit american.edu/plannedgiving.