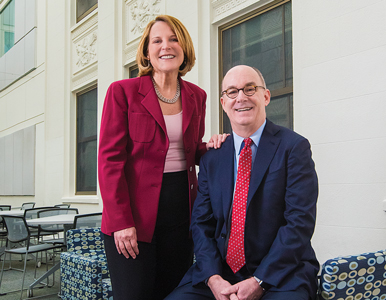 Peter Starr and Alice Hill share deep roots at American University. Starr has been dean of the College of Arts and Sciences since 2009, while Hill's ties go way back to her childhood, when her mother worked in the career counseling office.
"AU is exciting and dynamic and has grown into a national institution," says Hill, a research fellow at Stanford University's Hoover Institution in Washington, DC, who worked for the National Security Council in the Obama White House. "It's been a wonderful experience for both of us to be part of the AU community. We want to help build on its success."
The couple has a firm commitment to providing philanthropic support to AU. In 2015 Hill and Starr-who previously taught French and comparative literature at the University of Southern California-established a scholarship at AU for graduate students in literature. Recently the couple named the university in their estate plans, with the intention of endowing a professorship in literature.
"Endowed faculty positions ensure long-term stability, help us recruit leading scholars, and enhance the university's reputation," Starr says. "Unlike many sister institutions, AU has a strong tradition of faculty choosing to establish endowed funds. I think it is incredibly important to continue the tradition and to invest in AU's future."
Starr and Hill are enthusiastic about the university's trajectory under the leadership of President Sylvia Burwell. Through their financial support-and Hill's enthusiasm for AU's commitment to achieve carbon neutrality by 2020-they hope to contribute to American University's ascendance and to ensure that generations of students receive a quality education from exceptional faculty.
"It feels good to have thoughtfully given," Hill says. "More stuff will not make us happier: this is what we believe in."
For information on how your charitable estate planning can create a legacy at American University, contact Seth Speyer, executive director of planned giving, at 202-885-3411 or speyer@american.edu; or visit american.edu/plannedgiving.