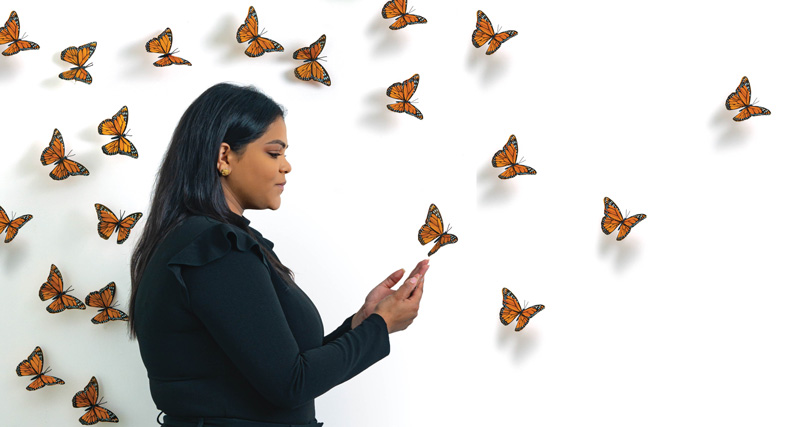 In summer 2019, Darianne De Leon's citizenship seemed a formality—crossing the t's and dotting the i in "United States."
De Leon's high school sweetheart-turned-husband Kevin had previously sponsored her for a green card. While a student at AU's Washington College of Law, she passed her citizenship interview with a recommendation for approval from US Citizenship and Immigration Services (USCIS). But as weeks turned to months without a swearing in date, De Leon, WCL/JD '20, grew anxious.
Two days before her 3L fall, a USCIS letter arrived notifying De Leon that it was going to rescind her permanent residency. The government's issue: not Kevin's sponsorship, but a green card application submitted on her behalf when she was 11. "I had no idea what was going on," she recalls.
The Trinidad native was three when she came to the US with her mother. De Leon was sponsored for and received a conditional green card, but the conditions of that green card had since lapsed. By law, USCIS should have then closed the case but did not. Now it claimed De Leon had status from it, rendering her subsequent green card application void.
Her options: acknowledge—incorrectly—that she had wrongfully applied for status through Kevin, automatically removing her permanent legal resident status, or adjudicate her case and risk years of limbo. The back of the letter listed toll-free help lines in English and Spanish. De Leon called both, but the numbers were inactive. She thought of immigrants who didn't have her legal background.
"What happens to that person? They call the number and there's no help and then a few weeks later there's a knock on their door," she says. "I took it personally."
At eleven o'clock one night, she tapped a frantic email to Jayesh Rathod, her former immigration law professor. Rathod, founder and director of WCL's Immigrant Justice Clinic (IJC)—home to the Defending the AU Dream Initiative—was also baffled by the letter and the lack of case law supporting USCIS's stance. He asked if De Leon had representation and suggested AU Dream.
"I can't tell you," she says now, "the sigh of relief I had."
Established in late 2018 with a gift from William Jacobs, Kogod/BSBA'63, WCL/JD'66, who sought to support the university's undocumented and immigrant students, AU Dream offers high-quality legal services for those who cannot afford representation. A practice by and for Eagles, AU Dream is run each semester by staff attorney Saba Ahmed and four WCL students, who help members of the campus community navigate the applications, renewals, and yearslong delays that often define immigration law.
AU Dream's caseload is wide-ranging: asylum, Deferred Action for Childhood Arrivals (DACA), temporary protected status, family-based petitions, and more. Its work spans the courtroom and the classroom, where it has hosted legal presentations for high school and college students across the DC area. And it remains nimble, stepping up amid evolving crises. In September, Ahmed and the student attorneys filed a dozen humanitarian parole applications for Afghan members of the AU community whose families were imperiled by Kabul's fall to the Taliban.
AU Dream's docket is a lean 25 cases by design. For more than 427,000 undocumented students at US higher education institutions, limited access to housing, work, and health care magnifies the stress of legal uncertainty. A smaller caseload allows for more holistic services—like referrals for financial aid, mental health counseling, and housing—and recognizes that part of this practice is practice.
"We want to serve immigrant students at AU, but we also want to inspire and train future immigration lawyers," Rathod says. "AU could have just hired an immigration lawyer, but we wanted to involve law students who we've found are enthusiastic about serving fellow AU students."
Student attorneys learn how to conduct consultations, how to manage filing deadlines, and—most importantly—how to listen with care.
"A lot of our clients have had traumatic experiences. How do you gain their trust, interview them, and develop a narrative that you can submit to a court or a judge?" Ahmed asks. "Graduating from [AU Dream and IJC], students have a sense of confidence, but also empathy and respect for someone's experience." 
Linda Campos has been the wind at the back of others as far back as she can remember.
As a paralegal for the DC nonprofit Ayuda, Campos, WCL/JD '20, represents unaccompanied minors new to this corner of the US and in need of someone in theirs. Her work focuses on the niche tract of compassionate lawyering she hopes to occupy long-term: special immigrant juvenile status for minors who are victims of abuse or neglect.
Campos is not, however, new to the nuances of immigration law.
The Floridian's interest began as a curious child, when she translated for her father, who immigrated to the US from Argentina in 1960. She helped him navigate a labyrinth of papers and personnel during the renewal process for permanent resident status, before tackling his applications solo as a teenager. As an undergrad at Georgetown, she worked for the Arlington-based Dream Project, connecting undocumented high school students with higher education opportunities. Each application, acceptance, and scholarship boosted her spirits, but Campos still felt powerless against the system. "I can help kids apply to college and find scholarships, but at the end of the day it doesn't solve the underlying issue, which is not having status," she says.
WCL helped her take up that fight. As a 3L, Campos joined AU Dream, matching her interests with clinical precision—and immigrant Eagles with an enthusiastic advocate.
Campos met De Leon's tangled mess of a case two weeks before meeting her client and classmate. Supervised by Michelle Assad, now a practitioner in residence with IJC, Campos learned that while representing a fellow law student adds anxiety to already high stakes work, the classmates were bound by mutual respect. She admired De Leon's tenacity in ensuring justice was served: "[USCIS] picked the wrong one with Darianne. She was not going to back down."
And for her part, De Leon appreciated Campos's compassionate advocacy—like "no one was ever going to touch me."
"I can talk for days about how fortunate I was that Linda was my student attorney," De Leon says. "I owe her so much. She was amazing. She saw me and she knew that I was a bulldog. She knew that I meant business, but also that I was scared. She practiced immigration law as if this was happening at the Supreme Court."
Together, the women prepared themselves for the worst possible outcome—deportation from the US—and braced for sudden twists. On the eve of her initial hearing in November 2019, USCIS released a policy update mimicking AU Dream's position but excluding De Leon's case from its scope.  
The day ended, though, with an important scheduling win. De Leon's judge at the Arlington Immigration Court was incredulous over USCIS's claims and slated a follow-up hearing that would give De Leon closure before her graduation from WCL.
In February 2020, the judge upheld De Leon's status—and USCIS declined to appeal—minutes after she shared her story on the stand. De Leon told the courtroom how, growing up poor in Queens, she helped her mother assemble zippers for 20 cents apiece. How she worked 60 hours a week to pay for college. How she and Kevin met in middle school, then reconnected at Francis Lewis High School. How hers was an American dream.
"I thought about it for days: 'If I get deported, where would I go in Trinidad? This is home. I said the Pledge of Allegiance every day since kindergarten,'" she says. "I was educated. I did things lawfully. I was American in my head."
On June 17, 2021, just shy of her eighth wedding anniversary and two months before starting a prestigious clerkship with the US Tax Court, De Leon celebrated her naturalization ceremony's one-year anniversary.
She's an American: in her head, in her heart, and—finally—in the eyes of the law.
De Leon is among dozens of students across campus who have been referred to AU Dream over the last few years. Here are two more of their stories:
Stephanie (not her real name) has spent half her life in the United States, but it has never felt like home.
 "I'm here, but I can't work and I can't do the things that I want to do," the AU graduate student says. "I don't know if I really belong here."
Her journey as an undocumented American began—unexpectedly—as a teenager. Stephanie was the last in her family to know about their travel from southeast Asia to the US. She thought they were going for a visit; only upon arriving on the West Coast did her parents explain it was permanent. "I still don't know [the reason for moving], and I've never asked them," Stephanie says. "They'll tell me one day if they want me to know."
Stephanie moved to two different states before enrolling successfully in high school—although her assimilation was anything but. She understood a little English—thanks to the dictionary she carried—but spoke it sparingly. Friend groups seemed impenetrable, and she struggled to find her footing as the new kid in a new culture.
"I was depressed," she says. "I went to class and went home. I didn't talk to anyone or join anything. I felt very disconnected and isolated."
Stephanie was motivated to continue her studies, but she faced doubt, even among her inner circle. A friend of her parents opined that, because of her limited English, she wouldn't be successful in college. "That stayed with me," she says. 
Despite not qualifying for DACA—she arrived after 2007—she persisted, finding both funding and success in the classroom. She graduated from community college, earned a bachelor's, and continued to graduate school at AU. Stephanie reconnected with a grade school friend in community college and found her place in undergrad at a center for undocumented and DACAmented students. There, she opened up more about her experience, and was empowered to help others with similar stories manage the complexities of higher education. She still does DACA screenings for the organization.
Throughout her college career, she's wrestled with questions about how to finance her education, and how much benefit she'll reap without work authorization. (As an undocumented immigrant without DACA status, Stephanie is legally prohibited from working and receiving federal financial aid.) 
For years, she has also worried about whom to trust with her status. That's why American is keeping the details of Stephanie's story vague.
She's grateful for AU Dream. Ahmed and student attorneys have connected Stephanie with counseling, financial aid, and any opportunities they can find to help her expand her network and gain professional experience. The clinic would also provide counsel if the worst case scenario—immigration detention—is realized.
"It's a fear that I live with every day," Stephanie says. She steers clear of the White House. She's resolved to avoid police interaction. And she dreaded her initial flight to DC, worried an agent might stop her and start asking questions.
When friends complain about work or threaten to give their two weeks, they don't always know how that makes Stephanie feel. At least they have a job to quit.
"There's frustration and sadness. I sometimes look through job postings and I know I can do it, but because of my papers, I can't apply," she says. "It's unimaginable what many of us go through. I don't think people with status know that hardship. Maybe you're having a hard time finding a job, but it hits different when you can't get one."
Every few months, there's a moment that sustains her, like receiving her grades or taking a beat to admire her accomplishments. "OK, I can do it," she says, and reminds herself of her plans: working a corporate job, then eventually for herself. Maybe even a PhD.
For now, Stephanie is "doing whatever it takes to survive." It's her status quo until something—her status or the law—changes.
This was Alejandro's summer of upward momentum.
In May, he graduated with honors from his AU master's program. In June, his emergency advance parole application—prepared by AU Dream—was approved, granting the DACA recipient permission to leave the US for the first time to visit his ailing grandfather in Bolivia. In August, he moved to the West Coast to begin a doctoral program on a full merit scholarship.
"This is the first time in my family's narrative that one of us is making a move out of opportunity, not necessity," he says—a significant mile marker on a literal journey for stable ground.
Alejandro (American is not using his last name) grew up in Bolivia with a "fortunate juxtaposition." He moved frequently, and financial instability was ever-present, but so was family unity.
As he grew, so too did the urgent need for change. A nasty storm wreaked havoc on his family's one-bedroom apartment, a weak foundation splintering the floor, flooding the home, and washing away clothes and heirlooms. The family was homeless as they scraped together repair money. It was then that a 10-year-old Alejandro saw a shift in his parents' outlook.
"At some point, there was going to be another storm and something else to fix," he says. "We needed a way to live, not to survive."
Within a year, they made the difficult decision to head north. Alejandro's parents were honest as the trip approached—about how dangerous it could be, about how his safety demanded his best behavior—but there was no preparing for the family's treacherous, three-day journey across the Rio Grande.
The memories return to Alejandro in flashes: his father's vigilance and strength; the slow, deep breaths he took to cut the anxiety; the mad dash for his mother when she got tangled in barbed wire; the 12-hour days spent zigzagging through the desert.
"We didn't eat much, we didn't drink much, we didn't talk much, and we didn't rest much," he says. "It's like coexisting with 100 bees around you. You habituate to the stress."
Alejandro's family made it safely to the US—but a safe haven proved more elusive in a cramped basement on the East Coast. A brand-new language exacerbated the middle school blues, and while Alejandro made a couple of lifelong friends in ESOL, he preferred to walk to and from school, avoiding the kids on the bus who gave him a hard time. 
Experiences like registering for school taught him what his undocumented status meant. When an employee asked for his family's visas, Alejandro's parents looked at each other nervously. The discerning registrar chimed in, "Never mind, it's OK."
"'Things are going to work differently with our situation,'" Alejandro remembers thinking. "I saw my parents' mortality. I wanted the ground to eat me whole."
Status regularly reared its ugly head. Alejandro's father fought to find work beyond low-wage day labor. His mother once developed kidney stones but struggled to receive care without a social security number. Sans a clear future, Alejandro rebelled, struggling academically throughout high school.
In the fall of his senior year, he discovered a pathway: he checked the boxes for DACA and its renewable two-year periods of work permit eligibility. Six months after graduating high school and taking a fast-food job, he received DACA and his life changed. Alejandro regretted that he wasn't better positioned for college, but he also felt inspired: "'We risked our lives to come here. I need to squeeze every ounce of opportunity out of this.'"
He has. Alejandro earned soccer and academic scholarships—and three postsecondary degrees. At AU, he researched Latinx day laborers in the DC area.
Reminders of his temporary status remain. In 2017, when a professor broke news to his social theory class of the Trump administration's plans to end DACA, Alejandro wore a poker face, masking the chill creeping down his spine. The Supreme Court blocked the plan in summer 2020, delivering 700,000 DREAMers living in the US a (narrow) victory and a moment to exhale.
Amid a pivotal Supreme Court decision, Assad, AU Dream's first supervising attorney, helped Alejandro renew his DACA status. He likens himself to a perplexed Tom Hanks with a lighter at the end of Cast Away—grateful, but unaccustomed to the luxury of assistance.
"The hard times make you appreciative," he says. "That water isn't going to be sweet unless you've been thirsty."