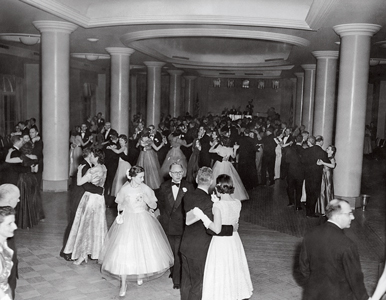 1891: President George Washington dreamed of a "national university" in the capital city—but it was Bishop John Fletcher Hurst who realized that vision. The Maryland-born Methodist assumed the chancellorship of AU two years before it was chartered by Congress in 1893. During his 11-year tenure, Hurst obtained $400,000 in cash and $100,000 in property that decades before had been a farm with slaves. He also oversaw the completion of the College of History (renamed Hurst Hall in 1925). In his resignation letter to the Board of Trustees in 1902, Hurst said of AU: "A foundation has been laid firmly and wisely." He died the following year in Bethesda, Maryland. 
1916: Bishop John W. Hamilton led a full and fascinating life before he was named AU's fourth chancellor in June. After landing his first teaching position at age 15, Hamilton served briefly in the Union Army during the Civil War. He was involved with the temperance movement and advocated for the rights of African Americans and women. He was preceded at AU by another Hamilton: younger brother Franklin, who served as chancellor from 1907 to 1916. During his six years at AU, John Hamilton expanded academic programs and raised money for campus projects. 
1934: "Among the universities of the land, American University is yet young; but you have a great future—a great opportunity for initiative, for constructive thinking, for practical idealism, and for national service," President Franklin D. Roosevelt said during the March 3 inauguration of AU's sixth chancellor, Joseph M. M. Gray. During the event, Gray—a Methodist minister who survived a torpedo attack off the English coast while working with the Red Cross during World War I—announced the creation of what would become AU's School of Public Affairs. Gray served as chancellor until 1940; he was replaced the following year by AU's first president, Paul Franklin Douglass. 
1953: On February 24, the 60th anniversary of Founder's Day, Hurst Robins Anderson was inaugurated as president of the institution founded by his namesake, Bishop Hurst. Held at the Washington National Cathedral, it was the "largest and most spectacular ceremony ever enjoyed by an incoming president," the Eagle reported, and included a lavish ball for 700 guests at the Shoreham Hotel (pictured above). During his 15 years at the helm, Anderson balanced the budget, consolidated all of the university's academic programs on main campus, and opened the School of International Service. Student enrollment also more than doubled under Anderson, to 14,770 in 1967.