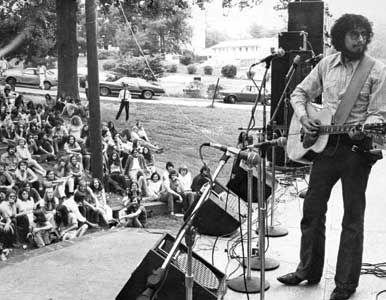 1968: Though some griped that the Student Union Board shelled out $10,000 to lure the Godfather of Soul to AU, James Brown's May 11 show at the Leonard Center was the highlight of spring weekend for 3,500 cramped concertgoers (the baseball field, which would've allowed more elbow room, was rained out). After the show, Mayor Walter Washington presented Brown with the key to the city as thanks for helping to "cool down" riots in D.C. after the April assassination of Martin Luther King Jr.
1974: Bruce Springsteen and his E Street Band treated 1,200 lucky concertgoers to four hours of tunes, November 16 in the Leonard Gym. The marathon show was one of the earliest stops on the Jersey-based band's years-long, multicontinent, seven-leg, Born to Run tour. The setlist included "Jungleland" and "She's the One," songs that would appear the following year on the Boss's third album, Born to Run (considered by many to be his mainstream breakthrough). Tickets were free to students, included in their $27 activity fee.
1986: Slam dancing, fistfights, and flying beer cans: the crowd at the Ramones' October 24 show in the Tavern was anything but sedated. During its hour long set, the New York punk band—which toured virtually nonstop for 22 years—treated 1,000 rowdy fans (250 over capacity for the Tavern, which contributed to the chaos) to such hits as "Rock and Roll High School" and "I Wanna Be Sedated." "I flipped out when I saw [frontman] Joey Ramone," junior Melissa Rubenstein told the Eagle. "He is so hot."
1993: The announcement came moments before Nirvana took the stage at Bender Arena, November 13: "Please do not throw shoes on stage or Kurt will walk away." (Cobain was clocked in the nose by a shoe earlier that year.) The Seattle trio served up the hits, including "Come As You Are" and grunge anthem "Smells Like Teen Spirit," before a crowd of 1,000 flannel-clad fans. The show was something to tell the grandkids about: it was Cobain's last Washington concert, as he committed suicide just five months later.