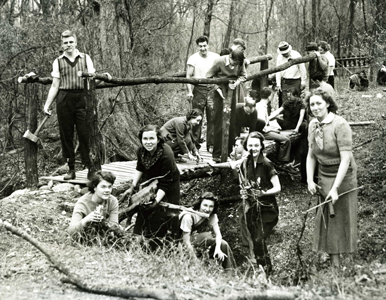 1933: Faculty and students gathered on April 27 to "wield a rake for AU's sake" during the university's first Arbor Day celebration (pictured above). By 1935, the day was packed with 10 projects, from constructing a "rustic bridge" to the football field to planting shrubs between Hurst Hall and the Women's Residence Hall. Eagles so enjoyed feather dusting the campus nest that Arbor Day became an annual tradition in 1936.
1970: Founded by environmental activist and Wisconsin politician Gaylord Nelson, Earth Day was celebrated by more than 20 million Americans. Our April 22 festivities included a lecture by Rep. Brock Adams (D-WA), a screening of Noise: A New Pollutant, outdoor rock and folk concerts, and stream cleanup at Four Mile Run in Northern Virginia.
1994: In October, 600 students, faculty, and staff got their hands dirty during the inaugural Campus Beautification Day, raking leaves, collecting litter, and planting 400 azaleas and 1,500 bulbs. The following year, the eco-friendly event permanently moved to spring. In 2018, Washington mayor Muriel Bowser, SPA/MPP '00, marked the event's 25th anniversary, proclaiming April 17 American University Campus Beautification Day.
2003: The American Public Garden Association took notice of AU's blossoming transformation in 2003, designating the 84-acre campus as an arboretum. In February 2020, Washingtonian magazine named the arboretum—home to 3,500 trees and 385 varieties of woody plants—among DC's "hidden gems."
2009: The American dream became green with the creation of a new AU office devoted to sustainability. "As a planet, we're essentially in debt," Chris O'Brien, AU's first director of sustainability, told the Eagle. "Water, trees, air—we've overspent our resources and the first thing we need to do is stop spending." In 2011, the School of International Service became AU's first LEED Gold-certified building, and by 2014, half of the power used on campus was coming from solar energy.
2016: Dubbed "an island of thought" by Life magazine, the historic Airlie Center—where Nelson in 1969 made public his concept of Earth Day—was gifted to AU by the board of directors. The conference facility, which sits on 300 rural acres in Warrenton, Virginia, is home to 20 acres of working farmland, from which AU's Terrace Dining Room has reaped a cornucopia of fresh produce. Airlie grows 45,000 pounds of vegetables annually and has hosted students from across campus, including Community-Based Research Scholars, School of Communication filmmakers, and SIS students.
2018: In April, AU became the first university in the United States to achieve carbon neutrality—two years ahead of schedule. The milestone came two years after the university became a charter signatory to Second Nature's American College and University Presidents' Climate Commitment. AU's effort to reduce campus-wide emissions and waste and offset the remainder is equivalent to planting 1,253,460 trees or taking 10,000 cars off the road for a year.