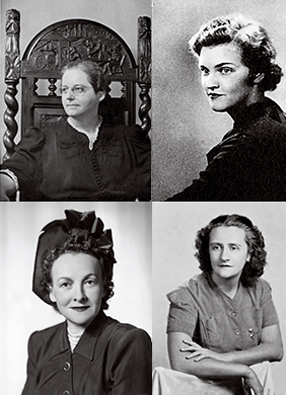 1925: The "college mother" to hundreds of young ladies and a few men, too, Mary Louise Brown served as dean of women from 1925 to 1944. AU's first female dean lived in the Women's Residence Hall for 17 years, "sharing the problems of all the girls who lived with her," before moving to a home of her own in nearby Bethesda in 1941. A graduate of DePauw University and the University of Michigan, Brown was an avid traveler and ravenous reader; she taught in AU's English department before retiring in 1947 to scratch her "itching heel." The Woods-Brown Amphitheater is named for Brown and CAS dean George Woods.
1934: As the first female editor-in-chief of the then-American Eagle, Ann Henderson was known for "getting more done in a square minute than anyone else." Under her leadership, the student rag received an honorable mention from the Virginia Intercollegiate Press Association. Henderson settled in Chicago after graduation, married, and had four children. She also wrote and edited "What Every Woman Knows . . . and What Every Man Reads" for the Women's Association of the Union Church of Hinsdale, Illinois. Henderson published the newsletter from 1964 until her death in 2000.
1939: Helen Miller is a trailblazer twice over: she served as AU's first female student government president and the first woman editor of the Aucola yearbook. After graduation the go-getter, who also started on the women's basketball team, worked as director of public relations at AU for a year before enrolling at Syracuse University. She served in the Red Cross during World War II, holding posts in Australia and the Philippines, and was president of the AU alumni association from 1953 to 1955.
1957: After earning her PhD from AU in 1933, Catheryn Seckler-Hudson launched a nearly 30-year career at the university. She served as a professor of political science and public administration; chair of the Department of Government, Graduate School from 1934 to 1938; and chair of the political science and public administration departments. In 1957, she was named dean of the School of Government and Public Administration (now the School of Public Affairs), becoming the first woman to hold that post at any AU school or college. A student achievement award is named in Seckler-Hudson's honor.