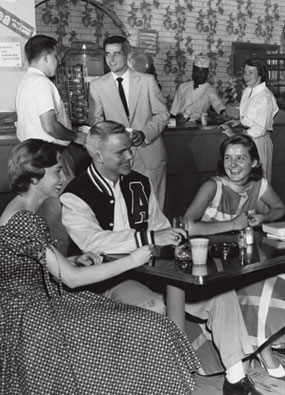 1934: Construction began on the men's lounge, which, despite its location in the gym and its sporty decor, was designed for "athletes and non-athletes alike." Previously, men congregated "on the library steps, in the parlor of the women's residence hall, or in some fellow's room where the space [was] limited." The new lounge featured checkerboards; a ping-pong table; a long- and short-wave radio; and plush, blue draperies adorned with an orange "A."
1945: Nestled in the basement of Mary Graydon Hall, the Rendezvous Room was the hub of campus life. In the lounge with a bright red piano, students enjoyed afternoon tea, milkshakes, ice cream, and waffles. The room also featured reading chairs and a variety of periodicals: Science Digest, Harper's, Fortune, and the Saturday Evening Post. Despite the informal atmosphere, Rendezvous had a strict no-slacks policy.
1951: Couples donned their finest "Hillbilly clothes and blue jeans" for the annual Sadie Hawkins Dance in the Leonard Lounge. Hosted by the College of Arts and Sciences' social board, the event was "the one day when gals may take the initiative to ask their favorite guy for a date." Ladies presented their dates with vegetable corsages and danced the night away to the music of Bob Howard and His Orchestra.
1986: The Tavern's new "mint and salmon" paint job left a fishy taste in students' mouths. While the cheery hues—more befitting of an ice cream parlor than a watering hole—were chosen to modernize and brighten the space, senior Jeff Bolton offered another theory: "the colors must have been on sale." Not everyone panned the pastel palette, however. Senior Al Feiler liked the "preppy" hues because "they go well with my Izod and Bermudas."
Lost and Found
The handsome undergrad in the letterman jacket is Jim Williams '56, who wrote us with the identities of his friends, gathered in the café in the basement of Mary Graydon Hall. They are, clockwise from upper left, Wally Ryland, Joe Pellegrino, Dottie Brodt, and Barbara Bemelmans. "The name of the young lady sitting at the left escapes me," writes Williams of Bloomington, Indiana.