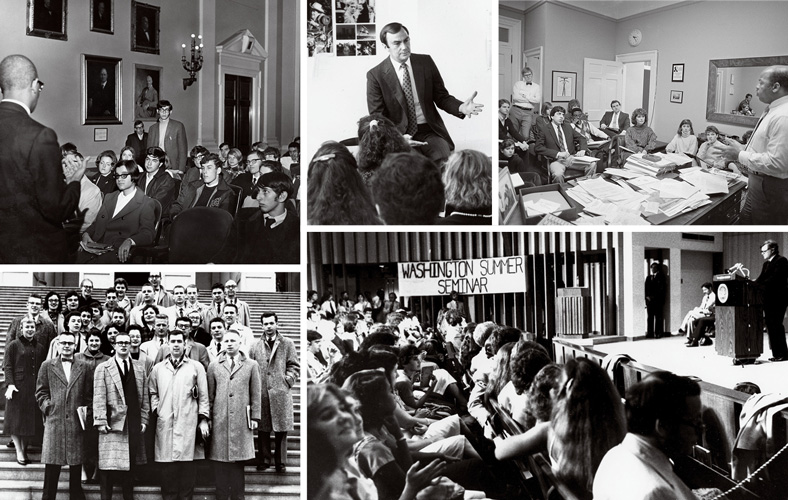 1947: As vets began using the new GI Bill in the wake of World War II, AU dean Harold Davis saw the need for an experiential learning program in the nation's capital. And so, the Washington Semester Program (WSP) was born. Its aim: to expose students to DC's cultural, educational, and governmental resources and give them "first-hand acquaintance with possible careers in public service." The first WSP cohort consisted of 24 juniors from six liberal arts colleges. The program was so popular that it quickly doubled the number of partner schools; today, 177 universities participate in WSP.
1971: When public administration professor Harvey Lieber added the internship component to WSP, there was nothing like it in DC. Students might work part-time on the Hill, but they didn't receive academic credit. Today, the internship is a cornerstone of the program—and of the Washington experience in general. WSP alumni have interned at Greenpeace, the Human Rights Campaign, and the Republican National Committee, along with dozens of other organizations. They've also met with such DC power players as journalist Sam Donaldson, Civil Rights icon Representative John Lewis (D-GA), and the late Senator Edward Kennedy (D-MA), pictured left. 
1973: When David Brown, SIS/BA '66, took the reins, WSP was a small, elitist program aimed at select private colleges across New England and the Midwest. Brown soon extended invitations to public universities and colleges west of the Mississippi, and introduced seminars in international business, journalism, and sustainable development. He also created the Mentorship Program for first-year students and extended WSP to international and grad students. "As the needs of higher education [changed], we [were] able to change with them," Brown says.
2012: A year after Brown's retirement, WSP became part of the School of Professional and Extended Studies (SPExS). Under Dean Carola Weil's direction, it has broadened its focus to include mid-career adult learners. To date, more than 50,000 students have passed through SPExS, including such notable WSP alumni as Speaker of the House Paul Ryan (R-WI) '91, Emmy Award-winning actress America Ferrera '04, and former White House press secretary Sean Spicer '92. This semester, 110 students are enrolled in nine WSP seminars.