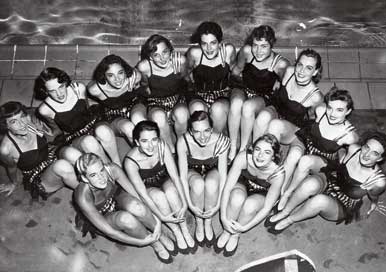 1925: After the football team's disappointing inaugural season—out of 20 players, "there were but five who had ever had a football in their hands, so the outlook was indeed dark," opined the Eagle—AU turned its attention to recruiting a winning basketball squad. "Men who can spare the time are urged to present themselves for practice, no matter what their opinion of their own abilities may be." The team lost its first game to Georgetown, 40–23, on January 22, 1926.
1928: Despite the focus on men's basketball, it was a group of women who brought home AU's first trophy, defeating George Washington University in a free- throw contest sponsored by the Washington Post. AU women made 43 of 50 baskets, to GW's 36. "The fact that [the trophy] was won by the girls shows what a gigantic progress in co-ed athletics is occurring at American University," wrote the Eagle.
1949: Two new sports—21 (long and short basketball shots) and foul shooting (free-throw shots)—were added to the intramural roster, which included touch football, horseshoe pitching, bowling, table tennis, badminton, and water polo. According to the Eagle, the offerings, aimed at amateur athletes, "combine healthful exercise with a lot of fun, including all the thrills, chills, cheers, and tears of intercollegiate competition."
1953: Aquiana, AU's synchronized swimming group, made a splash on network TV, performing the finale number in Fiesta de la Aqua, a half-hour celebration of collegiate water ballet. A three-man production crew filmed a dozen of the troupe's 40 members for eight grueling hours in the AU swimming pool. The bathing beauties performed "Granada," the "festive Latin American tempo" of which reflected the show's south-of-the-border theme.
1967: The varsity bowling team struck the .500 mark, ending its inaugural season with a 3–3 record after soundly defeating Northern Virginia Community College. The squad, which competed at Eagle Lanes in Leonard Gym, reflected bowling's growing popularity on US college campuses—and in lanes across the country. Though the Eagle speculated the sport would be added to the roster at the 1972 Olympics, bowling has yet to debut at the summer games.