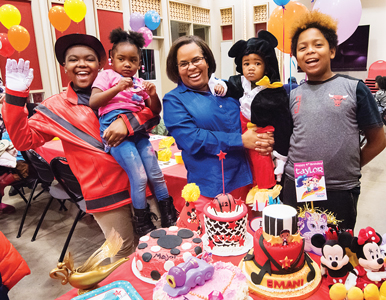 Jolene McNeil loves birthdays more than Santa Claus loves Christmas. More than a preteen sugar fiend loves Halloween. More than a pardoned turkey loves Thanksgiving.
"Me and my sister used to love our birthdays so much, we'd call up our friends and say, 'Happy birthday!'" says McNeil, SPA/BA '97. "They'd say, 'It's not our birthday,' and we'd say, 'No—it's ours!'"
But here's the thing about McNeil, who as a kid used to delight in surprising her classmates with balloons and candle-topped cupcakes on their special day: she treasures your birthday as much as her own.
It's a mild February evening at Marguerite's Place, a community center in Southeast Washington for families and children living at the adjacent Barnaby and Chesapeake houses. The long-term transitional housing for people who have faced homelessness, trauma, abuse, or other hardships is run by So Others Might Eat (SOME). Inside the main room, McNeil is meticulously arranging Minute Maid apple juice boxes and plastic cups of cheese curls on a table. Stacked on another are goody bags filled with Swedish Fish, bags of chips, and candy bars for the older kids. The younger ones get Goldfish and graham crackers.
It's party time.
Extra-Ordinary Birthdays (EOB) is a nonprofit that throws parties for children who live in one of a dozen shelters around the Washington and Baltimore region. McNeil, now chair of EOB's board of directors (and a member of the AU Alumni Board), joined the organization in 2015 and realized immediately that she had found her spiritual home.
"I'll be doing EOB until I die," she says. "These kids are going through a lot. There's so much instability in their lives. The birthday celebration provides a sense of normalcy for them. It provides them an opportunity to just be themselves and forget about everything else that may be going on around them. You see a kid laughing over paper goggles—what could be better than that?"
Tonight, McNeil is throwing four parties at once—in the same room. It's not a quiet endeavor. As Ethan, 12, and his buddies play basketball bingo, Emani, 11, and her friends focus on a Michael Jackson word search. Wearing a red King of Pop-style jacket and a single sequined glove, she circles "Moonwalk" and "Man in the Mirror" on her paper.
At four-year-old Taylor's table, kids and a few grownups are bedazzling paper crowns, while one-year-old Major attempts to sit still and scribbles outside the lines of his Mickey Mouse coloring sheet. The helium balloons attached to chairs seem to be of more interest to him and his diaper-clad pals.
As McNeil scans the room, taking in the well-organized chaos, it's tough to tell who's having more fun—the party planner or her guests of honor.
"The best thing in the world to me is to see a kid smile," McNeil says, flashing a bright one of her own. "My parents always made us feel special on our birthdays. Because they were able to do that for us, I want to make sure that other kids get that experience."
At the McNeil household in Philadelphia, birthdays were treated like national holidays.
"My father died two years ago. Two years before [that] is when he stopped bringing me a birthday cake," says McNeil's mother, Regiena. "That was always a big part of all the children's childhoods, because my dad did it for me. This is a generational thing. It's your birthday; we're celebrating that you're here."
McNeil and her identical twin sister, Jolon, CAS/BA '98, carried on the family tradition into adulthood, throwing themselves elaborate bowling parties, complete with trophies and matching T-shirts for the teams. For several years, they would get a suite at the Washington Marriott Wardman Park hotel, where their other two sisters and a group of friends would join them for pajama parties. When they turned 40, they flew to New Orleans and celebrated in the Big Easy.
For their most recent birthday, McNeil surprised Jolon, a vice principal at a school in New Jersey, with cake, balloons, and a catered breakfast. She arranged for a class to sing "Happy Birthday" and presented her with a huge card signed by the kids.
A senior events manager for the Biotechnology Innovation Organization, McNeil was looking for a volunteer opportunity when she saw a post about Extra-Ordinary Birthdays on social worker Katedra Sullivan's Facebook page.
"EOB provides joy, hope, and love in the midst of adversity. The impact is life changing," says Sullivan, SPA/BA '99. "One day [Jolene] asked how she could [help] with the organization. That was just the beginning. Jolene has always been the type of person to do what needs to be done. She is passionate about making a difference."
EOB was founded in 2010 by Schinnell Leake. At the time, she was running a for-profit children's event business, but soon shuttered it to concentrate on EOB full-time. She recognized a need: in 2016, a federal census revealed that, for the first time since 2001, homeless children and their parents outnumbered homeless adults in the District of Columbia. According to SOME, there are 8,350 homeless people in Washington, and nearly one in five DC residents lives at or below the poverty line.
"[EOB] is an homage to my mom, who always made us feel as kids on our birthdays that we were amazingly special and that we had such worth and value in this world," says Leake, the organization's executive director.
While EOB is modest in size, its impact is major. With an annual budget of only about $75,000, the organization still managed to throw host 145 parties in 2017. Each one is personal. Parents fill out a form detailing their child's interests to spark ideas for a theme. Last year McNeil planned 45 celebrations, including My Little Pony parties, Mickey and Minnie Mouse parties, Cars parties, and sports parties. There have been plenty of Ninja Turtles and princesses roaming the premises. If she has to plan another Frozen party, she says, she may just lose it.
No detail is overlooked. McNeil asks about the child's favorite color and whether they prefer chocolate or vanilla cake. She always makes sure that their name is displayed prominently in as many places as possible.
"I want the kids to walk in and see their name everywhere so they know it's a party [specifically] for them," she says. "I want them to have the best day ever."
A handful of volunteers bake an elaborate cake for each party. Photographers document the fun for free. One woman paints a large wooden letter representing the birthday boy or girl's first initial—which they get to keep. Parties are held on the final Thursday of each month, and guests are typically other kids from the shelter.
This is a region where some parents spend as much on their kid's birthday party as a sane person does on a car. A story on the website Moneyish detailed a DC-area party for a five-year-old last year at mansion that featured "chicken nuggets dished by uniformed wait staff" and a $400 live reptile show. Those must have been some luxurious lizards.
So it's almost miraculous that EOB manages to keep the cost of each of its parties to around $175. This includes food, games, decorations, goody bags, and presents for the guest of honor. Often members of McNeil's personal social media network, which includes numerous individuals from the AU community, pitch in. When she was planning a Dallas Cowboys-themed party, a sorority sister who works for the team sent some schwag.
"We call her 'OverTheTop.com,'" Leake says. "Every detail is thought out. She has set the bar so high."
McNeil has established some tight relationships with kids and their parents at Barnaby and Chesapeake, where residents pay 30 percent of their income toward rent. She recalls seven-year-old Reggie, who had a Washington Wizards-themed basketball party at which he got a team jacket, jersey, and hat.
"We were about to cut the birthday cake, and the mom was crying," she recalls. "She said, 'I've never seen him that happy.' To make that kind of impact on someone's life . . ."
Still, nothing pleases McNeil more than when she doesn't plan a second party for a child. That means the family has managed to make it out of the shelter.
Elizabeth, who recently turned 12, is shy as she walks into the community room in late January for her superhero princess party. She doesn't want to take her coat off, so McNeil dubs her a "cold superhero."
After rejecting the nicknames "Super Lizzy" and "Captain Cake," she happily settles on "Princess Pastry." When she submits the winning guess for the number of M&Ms in a jar (which, technically, wasn't the closest, not that anyone cares), her jacket comes off and her defenses come down. Elizabeth's guests include fellow Barnaby and Chesapeake residents Ethan (one of the four February honorees), five-year-old Kara, and their mom Tanesha Graham. Kara was McNeil's original superhero princess, and still likes to prance around the apartment in her tiara and tutu from the party.
"It's such a beautiful program," Graham says. "I know a few kids here who, this was their first experience at a birthday party. To be able to celebrate with their neighbors and friends and know they're going to get a party, one as lovely as this, it touches my heart. Jolene cares so much. She puts her all into these parties. She gets so much joy just standing back and watching the kids have that moment—she's not doing it for the credit. You just got to love her."
Ethan certainly does. During his Chicago Bulls bash in February, he took a break from shooting baskets on a Nerf hoop to praise all involved with Extra-Ordinary Birthdays. 
"I'm so surprised that they do this just for us kids," he says. "Some kids don't get birthday parties as awesome as this. We appreciate the hard work they put in."
The psychological impact of something as seemingly benign as a birthday party can have a huge effect on a child, says Dawnay Green, program manager at Barnaby and Chesapeake.
"A child [who lives here] might not ever have had a birthday party because their parents didn't have the money for that—or if they did, it wouldn't have been as elaborate as Miss Jolene does it," she says. "When you go to school, other kids come in and they're like, 'I [had] a party this weekend.' As a child who is benefitting from this program, they can do the same thing—they can feel special too. They can say, 'I had a party at my house. This is what I got.'"
Ethan's wish list this year was modest. He asked for an Xbox gift card and a couple of books, which is why, when he pulled a brand new Sony PlayStation out of his gift bag, his euphoric reaction was YouTube-worthy. The gaming system was donated by Aaliyah Lambert, SOC/BA '18, an EOB volunteer. She met McNeil through We Are Empowered, an AU mentorship program that pairs women of color with black female professionals in the Washington area. (McNeil formerly chaired the AU Black Alumni Alliance.)
"People gave back to me when I was growing up, so I think it's important to give back now," Lambert says. "It's something that's small, but it will make a big impact. Sometimes you forget in the hustle and bustle of life that small things can make a big difference."
The parties benefit the children, of course, but also take a huge weight off the shoulders of their families, says Eric Simpson, case manager and youth services coordinator at Marguerite's Place.
"It [allows] parents to not have to worry about spending money on birthday parties and on gifts," he says. "The kids are taken care of. Jolene brings a spirit of fun but also seriousness. When she comes in, you know the parties are going to be set up a specific way. She has a vision of how she wants the parties to look and how she wants them to go. It's all done in love."
Indeed, McNeil runs Elizabeth's festivities with the precision of a jovial drill sergeant. After bingo, the kids play a game where they pass a "Kryptonite" ball. The last one standing without it wins a pair of earrings. Finally, it's cake time. McNeil asks Elizabeth which version of "Happy Birthday" she prefers. The "jazzy" rendition brings laughter, if not perfect harmony.
"Kids need to feel special," McNeil says. "They need to feel loved, they need to feel welcomed, they need to feel appreciated when they're young. If you mess up a child you're going to get a messed-up adult."
After dessert, Elizabeth opens her presents (she asked for, and received, a purse that displays pixelated images on the outside), takes a few whacks at a piñata, then plays one last game. Ring toss proves difficult, but by this point she can't keep a smile off her face. After a long day, McNeil begins to clean up. She woke up just after 6, worked a full eight hours, and won't get home until well past 8.
She nods toward the beaming 12-year-old and says, "This makes it all worth it."