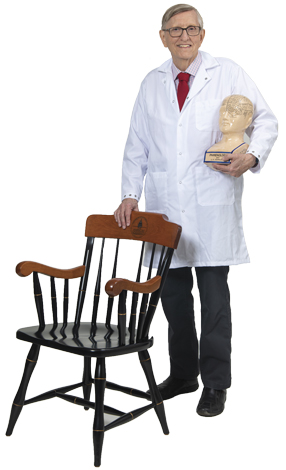 Endowed faculty chairs are a hallmark of leading higher education institutions. They're also a key component of Change Can't Wait: The Campaign for American University—AU's call to address the world's most complex challenges by transforming the student experience, advancing research with impact, and building stronger communities. Through the campaign, AU aims to double its number of donor-funded chairs. But why do endowed positions matter? How do they help ensure a thriving faculty? What impact do they have at AU and beyond? In the FAQ that follows, learn more about endowed chairs and how they can help shape AU's future.  
Q. What is an endowed faculty chair? 
A. Endowed chairs are faculty positions permanently funded by an endowed gift that support faculty in their research and create a knowledge environment that benefits our students and communities. As one of the highest honors a professor can achieve, endowed chairs help expand capacity for faculty who truly excel as researchers and scholar-teachers.   
Q. How do they make a difference for AU? 
A. These positions are pivotal to recruiting and retaining the best researchers, educators, and public figures. The honor and resources endowed chairs carry can make or break a top hire or help keep superstar faculty. They are central to elevating AU's reputation through the visibility of our faculty's work. They are also an important part of AU's focus on scholarship as outlined in our Changemakers for a Changing World strategic plan. Endowed chairs keepthe university competitive as a top destination for outstanding faculty.
Q. What opportunities do they provide for the professors who hold the positions?
A. In addition to helping AU recruit and retain world-class scholars, resources provided by endowed chairs help drive scholarly research. Endowed chairs raise faculty distinction among peers and peer institutions and establish a trajectory for a faculty member's long-term career growth. Because endowments provide a stable funding source in perpetuity, these positions open doors to additional areas of support, such as research assistantships, outside collaborations, and external grant funding.  
Q. What impact do chairs have on AU students? 
A. Our professors are known for their dedication in the classroom and beyond. Endowed chairs only amplify their impact. Those who hold endowed chairs are at the top of their fields—allowing students to learn from and work alongside some of the world's most talented and connected researchers and educators. Whether through coursework or student research opportunities, the experience of working side by side with an endowed chair is an unparalleled opportunity 
that can shape a student's career trajectory.
Q. How do chairs accelerate changemaking work? 
A. Right now, we have faculty working to dismantle racism in its many forms through our Antiracist Research and Policy Center. We have outstanding women across departments and disciplines who have joined forces to address pressing issues of tech policy. We have a team that is transforming our understanding of the factors that influence susceptibility to drug abuse, overeating, and other disorders of cognitive and behavioral control. Change Can't Wait seeks to create endowed chairs in key strategic areas like these to accelerate research that has a tangible and immediate impact on our society and world. 
Q. Why might a donor choose to fund a chair?
A. Generous donors fund these positions for a reason: they believe AU's work is changemaking. Often, they choose to support an area that holds personal meaning in their lives. In addition, because endowed chairs stand in perpetuity, they create a legacy and ensure that AU can continue to advance cutting-edge research for years to come. An endowed chair offers an opportunity to honor both the faculty member's work and the donor who establishes the position—whether through personal recognition or to recognize someone important to the donor. Endowed chairs elevate AU's reputation while advancing research with real impact. 
Q. How can I get involved?
A. For information on Change Can't Wait and how philanthropy can support faculty and research at AU, contact Courtney Surls, vice president of development and alumni relations, at 202-885-5900 or vpdar@american.edu.
Transforming Approaches to Addiction 
If you overindulge in fats and sugars, does your brain change—leaving you unable to control unhealthy behavior?   
Terry Davidson, American University's Trone Family Eminent Scholar Chair in Neuroscience and Behavior, suspects the answer is "yes."
Groundbreaking research by Davidson, chair of the Department of Neuroscience and director of the Center for Neuroscience and Behavior, examines how excessive consumption of fats and sugars may derail the brain's ability to stave off destructive cravings. His findings suggest diets packed with these ingredients damage a brain area involved in learning memory.
"Saturated fats and sugar produce illness in the hippocampus, and that is the primary target of diseases like Alzheimer's," Davidson says. 
Research shows that animals with access to fats and sugar tend to overeat and gain weight, which is correlated to damage in the blood-brain barrier. The damage emerges quickly—and endures.
"With studies of cocaine and other drugs, there is the same impact—but it occurs faster," says Davidson, who joined AU in 2012. "If it took three months to produce brain damage with fats and sugar, it takes 20 days to produce it with drugs." Diagramming changes to the brain could lead to preventative treatments, perhaps including medications.  
Davidson calls the Trone chair "a real future builder" that is helping to expand resources for his department, attract exemplary faculty, and bring more students into the lab. It has also increased AU's visibility as a science incubator. 
"Since the endowed chair was announced [last] summer, I've had a 50 percent increase in contact from prospective students asking if I would take them on," he says.
Addiction and cognitive disorders are among myriad pioneering scholarship coming out of AU's state-of-the-art Hall of Science, which facilitates cross-disciplinary collaboration. The Washington College of Law and the School of Public Affairs are partnering with Davidson to leverage his research to inform public policy. A podcast supporting 
that effort is in the works. 
"The idea is to help science people transmit their findings to policy people," Davidson says. "One of the things we're trying to accomplish is to improve human welfare. . . . It's not just about helping us now. It's about helping everyone from now on."—MD
Terry Davidson is the Trone Family Eminent Scholar Chair in Neuroscience and Behavior. This position was established in 2021 by a gift from the David and June Trone Family Foundation.
Your Impact
You have the power to amplify the changemaking work of our faculty. As part of the Change Can't Wait campaign, the new AU Chairs Fund for Faculty, Research, and Innovation helps support the work of top scholar-teachers who address urgent challenges and guide the next generation of changemakers. The fund also increases the capacity of our research centers, which foster collaboration and pursue groundbreaking innovations. If you are passionate about driving real change through the power of research, join us by making a gift of any size today. Visit go.american.edu/innovation.