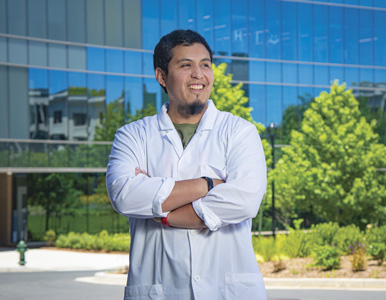 Kevin Chavez Lopez sat in front of the TV in his Oaxaca, Mexico, home, synapses firing at full speed in his eight-year-old brain. As an episode of Discovery Channel School set the screen aglow with brain lobes and neurons, a career idea sparked. 
Fifteen years later, a strong current still flows through the AU senior's dreams. One semester remains in Chavez Lopez's undergraduate neuroscience studies, and as he works this summer in Professor Mark Laubach's Computational and Systems Neuroscience Lab, an exciting decision about his future path—neuroscience research or neurosurgery?—sits on his brain.  
The choice felt a continent away in 2014, when he moved by himself from Mexico to DC, where he was born. Returning to the US after 20 years, he struggled with finances, a lack of friends, and limited English. December, though, marks an important milestone. Chavez Lopez, who transferred to AU from Montgomery College in 2019, will become the first in his family to earn a bachelor's degree. 
"My parents are proud because everything I have achieved, I have done it pretty much by myself," he says. "But I believe they're most proud of what I have achieved when it comes to life here. Their son left and learned to be on his own."
Chavez Lopez, the 2020 recipient of the Ansary-Kerwin Endowed Scholarship, is among nearly 600 first-generation undergraduate students at AU—a figure that has nearly doubled since 2011. That growth is a testament to AU's strengthened commitment to first-gen students, from the $1 million Menke-Abraham Endowed Scholarship Fund to professional development workshops through the Center for Diversity and Inclusion. 
Vital, too, is the mentorship of AU faculty and staff. Literature professor Melissa Scholes Young, WSP '96, supports first-gen students in her classroom by self-identifying on the first day. "By making my first-gen journey visible, I'm inviting conversations about the reality and struggle of this path in academia," she says.  
When we listen to and meet first-gen students where they are, Scholes-Young says, we begin to see them not as liabilities, but as valuable assets. 
The neuroscience community has gained one in Chavez Lopez. Come December, he'll celebrate the achievements of an ever-expanding brain. 
"I'm not done yet," he says. "Many more graduations to go."