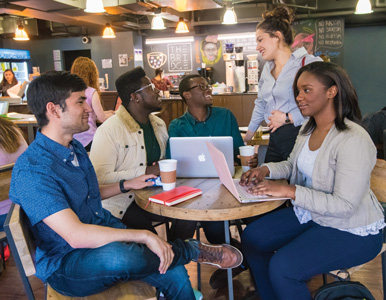 The Frederick Douglass Distinguished Scholars Program (FDDS) is AU's most prestigious and generous merit-based award. The five members of each cohort are always among the university's brightest and most accomplished students, but the Class of 2018 is something more.
Family.
As part of the program, the scholars live on the same floor of the same residence hall for their first two years on campus. But when this year's graduating group became juniors, four of the five decided not to roll the dice on finding new roommates. They've lived together off campus ever since.  
"Whether it was the Honors classes we all took together, or study groups, or emotional support, we are all there for each other," says Isobel Araujo, CAS/BA '18. "They're the people I turn to first."
Established in 2009, FDDS covers four years' worth of tuition, housing, meals, books, and public transportation. Scholars also receive leadership development training, travel grants for eligible conferences and service experiences, and mentoring from faculty and alumni. 
Each year, AU receives more than 500 applications. Of those, 20 candidates are selected for video interviews. Ten are invited to come to campus for an interview, before the final five are chosen. 
"When you apply for a program like this, you usually have logical, mathematical, and linguistic intelligence," says FDDS director Larry Thomas. "But I'm looking for social, emotional, and contextual intelligence—people who have a natural charisma or can inspire [others] to follow them. They have this irrepressible passion for a specific area or a specific cause, and they're in this relentless pursuit of excellence."
People like Shyheim Snead, SPA/BA '18, who is the first in his family to attend college. He served as a student trustee on AU's Board and is a Harry S. Truman Scholar. Winter Brooks, Kogod/BSBA '18, grew up in Detroit, and after graduation she's returning to Michigan to work for Google, where she'll assist minority-owned businesses. David Curtiss, CAS/BA '18, started a nonprofit for kids in Uganda while he was a just a high school kid himself. Diego Aleman, CAS/BA '18, will enroll in a sociology PhD program in the fall. And Araujo wants to improve equitable development in urban areas. 
All of them say they couldn't have accomplished everything they did during their four years in the program without one another. 
"Like with family, there have been plenty of fights," Aleman says. "But there's also been plenty of love."