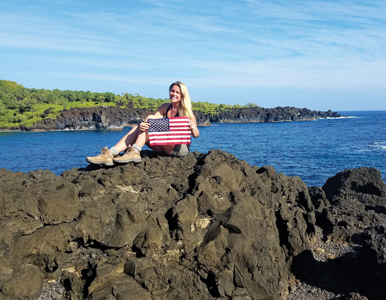 The average American has visited 12 states, according to a survey by livability.com. But Amanda Mazzoni is anything but typical. In 2013, with 24 states already under her belt, she resolved to visit all 50 by her 30th birthday.
"People are quick to classify Americans as one homogenous group, but we couldn't be more different in terms of our beliefs, traditions, and concerns," says the Garden State resident. "When I was in South Dakota, they weren't talking about the Russia probe: they were worried about putting food on the table because the deer were infected with bluetongue disease."
Mazzoni, who puts in 60 hours a week at the criminal defense and matrimonial law firm that bears her name, planned lots of long weekends to meet her goal. "I'd rent a car and drive through four states in three days."
The only rule: "I had to do something in each state that it's known for."
She marveled at the cheddar sculptures at the Great Wisconsin Cheese Festival; basked in a postcard-worthy sunset in Santa Rosa, New Mexico; and feasted on pork ribs at Leatha's Bar-B-Que Inn in Hattiesburg, Mississippi. "Alligator, rattlesnake, oxtail soup—if it was local, I tried it," Mazzoni says.
Her father, Michael Mazzoni, SPA/BA '67, WCL/JD '72, accompanied her on several adventures, including a fly fishing trip to Alaska for his 70th birthday and a quick jaunt to the Dakotas, where they visited Mount Rushmore and Sitting Bull's burial site—an unceremonious grave in a parking lot in Fort Yates, North Dakota. ("We drove 20 hours for that," she laughs.)
The elder Mazzoni was with his daughter on December 14, when she celebrated her 30th birthday in the 50th state in the union—the last on her list.
"Hawaii was incredible," she recalls. "We saw the sunset over the volcanoes, visited Kauai and the waterfalls."
Next up for the globetrotter? All seven continents by her 40th birthday (Africa, Australia, and Antarctica remain on her to-do list). "Traveling is addictive," Mazzoni says. "For $99, you can jump on a plane and have a completely new experience for the weekend."